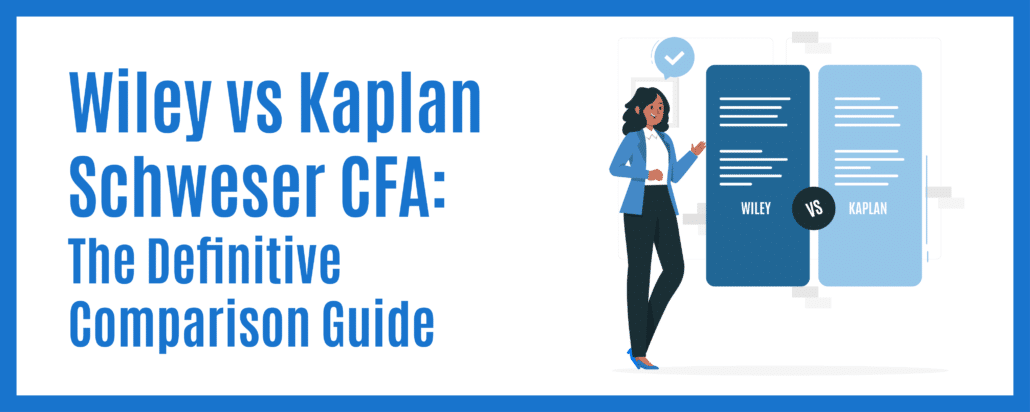 With Wiley's recent merger into UWorld, the future landscape of their CFA® prep material remains ambiguous. As prospective students weigh their options, it's crucial to be vigilant and stay updated on any curriculum or platform modifications. Given these uncertainties and the potential changes post-acquisition, we advise caution when considering Wiley for CFA® preparation. Instead, we suggest exploring Kaplan as a more stable and reliable alternative.
Take Me To Kaplan Schweser CFA
CFA test prep courses can be a lifesaver when you're trying to wade through page after page of super-dense text provided by the CFA Institute. This is why taking a CFA study course is such a massive predictor of exam success.
But which CFA prep course is better? Two great options are Wiley Efficient Learning CFA and Kaplan Schweser CFA Review. But of course, the answer to the question is subjective since both offerings are solid CFA exam prep options.
To help you decide, let's evaluate each course's platform, value, and other important features.
Once you've read the comparison, you can also read the full, individual breakdown of both Wiley CFA® and Kaplan Schweser CFA®.
Summary of Course Features
Let's compare the features of Wiley Essential Learning CFA and Kaplan Schweser CFA below:
| | | |
| --- | --- | --- |
| | Kaplan Schweser CFA | Wiley CFA |
| Video Lectures | | |
| Manageable Lessons | | |
| Study Notes | | |
| Practice Questions | | |
| Flashcards | | |
| Formula Sheets | | |
| 11th Hour Final Review | | |
| Performance Tracker | | |
| Score Predictor | | |
| Mock Exams with Simulator | | |
| Diagnostic Exam | | |
| Live Review Workshop | | |
| Instructor Support | | |
| Community Access (Forums) | | |
| Adequate Pass Guarantee | (Limited) | |
How does Wiley's platform compare with Kaplan Schweser's technology?
Both Wiley and Kaplan Schweser provide tech-based options that open up opportunities for their students.
Wiley was the 2021 SIIA CODiE award winner for the best adaptive-learning platform. Their CFA review materials are geared toward your learning style. This helps you retain more when studying and builds confidence, leading to success.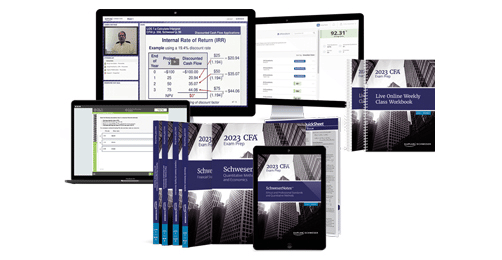 Wiley's main selling point is that their platform offers bite-sized lessons that can be taken in 30-40 minutes. This is a great time-saver, especially since each is broken down into sections, allowing you to focus on the topics you really need help with.
Where Wiley is leading with content, Kaplan is leading with platform options. Mobile is the new frontier for education and most students like being able to access their materials on a tablet or phone. Both Wiley and Kaplan recognize this, but only one offers a truly intuitive mobile experience.
With Kaplan's CFA prep course, you can access all of their material no matter where you are. Additionally, they provide supplementary features to help you manage your time and track your performance. Wiley attempted to offer something similarly impressive, but it just doesn't compare. So, you'll want to stick to Kaplan if you want to learn on your phone!
How does Wiley's CFA video compare with Kaplan Schweser's?
Both Kaplan Schweser and Wiley provide live online instruction through virtual classes and on-demand video lectures. While Wiley includes video lessons in their platinum and gold courses, Kaplan Schweser incorporates them exclusively in their top-tier PremiumPlus Package.
Feedback from CFA candidates who have utilized both prep courses indicates that both are valuable for CFA preparation. However, when it comes to video lectures, Kaplan Schweser emerges as the more comprehensive choice.
Kaplan Schweser's video content is meticulously structured, and they also offer unique audio notes that many students appreciate. This audio feature isn't a primary focus for Wiley. So, when weighing Kaplan Schweser vs. Wiley for CFA review, Kaplan's holistic approach, combining both video and audio resources, gives it an edge for many candidates.
Does Wiley have a better question bank and resources?
Question banks are one of the most important study materials that candidates are looking for in an online class. Regardless of learning styles, candidates need lots of practice with CFA material to be ready for exam day. This is especially true for CFA Level I test takers since the material is heavily repetitive.
When it comes to CFA question banks, both of these prep providers have around the same number of questions available, offering thousands for each level.
The key difference seems to be that Kaplan Schweser's bank seems to cover more foundationally, giving candidates a solid understanding of the core information provided by the CFA Institute.
Wiley's bank offers more rigorous questions that better mimic the actual CFA exam. Their lessons are also targeted. For this reason, candidates who choose the Wiley CFA review seem to be better prepared during their exam sitting.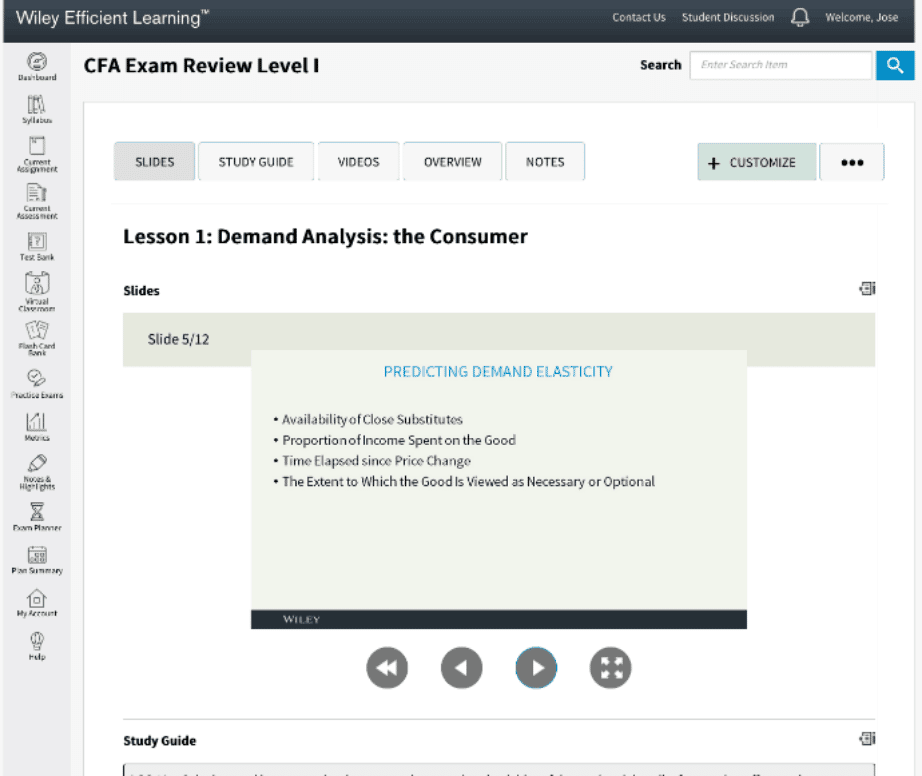 Question banks play a pivotal role in CFA exam preparation, offering candidates ample practice to grasp the extensive material. Both Kaplan Schweser and Wiley provide substantial question banks, with thousands of questions for each level.
Kaplan Schweser's question bank stands out by laying a foundational understanding of the core CFA Institute material. This ensures candidates are well-versed with the basics. On the other hand, while Wiley's questions are rigorous and closely mimic the actual CFA exam, Kaplan's comprehensive approach is more beneficial for a holistic understanding.
Kaplan further enhances its offerings with SchweserNotes, a 5-volume set that meticulously breaks down the CFA Program curriculum, making it an excellent resource for self-study. Additionally, Kaplan outshines Wiley in the practice exams department, offering four mock exams compared to Wiley's two. This abundance of practice material from Kaplan is invaluable for candidates seeking extensive preparation.
While some candidates believe Wiley's mock exams closely resemble the actual CFA test, making them challenging, Kaplan's broader range of resources and foundational approach makes it the preferred choice for a well-rounded preparation. If you're aiming for comprehensive self-study with a plethora of questions, Kaplan Schweser emerges as the winner.
---
Does Kaplan Schweser have better value?
Kaplan is a well-known name in the test prep world, and for good reason. They've been offering study tools for many years, bringing a lot of value to their offerings. But of course, this comes with a trade-off, usually in the form of a higher price tag.
Surprisingly, CFA prep price points between both Kaplan Schweser study materials and Wiley courses run neck and neck.
Here's a pricing overview for both Kaplan Schweser and Wiley prep courses:
Kaplan Schweser
Wiley Efficient Learning
PremiumPlus Package
$1299 – $1598
Wiley CFA Platinum Course
$1395
Premium Package
$999
Wiley CFA Gold Course
$995
Essential Package
$699
Wiley CFA Self-Study Course
$645
It's important to note that both offer CFA free trials. Kaplan offers one week, while Wiley will let you test drive their CFA materials for 14 days. If you decide you want to commit, Wiley also offers 0% financing for up to a year for those who qualify.
You could save a couple of dollars by going with one or the other (the leading prep provider depends on the course you choose.) However, we recommend you make your decision based on other factors since there isn't much of a difference in price tag.
One said factor is access. Wiley CFA Review offers access to materials and updates until you pass, while Kaplan only allows you a year.
Another thing Wiley does have that Kaplan doesn't regarding value is a solid guarantee. Kaplan does offer one free subscription round if you fail, but the better deal is Wiley. Their pass guarantee has no exceptions and no terms and conditions.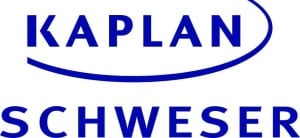 Get 15% Off Kaplan CFA Review Course
60 uses today
Last Used: 1 hours ago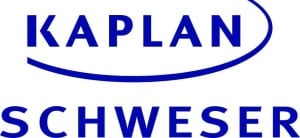 Enjoy 15% Off Kaplan CFA Review Course
40 uses today
Last Used: 56 minutes ago
---
Does Wiley have better support?
When it comes to support, Kaplan Schweser definitely has a better reputation. In the past, some CFA candidates have complained that Wiley's support was lacking. Kaplan has always been known for the superior way it handles customer needs.
This is something that Wiley seems committed to fixing, though. Their Ask and Instructor Feature is another great offering, as it provides answers and explanations to tough CFA questions that candidates want to know. They've also hired a live support team that can answer customer calls and concerns. Still, the information on how and who to call isn't as readily available as Kaplan's is.
Kaplan offers a much more helpful support team. Not only do they have multiple contact methods you can use to make your voice heard– they also have dedicated support channels for both academic and technical issues. They also have a great YouTube channel with a lot of helpful information. This is a huge benefit to Wiley.
Both have places to get CFA questions answered in terms of community support, but the Kaplan Schweser community forum does seem a little more useful.
So, if you're a student who is prone to tech issues or tends to need extra help, Kaplan CFA is the way to go.
---
Final Review
So, which course is better? Wiley has some real benefits, like their video content and rigorous test questions. Kaplan steals the show with their notes, audio offerings, and student support.
Here's a final recap:
Kaplan Schweser recognizes the immense volume of material CFA® candidates need to master before the exam. To address this, Kaplan has structured its course to provide comprehensive support, ensuring candidates are well-equipped for the challenges ahead.
While Wiley offers bite-sized lessons, Kaplan's approach is more holistic, ensuring that candidates grasp the foundational concepts thoroughly. Kaplan's support system is unparalleled, offering a variety of assistance types to candidates throughout their CFA preparation journey. This support, combined with their extensive resources, makes Kaplan a top choice for many.
Though Wiley has its merits, such as reasonable pricing and a good number of test questions, Kaplan's commitment to candidate success through robust support mechanisms sets it apart. If you're looking for a course that not only provides material but also stands by you every step of the way, Kaplan is the way to go.
For those still undecided, we recommend exploring the free demos from both providers to determine which aligns best with your learning style. However, with Kaplan's comprehensive support and resources, it emerges as the preferred choice for CFA preparation.
Is Wiley CFA enough to pass?
Wiley is a solid source of the materials needed to prepare to pass the CFA exam. They have three different tiers of review courses for CFA Level I, CFA Level II, and CFA Level III. Each course comes with varied access to some of the best CFA video lectures, a massive question bank, mock exams, and more. However, we don't recommend it because Wiley has recently been bought out.
Which video lectures best for CFA Level 1?
When it comes to video lectures optimized for CFA Level I, Analyst Prep stands out as the top choice. Their concise lessons and engaging video content simplify challenging CFA concepts. Additionally, they offer clear guidance that equips CFA candidates to excel in both the mock and actual CFA exams.
Is Kaplan notes enough for CFA?
Kaplan Schweser is an extremely popular provider of CFA prep material and can help you navigate your CFA journey with confidence. Their SchweserNotes are one of their most popular offerings and are included with their CFA review courses. Although they can be purchased separately, this isn't really recommended as a substitute for a CFA prep course.