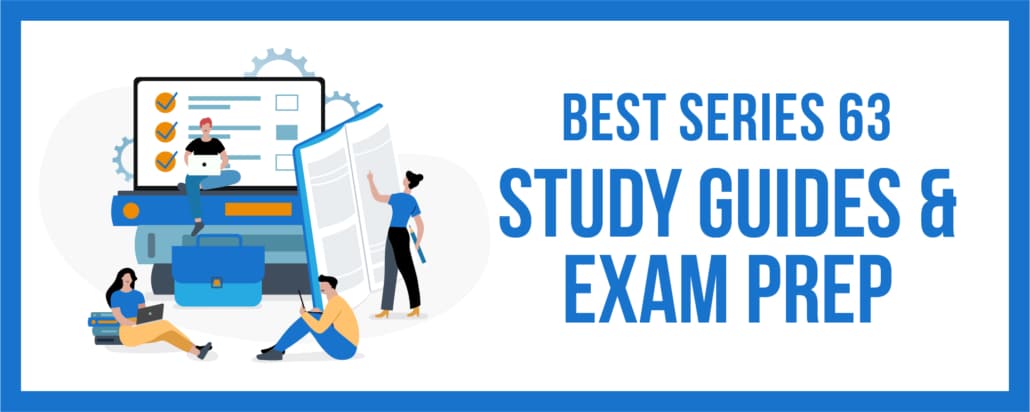 Studying and passing the Series 63 exam is no easy task. Luckily these prep courses are designed to help prepare you for the actual test. You can do this by using tools like practice tests, self-study package options, and other course materials tailored to your learning style–and of course, study guides.
Reviews of the Best Series 63 Study Materials

Compare the best FINRA Series 63 Guides of 2023 below.
#1: Securities Institute of America: Best Series 63 Exam Prep

If you're looking for the ultimate offering, the Securities Institute of America has five different Series 63 products that will knock your socks off!
These include each of these:
Complete self study program
Online video class
Textbook & mobile ebook
Exam prep software
Because they're partnered with Wiley, you know that SIA materials are a cut above the rest. And truthfully, there's no arguing that investing in high-quality exam prep courses is the best way to prepare for the Series 63 exam.
Their most popular program comes in at $149, and while this is more expensive than some other options, their Pass Guarantee ensures that you'll walk away a winner.
Let's take a look at a few Securities Institute of America perks:
Pros & Cons:
Lots of different study options
A super high pass rate of 90%
Phone, e-mail, and live chat support
100% full refund guarantee
Tons of satisfied students
Bottom Line: SIA is it if you're on the hunt for a top-tier study course that will ensure you pass your securities exam on the first try. Even with cheaper programs on the market, the value brought by their flexible test prep options continues to tip the scales in their favor.
Go To Securities Institute of America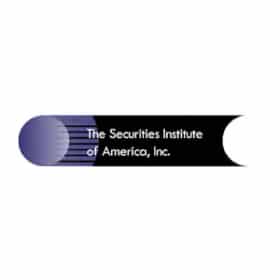 Save 12% on Securities Institute of America Series Exam Prep
36 uses today
Last Used: 2 days ago
---
#2: Kaplan Series 63 Exam Prep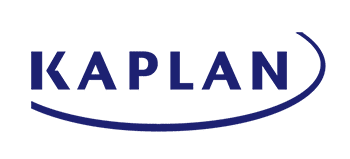 Studying for the Series 63 exam is an in-depth process. With Kaplan Series 63 prep, you'll have access to everything you need to crush it on test day. Here is a quick overview of their package offerings:
Premium Instruction Live Online Package: $159
Premium Instruction OnDemand Package: $129
Essential Self-Study Package: $99
Basic Self-Study Package: $59
The package that's right for you depends on what your schedule is like and what your learning style is. The Premium Instruction Online Package includes scheduled live online classes, practice questions, practice tests, and class note PDF files to help you master all of the knowledge you'll need to pass the Series 63 exam.
The Premium Instruction OnDemand Package includes all of the offerings of the Practice Package with added flexibility for those with a busy schedule. These include pre-recorded video lectures, study materials like notes, and review summaries that can elevate your study sessions.
If you're looking for the ultimate mix of affordability and flexibility, the Essential Self-Study package is the perfect solution. You'll still have access to solid tools such as practice exams, study guides, and a video library of top-notch instruction to help you crush the exam. The best part? Study how and when you want.
Kaplan's most cost-effective exam prep course is the Basic Self-Study package. However, don't let the affordable price tag fool you; you'll still have access to everything you need to pass the exam. If you're a self-motivated individual that values flexibility, this could be the perfect option for you.
Although the Kaplan Series 63 Exam Prep course is a solid choice for Series 63 exam prep, it does have a few downfalls you should be aware of.
Pros & Cons:
Package options for many budgets
Video lectures
No waiting period
Mastery exams included
Only accessible for five months
Live instruction is not available with all packages
No mobile platform
Bottom Line: If you're looking for an all-around great option for Series 63 exam prep with study guides, Kaplan Series 63 Exam Prep is a great contender. Their video lectures and mastery exams are sure to impress. Best of all, there's a price-point for everyone!
Go To Kaplan Series 63 Exam Prep
---
#3: Securities Training Corporation

One of the best ways to prepare for the Series 63 exam is to ensure you have all the study materials you need at your fingertips to succeed.
Test takers who show initiative in using things like FINRA study guides and practice exams are in a much better position to pass the Series 63 exam.
With Securities Training Corporation, there's a study package available for students from all skill levels and budgets. One of the company's most impressive study materials is its in-depth study guide that includes everything you need to know to ace the Series 63 exam on your first attempt.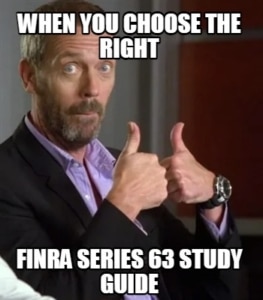 The best part is that the study guide isn't all you'll have access to with Securities Training of Corporation. They offer super helpful add-ons like:
Access to instructor hotline
Online and printed study manual
On-Demand lectures
Lots of practice exams
Flashcards
Free course updates
Looking to take it a step further? Series 63 materials by Securities Training Corporation have you covered.
Live online options are available for students who thrive in a classroom-like environment but need the flexibility to attend class from wherever they are. In-class options are available as well.
This option costs $183 versus the $130 price tag, but it's well worth it.
Working on a budget? There is a cheap one that will run you a little under 90 bucks.
Understanding the pros and cons of using a Securities Training Company is vital to making the right decision for you.
Here are some of the most important ones to note:
Pros & Cons:
In business for 50 years
95% first-time pass rates
Over 1,500,000 financial professionals trained
Live online classes are offered
Printed study materials available
Access only lasts for six months
Bottom Line: Securities Training Corporation is perfect for students who want all the bells and whistles. Their proven track record high success rates se them part. Plus, no matter your budget, this exam prep option has resources for you.
Go To Securities Training Corporation
---
#4: ExamFX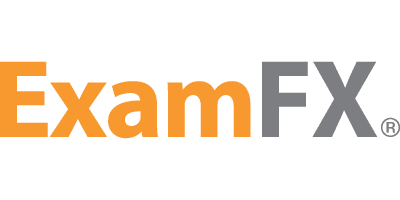 ExamFX boasts one of the most innovative training platforms of all securities industry providers. With awesome packages starting at just under 60 dollars, ExamFX is a Series 63 provider with a great mix of value and affordability. They have three different packages:
Self Study for FINRA Series 63
Video Study for FINRA Series 63
Live Online Study for FINRA Series 63
All packages include features like online exam simulations and instructor support. As you move up in the tiers, videos and live instruction are added on. Flashcards and tip sheets are also provided.
One great thing about this provider is that they offer both an online platform and printed materials. This 'best of both worlds' offering makes ExamFX's Series 63 study guides and programs a top-three pick.

They also have a great guarantee and make this promise: If you fail to pass your licensing exam within three days after scoring 80% or higher on the Guarantee Exam, we will refund the cost of your course.

So basically, they assure you that if you can pass their mock exam, you'll pass the real test.
Here's a recap of their pros and cons:
Pros & Cons:
Study guides include exclusive tip-sheets
A good mix of cost and value
Money-back guarantee on the first try
All students have access to support
Access only lasts for three months
In-person classes not available
Bottom Line: If you're looking for an affordable study package that brings value but won't break the bank, Exam FX is it. They offer a money-back guarantee, lots of support, and extra materials that ensure you'll never have to take advantage of their money-back guarantee.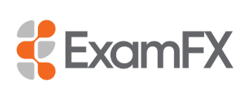 Save up to 20% on ExamFX Securities Review Courses
uses today
Last Used: 2 days ago
---
#5: KnopmanMarks

Knopman Mark's All-Access Pass gives you more than most Series 63 study gudies ever could. Included is a group onboarding call where you meet with the team and take part in a 60 minute live instructor Q&A session.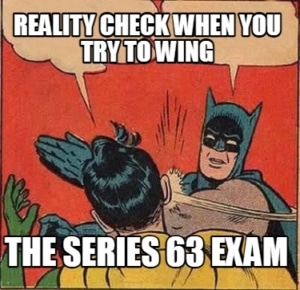 Need faculty-led lectures? This is available too as are blended classes. But above all, you'll get a unique set of diagnostic, benchmark and practice tests. These make the KM FINRA Series 63 study programs first-string. Because they can accurately predict your readiness level and how likely you are to pass the actual test, you're sure to be prepared.
What's even better–the proof is in the numbers. According to KnopmanMarks, 99% of candidates who pass their Series 63 benchmark exam on the first try pass the actual exam.

Basic plans come in at 195 dollars, but you can upgrade to unlimited access to instructor-led classes for $225.
This price tag promises the following:
Access to their training center
5 hours of video lectures
Ebook/textbook
Access to an online question bank
Study apps and digital flashcards
Team support is also a big plus for this program choice. They've put together a team of experts that will help you every step of the way. Other plusses (and some minuses of this program are as follows.
Pros & Cons:
Best passing rate
One-year material access
Strong instructor support
Access to some Kaplan materials
Higher price tag
No money-back-guarantee
Bottom Line: With the highest pass-rate on the market and one-year-access to their Series 63 study guides, KnopmanMarks delivers one heck of a package. Plus, their strong instructor support guarantees you won't have to go at it alone.
---
FINRA Series 63 Study Guides FAQ
How to study for the Series 63 exam?
The best way to study for the Series 63 exam is to take advantage of study materials. Investing in Series 63 study guides, video lectures, and simulated exams helps prepare most students for test day. Not sure which one to choose? Check out our review!
Is the Series 63 exam hard?
The Series 63 exam is a timed test that goes into great detail about the fundamentals you need to know to become a securities agent. With the right preparation and support that you can get from online training, you have a good chance of passing on your first attempt.
What is the pass rate for the Series 63?
The pass rate for Series 63 is just over 80%. The best way to avoid being in the ~20% of students who fail on their first attempt is to use study guides from reputable test prep companies.
---
The Best Series 63 Study Guides for You
Choosing the right test prep company for you is an important decision. You'll need to consider a few important factors, such as your budget, learning style, and which areas you struggle in to make the right decision for you.
Luckily, there is no shortage of great options out there for those who want to enter the financial services industry. The Series 63 exam can present some unique challenges, but with the right preparation, you can ace it with ease.
Resources:
https://www.finra.org/registration-exams-ce/qualification-exams/series63