Key Takeaways: Passing the Level III CFA® Exam requires studying and investment in one of the best CFA® Level 3 study materials. Our top picks include Wiley CFA® Level III Review Course, AnalystPrep Level III Study Materials, The Princeton Review CFA® Level III, Bloomberg CFA® Exam Prep, Fitch Learning, and Mark Meldrum.
Are you ready to ace your final exam day and become a Chartered Financial Analyst? Well, if you don't have the best CFA® Level 3 study materials, you're not.
For most candidates, Level 3 is the final and most difficult step in earning your CFA® certification. By passing the CFA® Level III exam, you'll prove that you have what it takes to be highly regarded and distinguished in the finance industry.
Unfortunately, most CFA® candidates won't hit the mark.
According to the CFA® Institute, less than half of all takers pass the CFA® Level III Exam. Typically, the latter portions of multi-part exams have higher pass rates because the people taking them are experienced enough to pass the prior exam sections.
The fact that so few takers pass the Level III CFA® Exam indicates just how difficult this test really is!
Part of what makes this test so difficult to pass is a lack of good study materials. Most online educators only provide content up to level 2, leaving anyone hoping to go further out in the cold. Despite that, you do still have options.
I've gone ahead and found 6 of the best CFA exam prep courses for the Level III exam. From killer videos to a great mock exam, each of these CFA® Level 3 curriculums has something unique to offer, so check out our mini-reviews below!
These are the Top 6 Best CFA® Level III Prep Courses 2023:
Mark Meldrum
---
1. Wiley CFA Level 3 Study Materials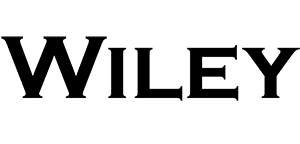 Wiley appeals to a wide range of students by offering content that prioritizes multiple styles of teaching.
Course Details
Wiley's CFA® Level III Exam course contains a mix of live classes and self-study materials. Students can access 90+ hours of live or on-demand lectures in addition to study guides, mock exams, and flashcards. You can also upgrade the course to speak with a professional online mentor who will assist with making sure that you pass the level 3 exam!
Wiley Features
90+ Hours of Video Lectures
Pass Guarantee
Mobile App
Mock Exams
Downloadable Flashcards
Wiley CFA® Level 3 Pros and Cons
Final Review: Wiley includes an 11th-hour final review segment at the end of their CFA® level 3 study plan. This is an effective cram session that ensures you achieve the best results possible on exam day
Bite-Sized Lessons: Lessons are 30-45 minutes long and break down difficult topics into easier-to-understand parts that fit any learning style. This way, even students with shorter attention spans can easily digest the educational material being presented through this course.
Mobile App: The entirety of Wiley's CFA® level 3 study plan is available through an app available on any mobile device. Now, you're free to study whenever and wherever you are— feel free to listen to a lecture while driving to work or practice with some flashcards in between sets at the gym.
Bottom Line: Wiley is by far the best overall choice for anyone preparing for the level 3 CFA® exam. Their study materials are designed to conveniently supplement your professional knowledge without requiring a substantial change in your lifestyle and the quality of their content and software is the best in the industry.
---
2. Analyst Prep CFA® Level 3 Prep Course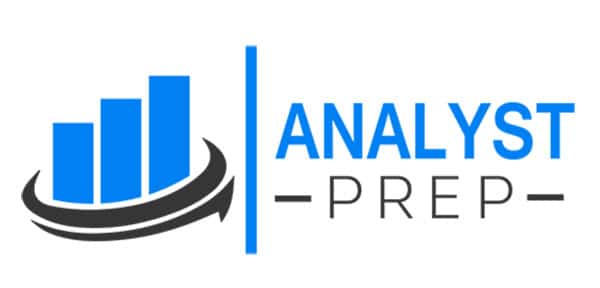 Analyst Prep is an excellent platform for anyone who wants to practice taking the CFA® exam in realistic exam conditions.
Course Details
Analyst Prep's CFA® program curriculum focuses exclusively on practice exams. Students can create custom exams that focus on specific content areas or complete more general tests. Your performance is tracked as you work through each exam so Analyst Prep can tell you what areas you need to focus on to succeed. For example, you might need more time on portfolio management topics or crafting a constructed response..
Analyst Prep Features
12-Month Course Access
20 Essay Questions and 120+ Case Studies
700+ Practice Exam Questions
5 Ask-A-tutor Questions
Performance Tracking Tools
Analyst Prep CFA® Level 3 Pros and Cons
Unlimited Quizzes: You'll have access to an unlimited number of CFA® exam level 3 mock exams when enrolled in this course. This means that you have free reign to practice with realistic simulations for as long as you need before feeling fully prepared.
Essay Questions: Unlike other courses, Analyst Prep also prepares you for the essay questions that appear on the CFA® level 3 exam. These questions can be tough to grade, but the instructors in this course do a great job identifying the important aspects that exam scorers consider when grading these questions.
Testing Only: This is solely a platform for CFA® level 3 practice exams. If you want video lectures or flashcards, you're better off with Wiley instead.
Bottom Line: I recommend this course to anyone already confident in their knowledge who wants to physically practice taking the test. The repetitive nature of Analyst Prep makes for a perfect prep tool if you want to eliminate pre-exam stress.
TAKE ME TO ANALYST PREP CFA® LEVEL 3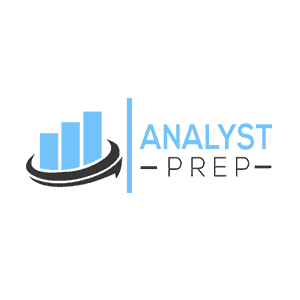 20% Off Analyst Prep CFA & FRM Courses
307 uses today
Last Used: 4 hours ago
---
3. Bloomberg CFA® Level 3 Review Course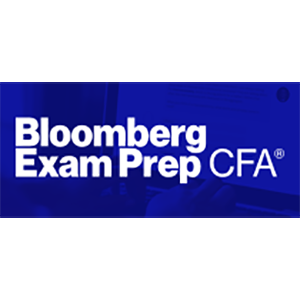 Bloomberg is a company with monumental influence in the finance industry. Their CFA® Level III exam program backs up live learning with well-made practice exams.
Course Details
With the same format as Analyst Prep, Bloomberg focuses on exam practice. However, they also include a series of video lectures and an option for 1-on-1 tutoring. That way, students can reinforce what they've learned by immediately applying it to practice exams. The course will also constantly shift to focus on your weaknesses so you're ready for anything by the time you need to pass the CFA® level 3 exam.
Bloomberg Features
10,000+ Practice Questions
80 Ask-a-Tutor questions
9 Full Exams
Private Tutoring Sessions
Money Back Guarantee
Bloomberg CFA® Level 3 Pros and Cons
Adaptive Learning: This course updates its curriculum to match your progress and keep you focused on the areas where you need the most help. If you're already familiar with financial reporting but struggle with risk management, their platform will adapt to your specific educational needs.
Tutoring: Students can receive 1-on-1 tutoring from the expert instructors that teach this course. These investment professionals can provide a unique perspective on difficult concepts that can inform your professional decisions in the future! It's important to note that tutoring isn't included in every CFA® study plan.
Price: Bloomberg's high-quality materials come at a high price. This is easily the most expensive course on this list, but it's a worthwhile investment if you're serious about passing Level III.
Bottom Line: Bloomberg is a well-known name in the industry because of its close relationship to institutional investors. However there are better courses out there so I wouldn't let that persuade you.
---
4. Fitch Learning CFA® Level 3 Study Materials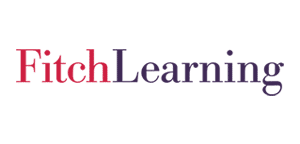 Fitch's virtual classroom provides a traditional experience for a reasonable price. It's a decent choice if you prefer a classroom setting when studying.
Course Details
Fitch Learning's course is one of the best CFA® Level 3 learning materials because it focuses heavily on creating a good classroom experience. Lessons are taught live online each week and come with a wide range of bonus study materials. Plus, each week is capped off by a live webinar that includes a Q&A session with your teacher. Fitch does also provide a self-study course, but it isn't quite as developed as the virtual classroom. Still, it's a nice alternative for any students who don't like live learning.
Fitch Learning Features
5,000+ Practice Questions
Online and Printable Mock Exams
Class Notes
Weekly Webinars
Mobile App
Fitch Learning CFA® Level 3 Pros and Cons
Lots of Options: Fitch Learning offers a virtual classroom, online learning, and review options. That's three different ways to prepare for the level III exam. If you need more guidance, you can choose a live class. Want downloadable content? You can study your CFA® Level III content between class sessions by downloading or printing exams and study sheets. This lets you study offline as well, which is great when you need a break from staring at a screen!
Consistent Contact and Support: One of the strengths highlighted in our Fitch Learning Review is their consistent support and contact from mentors. This feature provides learners with ongoing guidance and assistance throughout their learning journey. The presence of mentors ensures that learners have access to experienced professionals who can answer questions, provide clarification, and offer personalized feedback, creating a supportive and enriching learning environment.
Scheduling: The tough part of any live course is that you need to have a lot of free time for scheduling. If you have conflicting time commitments, Fitch isn't a good fit for your study needs.
Bottom Line:Fitch Learning is a decent CFA Level 3 course, but lacks the complete package of features and support compared to Wiley or Analyst Prep.
---
5. Kaplan CFA® Level 3 Test Prep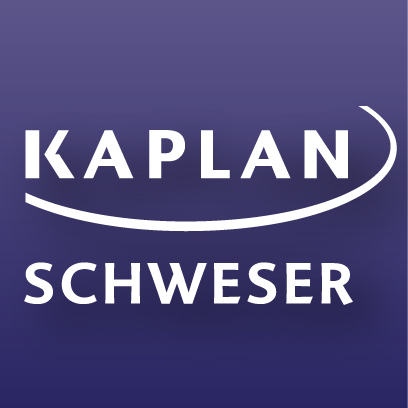 Kaplan's self-study program makes preparing for the CFA® exam a breeze.
Course Details
As I mentioned above, Kaplan's course focuses entirely on self-study methods for the CFA® exam. Everyone who signs up for the course can complete a series of on-demand video lectures followed by a series of practice exams. This allows you to immediately apply what you've learned and start creating test-taking strategies.
Kaplan Features
On-Demand Course
Checkpoint Exams
Quicksheet
Schweser Notes
Pass Guarantee
Kaplan CFA® Level 3 Pros and Cons
Activity Feed: Kaplan makes your study schedule accessible and easy to follow through strategically placed weekly tasks. This can keep you motivated over a long study schedule, which isn't always easy with an online course. It also serves as a centralized hub where candidates can track their study activities, monitor their performance, and receive important updates and reminders.
Quicksheet: All students gain access to a compact study tool that summarizes key formulas, definitions, and concepts. This is a great cram tool for some last-minute study before exam day!
No Live Content: Kaplan's CFA® level 3 course is focused entirely on self-study content. If you want to see any live lectures, consider Bloomberg or Fitch instead.
Bottom Line:Kaplan has been around for ages, but they need to update their study materials to stay competitive in this day and age.
---
6. Mark Meldrum CFA® Level 3 Exam Prep

Mark Meldrum uses performance metrics to create a competitive study environment. Although he lacks the big-name recognition, this CFA® exam study tool offers similar benefits to the top options.
Course Details
Mark Meldrum takes a very unique approach to preparing students for the CFA® exam by comparing your performance on the course against other MM subscribers. This helps those with competitive mindsets compete against each other as they increase their overall scores. Plus, even people who don't care about competition can see the benchmark and know how much work is necessary to achieve similar results.
Mark Meldrum CFA® Level 3 Features
Lecture Videos
Thousands of Practice Questions
Custom Study Planner
Performance Stats
Pass Guarantee
Mark Meldrum CFA® Level 3 Pros and Cons
Performance Stats: At any time you can check your performance against the benchmark set by other MM students. This competitive edge can be very motivating to certain types of people.
Custom Study Schedule: Students can easily set their own pace by filling out a custom study planner. Although not as involved as the planner used by Analyst Prep, this is a nice way to structure your lesson plans around specific interests.
No Live Learning: There is currently no live learning option for this course. As a substitute, Mark Meldrum's YouTube channel has some free lecture content to supplement other aspects of the course.
Bottom Line: Mark Meldrum appeals to a very specific type of CFA candidate. If you need any sort of support in your studies you'd do well to try the other courses above.
CFA Level 3 Exam FAQs
Q: How long is the CFA Level 3 exam?
A: There are two 2 hour and 12 minute sessions, along with a break, for a total time of 4 hours and 24 minutes to complete the Level III CFA exam.
Q: How many questions in the CFA Level 3 exam?
A: The first session will have 8 to 15 questions with multiple parts that allow you to construct your response. The second session has 44 multiple choice questions that are worth 3 points each.
Q: What is the pass rate of the Level III CFA exam?
A: As discussed before, the Level III CFA exam is the toughest passing rate of the three CFA exams, which is why it currently has a 43% passing rate, with an average of 39%-56% over the past decade. This is why investing in the best CFA® level 3 study materials is so important.