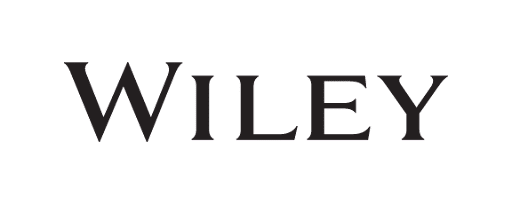 CRUSH RATING: ★★★★★
Wiley CFA Review is among the most popular CFA® study materials out there— but is it a good resource to help you pass this difficult test? Read my full review below to find out!
---
With Wiley's recent acquisition by UWorld, there's uncertainty about the future direction and offerings of the CFA® prep material. Prospective students may need to exercise caution and stay informed about any changes to the curriculum or platform as we can no longer recommend them at this time.
About Wiley Efficient Learning
For more than 200 years, Wiley has been helping students and young professionals prepare for accounting and finance exams. Over 500,000 business, finance, and accounting professionals have used the Wiley Test Prep platform, and the number keeps growing by the day.
Wiley Efficient Learning's objective is to help you prepare for your exams as quickly and painlessly as possible. The experts at Wiley believe that professional success in finance and accounting starts with thorough preparation, which is why they offer a huge library of CFA® exam prep materials.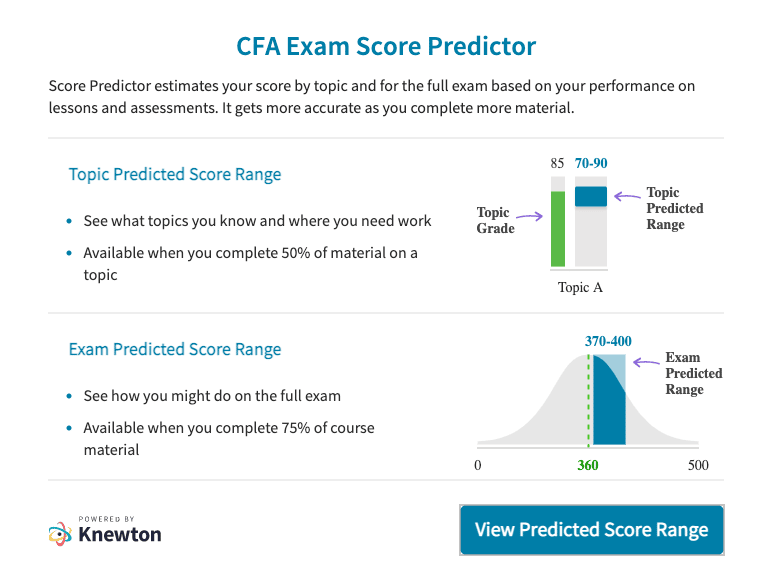 ---
Wiley CFA® Prep Course Overview
Here's an overview of Wiley's key features:
Over 12,000 practice questions
Well-updated print and digital flashcards
Unlimited access to the flashcards and courses
Intuitive and user-friendly Android and iOS app
Concise study notes
Wiley focuses on helping you master, identify, and focus on the critical aspects of the CFA® exam. With over 12,000 practice questions at your disposal, you have all you need to prepare for the final exam.
Recently, Wiley added another 2,400 practice exam questions with in-depth answers. In addition, there are more than 1,000 printed flashcards, which are updated regularly. These help you to internalize the most critical aspects of the CFA® exam, and the fact you can easily access them on your smartphone or tablet means you can study wherever you are.
---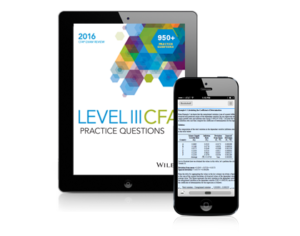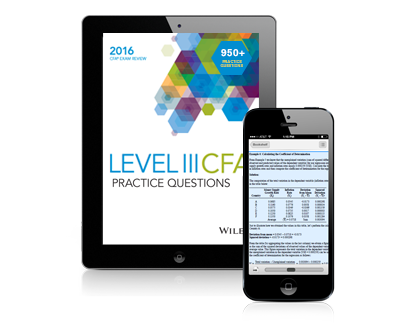 What's Included With The Wiley CFA® Review?
This CFA® prep course comes with a ton of great features, including:
Video Lectures
All lessons on the Wiley CFA® app come with video lectures presented by renowned finance, accounting, and business experts. These are designed to be short yet informative, summarizing important concepts without going into too much detail. Think of these as a supplement to the other features included with this CFA® program.
Study Notes
In addition to traditional study resources, Wiley also offers course outlines for each section. These are a great way to keep your other notes organized since you can quickly consult these outlines to figure out where a specific topic is covered in your notes. You might even find yourself relying more on Wiley's study notes than your lecture content!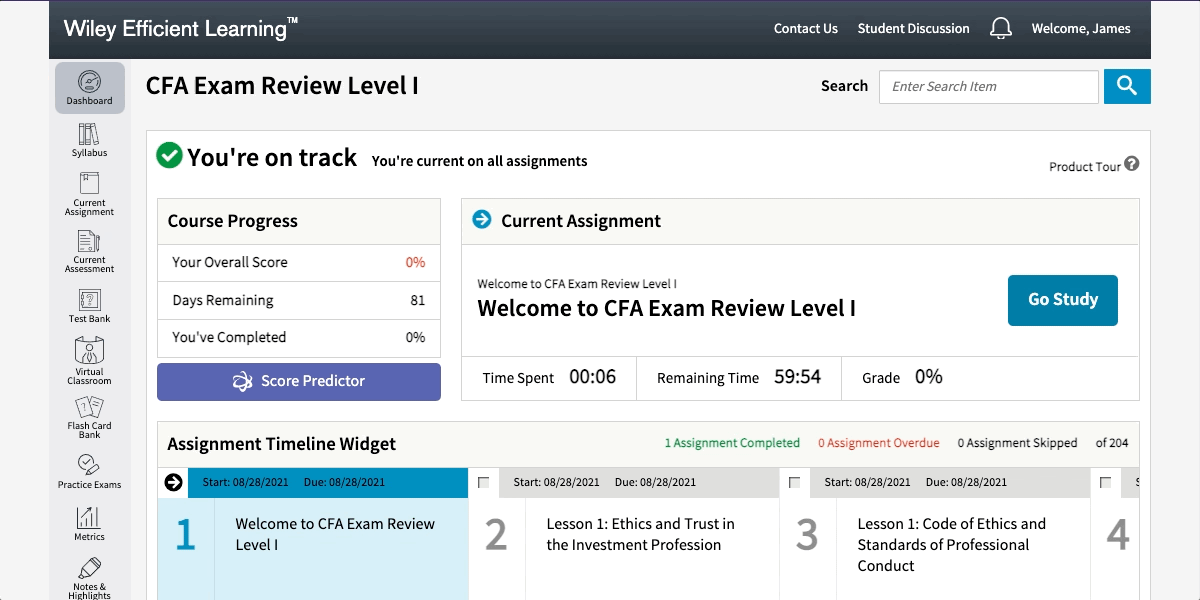 Inexhaustible Test Bank
Anyone who has sat for CFA® exams in the past will tell you just how crucial a course text bank is during preparation. The Wiley CFA® course test bank is among the largest you'll find anywhere.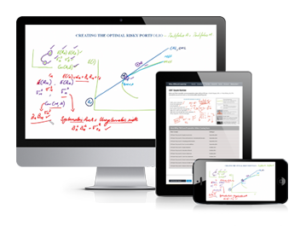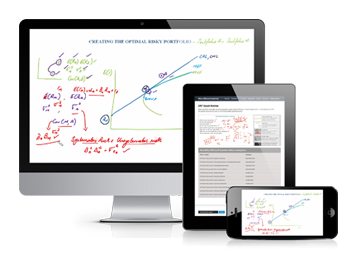 With over 12,000 practice questions — many from past exams — you'll have all you need to prepare for an upcoming exam. Additionally, every lesson included with this self-study course also comes with numerous related questions on that topic to help with your preparation.
Besides enabling you to practice answering questions in different formats, the Wiley CFAexcel online course provides in-depth answer explanations so you can understand the reasoning behind each correct answer.
Exam Simulator
Another impressive feature of Wiley's CFA® program is a simulator that closely resembles the real CFA® exam environment. For those who don't like surprises on D-day, the exam simulator will come in handy since it helps you practice taking multiple task-based simulations and 30 multiple-choice tests in a virtual environment that's more or less completely identical to the actual test environment. Consequently, using these simulators will help you manage time more effectively when taking the full exam.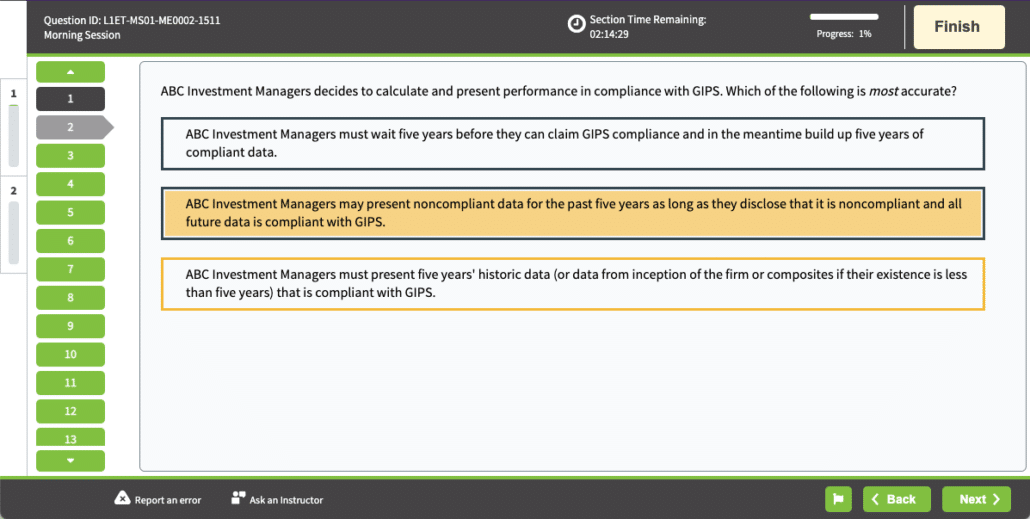 Offline Mobile App
As an online test prep course, you're going to spend most of your study time connected to the internet. But when it comes to studying on your tablet or smartphone, this can be easier said than done. Fortunately, Wiley's CPAexcel app for Apple and Android devices offers a rare feature that makes this easier— offline access.
Essentially, you can take any of the videos, flashcards, and practice questions accessible through Wiley's app — which is basically all of them — and download them directly to your device. So the next time you're stuck on a long train ride or your internet cuts out for some reason, you'll still be able to catch up on your studies!
---
Wiley CFA® Review Pricing
Wiley's courses are sold separately for each level of the CFA® exam. Each level has four different-priced packages to choose from, with the most affordable options having the fewest features. A basic self-study course costs under $700 per part, the Gold course costs just under $1,000, and the Platinum course is just $1395
When comparing the features included in each CFA® program, the Platinum course is actually the best deal— especially when you consider that it adds the 11th Hour Final Review, which costs $400 on its own.
---
Wiley CFA® Review Pros & Cons
Are you wondering why this course is so popular? Here's a quick list of some positives and negatives:
High Pass Rate: Wiley CFAExcel has an impressive 90% pass rate. More than 500,000 learners have used Wiley courses to prepare for their business, accounting, and finance exams. A major factor for this is the fact that you have unlimited access to your course until you pass your exam.
Convenience: Wiley's mobile app comes with many excellent features to leverage when preparing for your exam— including practice questions, flashcards, and over 90 hours of video lectures for streaming or downloading. The app also has offline access, and your progress can be synced to the online course on your other devices.
Free Trial: Wiley CFAexcel offers a free 14-day trial to those who are still unsure about purchasing it. You can take advantage of the free trial to check out the course and understand how the lectures operate, and you don't need to put your card on file either!
Short Lectures: Arguably, this is the most significant drawback of the Wiley CFA® program. Candidates who prefer an exam prep course with more detailed lectures won't be happy with what's available on Wiley CFAexcel. Here, you'll primarily find bulleted presentations that don't cover the topics in detail.
Platform Navigation Challenges: Some users have reported that Wiley's CFA® platform can be less intuitive, making it difficult to quickly locate specific topics or resources, potentially slowing down the study process.
Depth Over Brevity: While comprehensive, Wiley's CFA® materials sometimes delve too deeply into certain topics, which might lead to information overload and detract from focusing on key exam points.
Inconsistent Instructor Styles: Wiley's CFA® prep involves multiple instructors, and there can be a noticeable variance in teaching styles and delivery. This inconsistency might disrupt a uniform learning experience for some students.
---
Frequently Asked Questions
Here are some of the most frequently asked questions about Wiley CFAexcel:
Q: What Is the Wiley CFA® Review Course Format?
A: Wiley CFA® Review consists of study texts, proficiency questions, and practice questions/exam simulations. All these are designed to help you to prepare for your CFA® exam fully, but extra features like 11th Hour Final Review can provide even more assistance to help you earn even higher scores on your exams.
Q: Am I Guaranteed Full Accessibility with Wiley?
A: Yes! Once you download Wiley CFAexcel on your phone or desktop, you'll be able to access all the learning materials, including questions, videos, and simulation exams, without restrictions. You're even able to download content to view offline— virtually no other online review courses have this feature!
---
Wiley CFA® Ideal Student
If you're still on the fence, check out this table and see whether you're the ideal student for Wiley CFA®:
| | | |
| --- | --- | --- |
| | Course is Right for You | Course isn't Right for You |
| You prefer detailed course notes | |           ✔ |
| You like consistent teaching/instructor style | | ✔ |
| Practice questions for in-depth prep | ✔ | |
| Little time to prepare for the CFA® exam | ✔ | |
| Wider variety of learning tools | |         ✔ |
| You want to save money | ✔ | |
| You're concerned about the recent merger | |   ✔ |
---
Final Recommendation
Given Wiley's recent acquisition by UWorld, there's a cloud of uncertainty surrounding the future direction and offerings of their CFA® prep material. While the course was once a go-to for many, designed with accessibility and expert support, its current trajectory raises concerns. The potential for Wiley to be phased out post-merger makes it hard to wholeheartedly recommend, especially for long-term study plans. If you're considering Wiley, it might be worth exploring other stable options before committing.