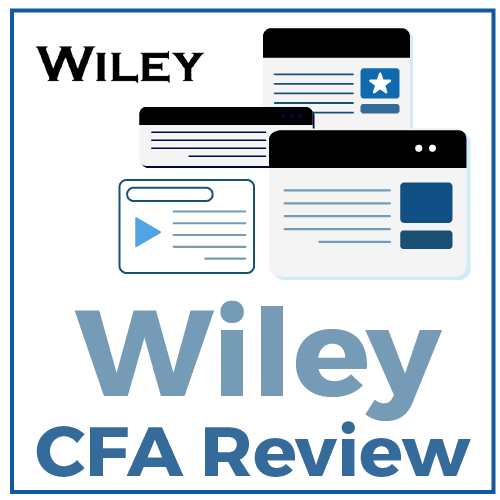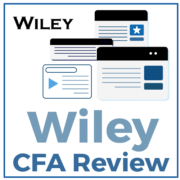 CRUSH RATING: ★★★★★ 
Wiley CFA Review has combined forces with Elan Guides in a recent business acquisition to offer one of the best CFA® courses on the market. Their comprehensive CFA® review course comes with unlimited access to all their study materials so you never have to worry about them expiring.
Wiley CFA® Exam Review is optimal for you if you want the flexibility of studying on the go from various mobile devices, including tablets and smartphones. Wiley's lectures are broken down into small "bite-size" lessons which make the learning material easy to digest. Their course uses cutting edge technology to help students study smarter, not harder.
PROS
1. Unlimited Course Access
Wiley CFA® Exam Review course materials come with unlimited access, so you never have to worry about expiration dates. You have access to the course until you pass the exam and all course content updates and software upgrades are free. These are great features for a CFA® course; most competitors restrict use to a specific time frame.
2. Mobile Device Friendly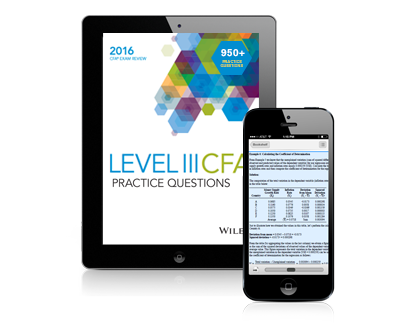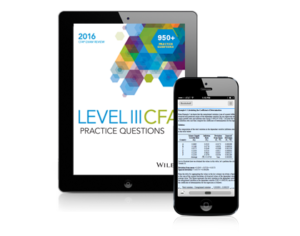 Wiley CFA® Exam Review is optimized for tablet use and allows you to study on the go. You can work through lessons on various mobile devices that are synched so you can switch between them and pick up exactly where you left off each time you log in. Videos can be streamed from iPads, iPhones, Android and other mobile devices.
3. Bite-Sized Lessons
There is a huge amount of material to cover for the CFA® Exam. Fortunately, Wiley has organized it all into clear and concise lessons. Shorter lessons allow you to stay more engaged, retain more information, and monitor your progress. Wiley allows you to cover most lessons in approximately 30 minutes, so you can easily fit short study sessions into your schedule.
4. Exam Study Planner
With Wiley's adaptable Exam Planner, you can enter the date of your exam and it will provide you with a customized study plan so you know exactly what to study each day. This takes the guesswork out of how much time you should spend studying for the exam.
5. Free Trial
You can go to Wiley's website and try the online study materials for 24 hours for free. Your email and password will give you access to the exam planner, short lessons and video lectures, the study text, practice exams, practice questions, and performance metrics, so you can try it before you buy it. A free pop quiz and eBook on how to pass the CFA® exam are also available under the CFA® Exam Program Resources tab.
6. Discounts & Financing Options
Wiley offers financing options through PayPal Credit. Wiley offers a number of CFA® promotions. These Wiley CFA® Exam Review discounts save you money and get you the best possible deal.
CONS
Extensive Number of Course Options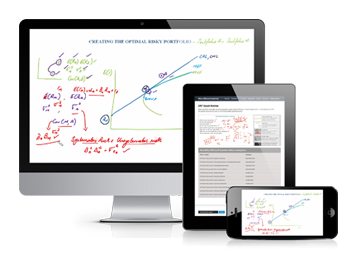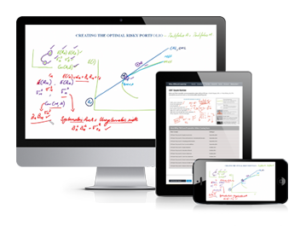 Although it is nice to be able to customize the exact study plan that works best for you, the website offers 5 different courses (platinum, gold, silver, self study, and 11th hour) for the level 1 and level II CFA® exams, along with a series of optional supplements and add-ons that may be bought separately for an additional fee. You will have to consider price, your schedule, and how much preparation you think you need in order to determine which course is best for you.
Ideal User
Wiley's CFA® exam prep materials are aimed at busy working professionals. These courses are ideal for audio visual learners who are looking for a comprehensive yet flexible course. The lessons are taught by experienced instructors and are designed to make studying efficient and effective.
Study materials include a study text, proficiency questions, flashcards, and task-based simulations. The course covers every Learning Outcome Statement (LOS) in the CFA® program curriculum, and the LOS tracker allows you to flip to the page on which each relevant concept is explained.
The idea is that you should be able to complete a short lesson that consists of a video, reading a study text, and answering a few assessment questions on your lunch break or in a 30-45 minute study session whenever you can squeeze it into your day.
The built-in performance metrics indicate when you are ready to take the exam, so it is a huge plus that the course materials do not expire. You can simply keep reviewing course material until you are ready to take and pass the CFA® exam.
My Suggestion
Wiley CFA® offers a comprehensive and portable way to prepare for the Level I and Level II CFA® exams on your own terms. The bite-sized lessons fit into even the busiest of schedules, and the ability to use the course as long as you need it is a nice bonus. These courses allow you to study from anywhere with your tablet or smartphone, watch videos that contain whiteboard explanations with worked examples, and review more than 4,000 practice questions that are very similar to the types of questions asked on the exam.
Your progress is updated and synchronized so that you never have to repeat a lesson or try to figure out where you left off. If you are looking for a comprehensive and flexible CFA® review course that gets results, look no further. Be sure to use this Coupon Code to save 10% off all Wiley CFA® review courses today!