Any aspiring investors and financial advisors know how important a CFA® credential can be for their career. Passing this 3 part test proves to the world that you have an intimate understanding of financial analysis.
Of course, passing this exam is easier said than done, but there are ways to make it much easier on yourself.
CFA® prep courses like this one from Princeton Review are an excellent way to learn everything you need to know about the exam before you sit for it. However, choosing the right one can be difficult. I've gone ahead and examined one of the leading course providers to make that decision easier for you.
Overview of The Princeton Review CFA®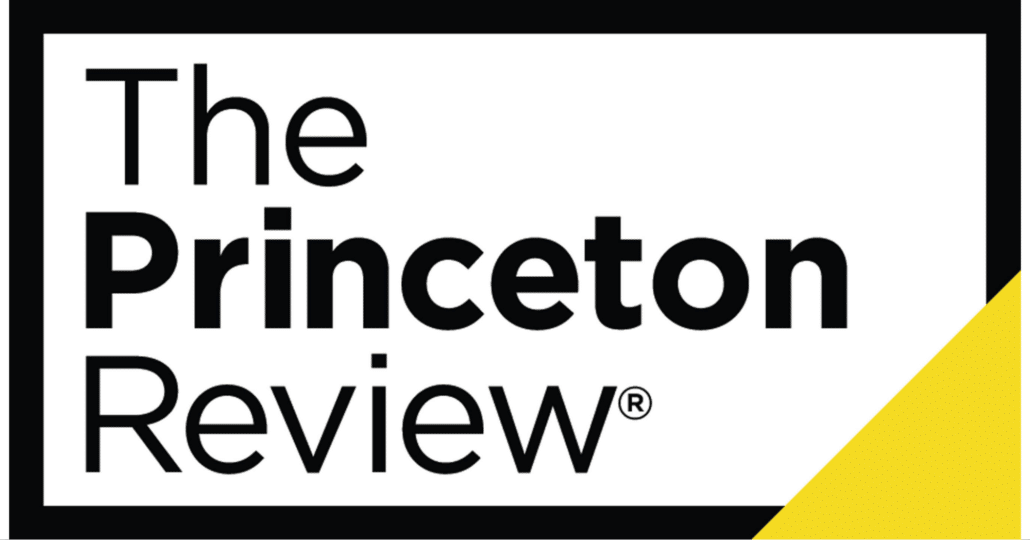 The Princeton Review has helped students achieve their educational goals for over 35 years now. They do so by providing personalized lessons combined with well written self study materials. This allows their team of qualified instructors to most effectively leverage their decades of teaching experience to ensure you pass your CFA® exam.
Here are a few features you can expect from the Princeton Review:
1,500+ Practice Questions
900 Pages of Study Notes
50+ Hours of Study Lectures
50 Key Definition Flashcards
2 Full Length Practice Exams
12 Months Course Access Period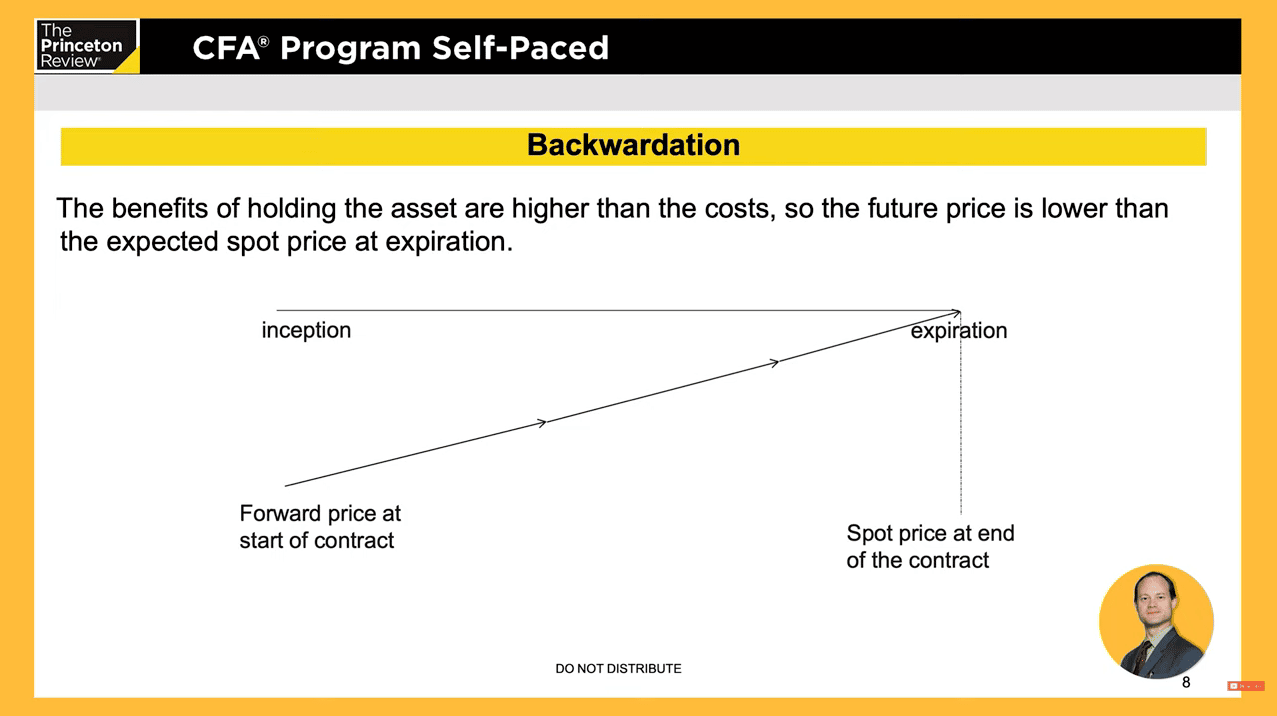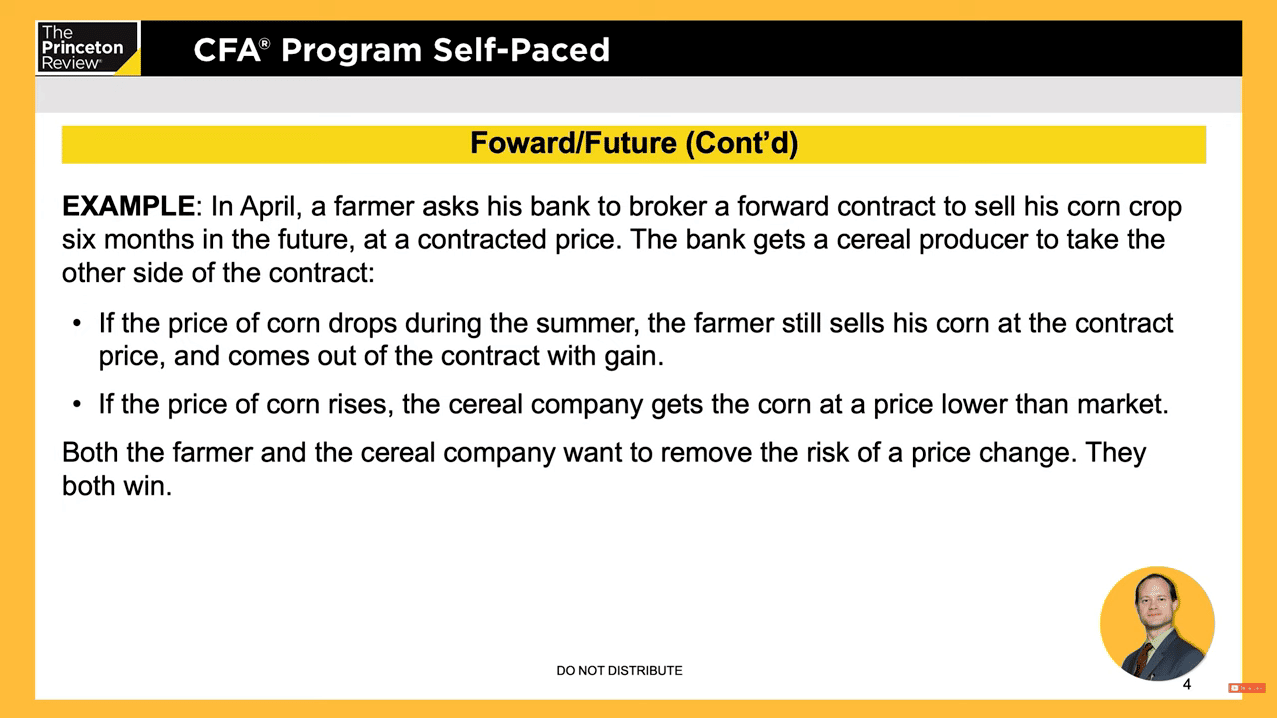 What's Included With the Princeton Review
Video Lectures
Video lectures are the main study tool available to students who enroll in The Princeton Review. These are available on demand and cover major CFA® topics. Each lesson breaks down complicated topics into small, easy-to-understand segments. Doing so makes it easy to learn the problem solving process while studying CFA® concepts for each level of the exam.
Aside from their on-demand CFA® study materials, many lectures can be viewed throughout the year as live streams. These tend to be closer to Q&A sessions with your teacher instead of traditional CFA® prep lessons. Attending these lessons is a great way to identify weaker areas of your working financial analysis knowledge. Additionally, you can learn from the questions other people ask your teacher.
Mock Exams
The Princeton Review understands that one of the best ways to learn is through realistic practice sessions. That's why mock exams are an important part of their CFA® prep course.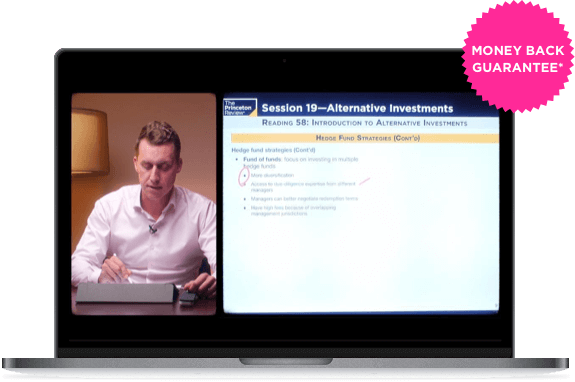 Each test mimics the structure and format of the exam perfectly; completing these tests will help you gain experience as a test taker and ensure that you know what you're doing on test day. Each test you finish gives you a huge advantage.
Each question comes with detailed answer explanations. That way you can still learn even if you get a question wrong. You have access to over 1,500 questions and answers during this course.
Make sure you use this resource as much as possible— it's a huge advantage that other courses struggle to match!
Study Notes
Detailed study notes are included with this course. Each of these condenses individual lessons onto a sheet of paper to help you review. These are best used to reinforce what you've learned in previous lessons without having to rewatch hours of videos you've already completed. These sheets are made with that idea in mind so you can save time while efficiently studying.
Each video lecture comes with a set of study note slides. These make it much easier to follow along with the lesson. You can also write on individual slides, which makes it much easier to link ideas together and remember key concepts. Since each of these slides focuses on content most likely to appear on the exam, it's an invaluable test prep resource that's unique among other CFA® prep online courses.
---
Princeton Review Pricing
Students interested in The Princeton Review have 3 different options when signing up.
The first is to enroll in the Essential course plan for $799. Signing up for this option gives you access to all the on demand study materials on offer.
Next, you can sign up for the $999 Ultimate course. This adds in live lessons and 1-on-1 Q&A sessions with your teacher.
Lastly, you can choose to pay for private tutoring at a rate of $200 per hour.
Keep in mind that these options will frequently go on sale. Savvy students can save hundreds of dollars by waiting for a sale before purchasing anything. However, I still feel this course is affordable and provides adequate value for the asking price, even when not on sale.
---
Princeton Review CFA® Pros & Cons
If you're still unsure about this course, consider the potential positives and negatives associated with The Princeton Review's CFA® program:
Trial: You can complete a 14-day free trial before paying any money for a full course. This ensures that you understand how the course works and how effective it is before making any financial decisions.
Pass Guarantee: If you're unable to pass the CFA® exam after completing this course, you have the opportunity to take this course again for free. Bear in mind that you must either pass your first mock exam or 100% complete the course to qualify for this.
No Level 3: Currently the Princeton Review only offers lessons for the first 2 levels of the CFA® exam. Anyone interested in studying for Level 3 will need to look elsewhere for help. This is especially disappointing considering the quality of materials available for levels 1 and 2.
---
Princeton Review CFA® Frequently Asked Questions
Still have some questions about this course or The Princeton Review? Read on to see some of the answers to the most commonly asked questions:
Q: Does the Princeton Review offer tutoring?
A: Yes they do. Any student can pay for personal tutoring from the Princeton Review's teachers for $200 an hour.
Q: How long do I need to wait for my test scores?
A: All your scores from practice exams are made available to you immediately after completing the test. These are even broken down and analyzed to show you which content areas you need to focus on in the future.
Q: Can I extend my course access period?
A: Course extensions are available for students who can't finish up in 12 months. These typically cost around $99 and add a few extra months to your course.
---
Ideal Customer
Still on the fence about this course? Consider trying it out if any of the following applies to you.
If you like live content, this is the course for you.
If you prefer to pick your study format, this is the course for you.
If you want to practice your CFA® skills, this is the course for you.
If you want to learn from audio lectures, this isn't the course for you.
---
Final Recommendation
The Princeton Review's CFA® course is absolutely worth your time and money. Their materials are incredibly well designed and work in tandem to prepare you for the test. Plus, you can easily ask for help from your experienced teachers at any time. Combining that knowledge with a pass guarantee makes this course an easy recommendation to any student.