Our Verdict
The Securities Institute of America, Inc. offers a standout Series 65 Exam prep package that masterfully blends quality with affordability. Its unique GreenLight Exams replicate the actual test experience. At the same time, the comprehensive Series 65 Complete Self Study Solution provides an extensive array of resources, including a 500-page study textbook, 1,900 practice questions, and 13 hours of video content.
Their pass guarantee further reinforces their confidence in ensuring student success. For those gearing up for the Series 65 exam, this provider promises both value and efficacy, but keep reading to find other options that you can use for Series 65 exam prep.
Ever heard the joke about the future investment advisor who walked into an exam room?
Neither did we, because they were too busy acing the Series 65 with the right prep course!
If you're busy preparing to pass the FINRA Series 65 licensing exam, you may be wondering which exam prep to purchase. This is one of the first steps in your journey to becoming an investment advisor.
Designed by the North American Securities Administrators Association (NASAA), Series 65 requires you to answer over 70% of all questions correctly to earn a passing grade. But this won't happen without serious study time.
Finding the best Series 65 exam prep course is a key component to success— so we've done all the research to save you time and money!
It's no secret that the Securities Institute of America, Inc. course is our top pick, with high student pass rates, extra materials, and a guarantee exam passing clause. But we've also listed other solid Series 65 exam options to ensure you know all there is to know about the financial industry regulatory authority.
1. The Securities Institute of America Series 65 Exam Prep

Renowned for its flexibility and affordability, the Securities Institute of America offers a Complete Self-Study Solution. Their offering promises a comprehensive package that feels close to the actual exam. For only $200, these Securities review courses provide:
Features
500+ Page Study Textbook
1,900 Practice Questions
13 Hours of Video Content
Greenlight Exams
Pass Guarantee
Live Instruction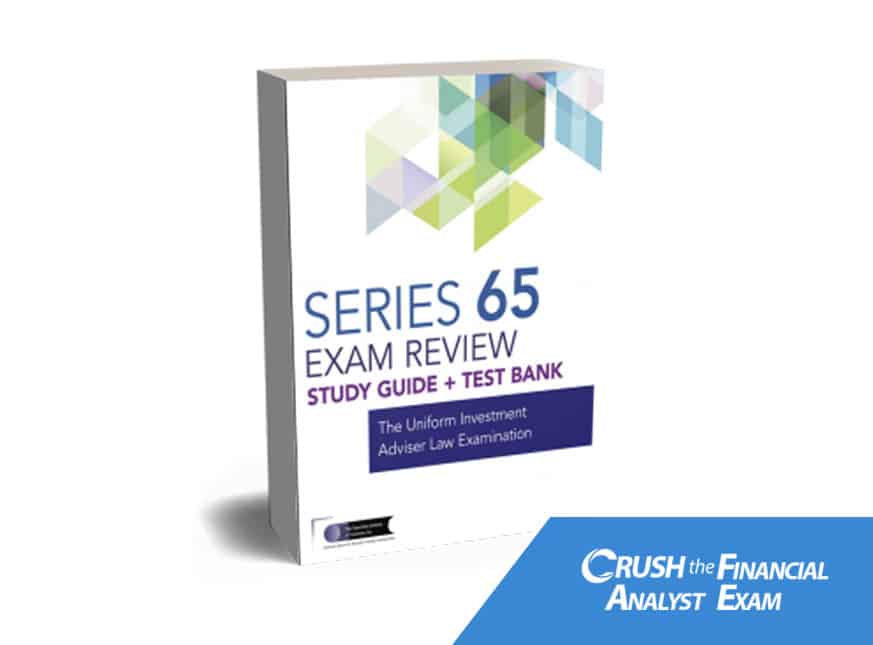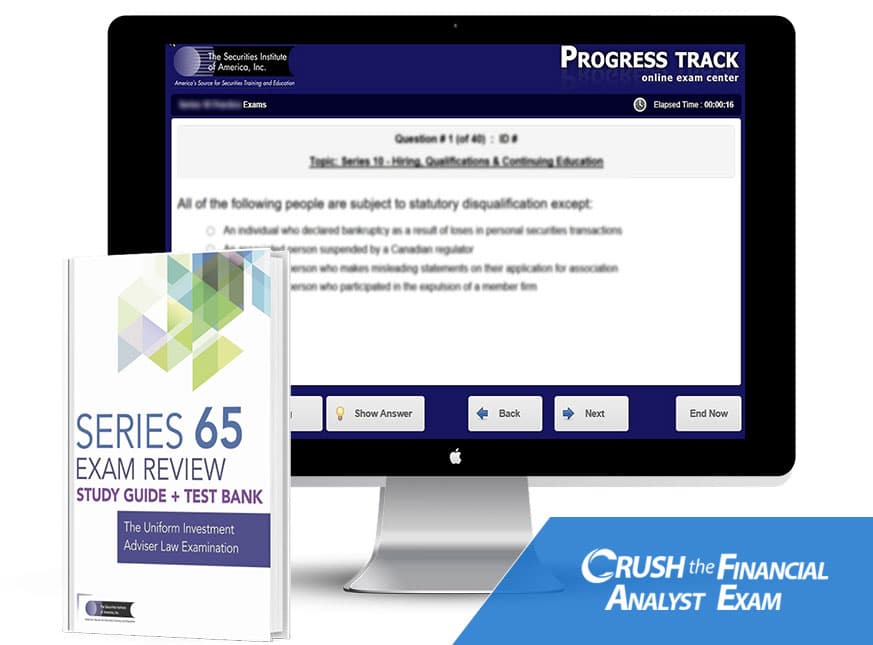 Only interested in a video course or Series 65 exam prep book? The Securities Institute of America offers a basic passage for this as well. The platform provides interactive online courses (virtual classes) and study materials that candidates can access anytime, anywhere, enabling flexible study schedules.
Securities Institute of America Pros and Cons
Greenlight Guarantee: The Securities Institute of America uses a unique application they call GreenLight Exams, created to ensure that you are completely prepared for the Series 65 Exams. These are designed to be as close to the real exam as possible, getting you familiar with the test itself and making sure you have all the knowledge you need to get through it without a hassle!
Wallet-Friendly: For all the features included with the three different packages they offer to prepare for the Series 65 exam, you get a tremendous amount of high-quality content for a reasonable price. We recommend enrolling in the Complete Self-Study Solution— it has the most content and only costs $200!
Extra Materials: While they do not offer anything in the form of extra supplementary study materials, you can rest assured that you're getting everything you need as they offer a comprehensive package in the Series 65 Complete Self Study Solution.
Bottom Line: Securities Institute of America's Complete Self Study Solution stands out as an outstanding investment in your future. At a budget-friendly $200, students gain access to a vast array of resources, from the 500+ page study textbook to the unique GreenLight Exams that replicate the real Series 65 test experience. With a blend of comprehensive content, affordability, and a pass guarantee, it's a top-tier choice for aspiring investment advisors.
Securities Institute of America Promo Codes & Discounts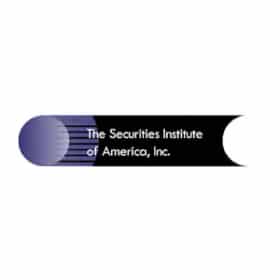 Save 12% on Securities Institute of America Series Exam Prep
20 uses today
Last Used: 16 hours ago
2. Securities Training Corporation Series 65 Study Materials

When it comes to 65 exam prep courses, Securities Training Corporation offers a unique set of self-study materials. Their pricing structure with the option to buy each course individually. This is a great option to have, especially for students who might not be inclined to use flashcards or other peripheral study materials. With these exam prep courses, you can pick and choose based on your own needs.
Features
6-Month Enrollment Period
Digital Flashcards
Wide Selection of Purchase Options
Review Manuals
Instructor Support
Online Exam Simulations/Final Exam
Pass Guarantee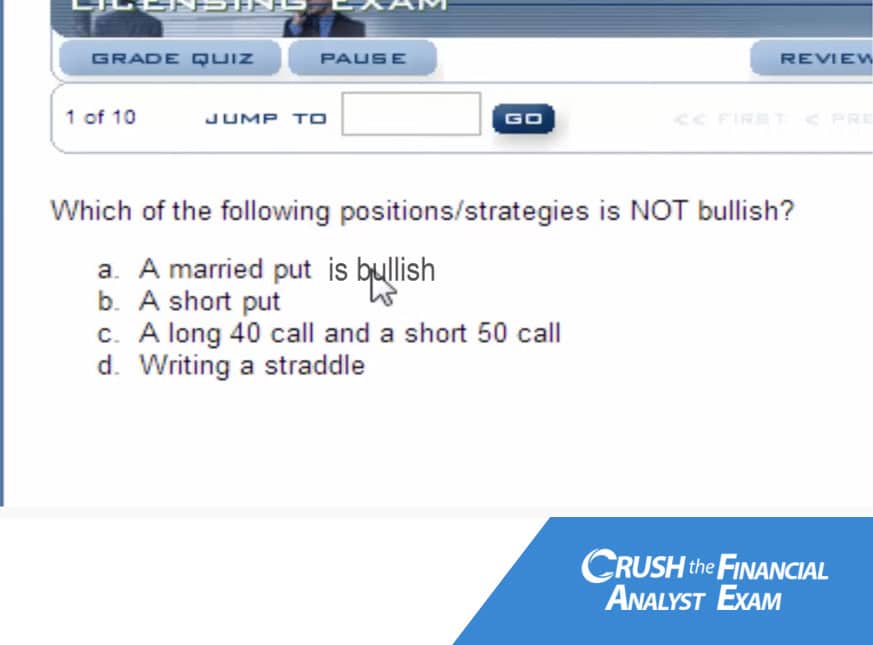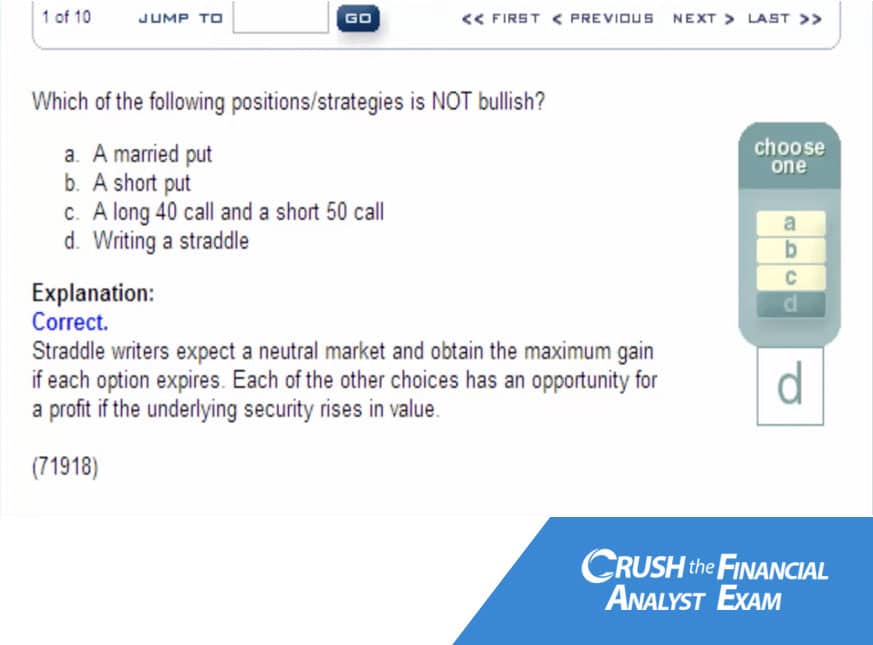 Securities Training Corporation Pros and Cons
Supplementary Materials: For those who are into the extras, Securities Training Corporation provides manuals for review with all their courses. The basic package includes this as well. This allows you to dive back into the materials without having to go through course subjects again.
Instructor Feedback: In addition to the great study review, you will also have access to an instructor whom you can reach for support to ensure that you understand what you're learning. This way, you won't be stuck solving problems on your own!
Limited Budget Features: While Securities Training Corporation provides a plethora of options to choose from, the downside is that many of its stronger materials are blocked by Premier and Premier Plus memberships. This could be disheartening to those looking for a more budget-focused self-study package.
Bottom Line: Securities Training Corporation offers a flexible approach to Series 65 exam preparation with customizable packages and a wide range of study materials, including digital flashcards and instructor support. However, the more robust features are gated behind Premier and Premier Plus memberships, which may not suit those on a tighter budget.

Get 30% Off Securities Training Corporation All Securities Courses
9 uses today
Last Used: 16 hours ago
---
3. Achievable Series 65 Exam Prep Course Review

Achievable is a big name among those working with financial institutions, and there's a good reason for it! Commonly used as the learning resource for those with Wells Fargo and Goldman Sachs, you can rest assured that the information you are soaking in is of top quality. Their exam prep courses include quality Series 65 exam practice exams. This is great for those who like repetitive learning methods and like to take progress exams to document their growth.
Features
Comprehensive Textbook
15+ Full-Length Practice Exams
Adaptive Learning technology
1 Year of Course Access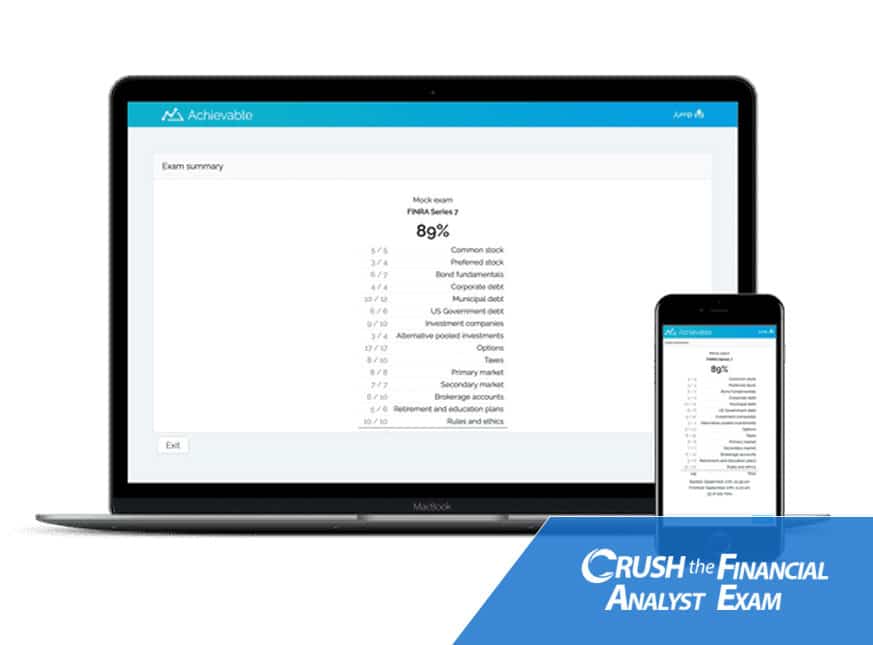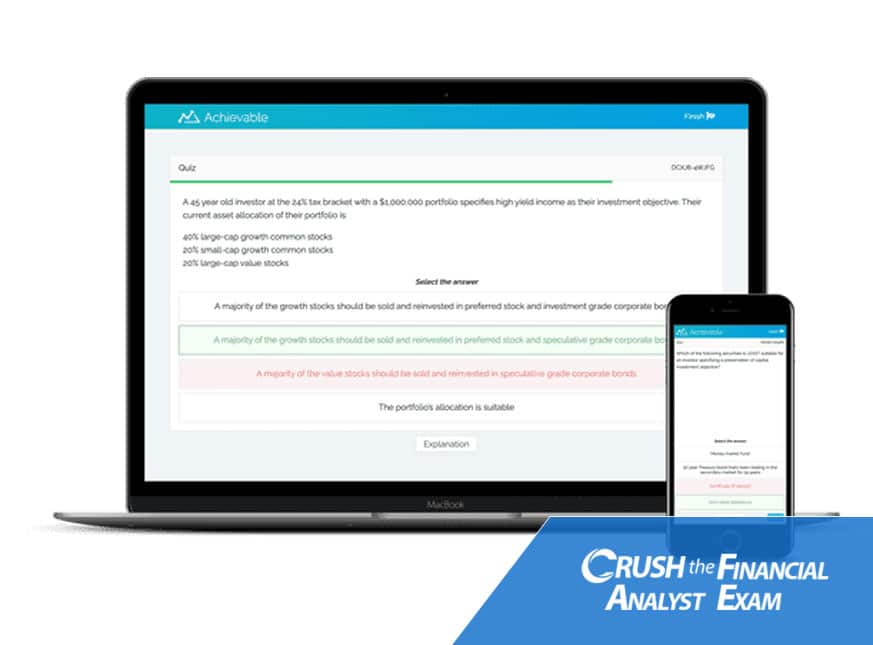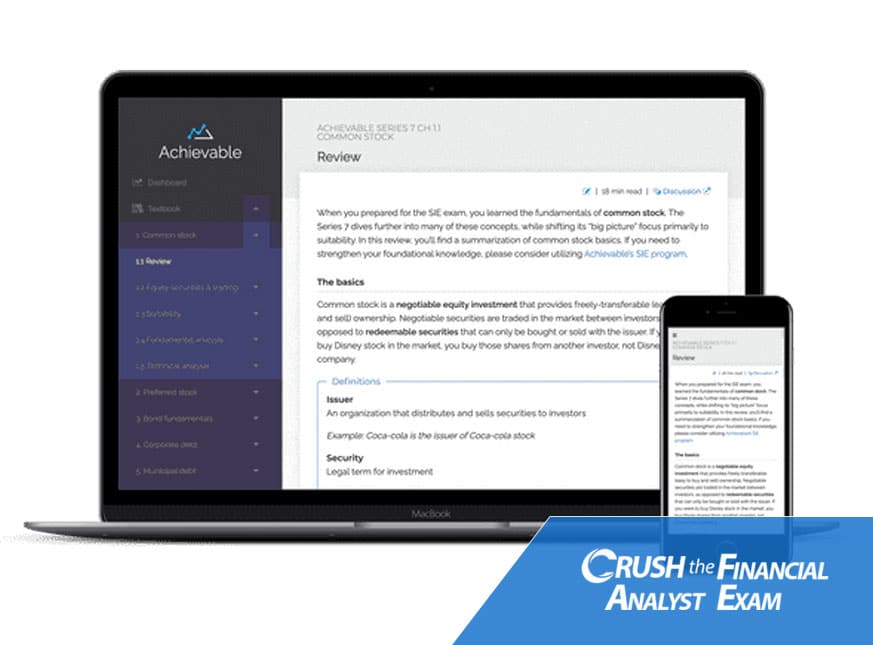 Achievable Pros and Cons
Textbook: The textbook provided with Achievable's program is comprehensive and accessible, breaking down core concepts and simplifying the learning method. From unethical business practices to client investment recommendations, their learning platform content covers all of the Series 65 exam prep topics! This really helps when students get to practice exams and online exam simulations.
Adaptive Learning: Like many other platforms, Achievable uses adaptive learning techniques to ensure that you're working on your problem areas, covering any weaknesses you might have before hitting the big exam.
Lecture Content: While its study materials are top-notch, Achievable exam prep courses don't provide any sort of video or audio lectures, which may not fit with your individual learning style. So, if you're only interested in video-focused exam prep courses, you'll want to look elsewhere.
Bottom Line: Achievable is a trusted choice for professionals at esteemed institutions like Wells Fargo and Goldman Sachs. With its comprehensive textbook and adaptive learning techniques, it strategically targets problem areas to ensure thorough exam preparedness. However, those who favor video or audio lectures might find something lacking, as Achievable doesn't offer these resources.
GO TO ACHIEVABLE SERIES 65 REVIEW
---
4. Kaplan Financial Training Series 65 Course Materials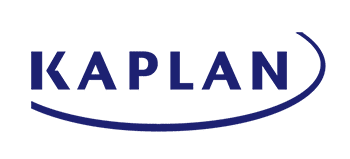 Kaplan is another name that comes up often when preparing to take financial sector exams, and there's a good reason for that. A big name in the instruction business, Kaplan provides a rounded experience in Series 65 exam prep course. Paired with their already supportive product, Kaplan's video library provides short review videos based on actual exam questions. 
Features
Interactive Question Test Bank
Video Library
Instructor Support
Performance Tracker
Study Calendar
Regular Checkpoint Exams
Kaplan Pros and Cons
Custom Exams: Using a unique platform in Qbank for their test bank, with Kaplan's 65 exam prep courses, you can study for the Series 65 Exam with custom practice tests focused on your problem subjects. This ensures that your preparation is focused and dialed in for attendance at the actual exam.
Offline Study Additionally, you have the option to print or take the exams with you while on the go through their online application. Now you won't have to do all your certified financial planner studying on a screen with an internet connection!
Short Study Time: Kaplan Series 65 exam prep courses are only licensed for five months. To continue access to their course materials, you'll have to pay an extra fee. This can get pricey for those who want to stretch out their 65 exam prep study time.
Bottom Line: Kaplan is a top choice for Series 65 exam prep, offering tailored study through its Qbank platform and robust instructor support. ts offline study options offer flexibility for on-the-go learners, while the direct instructor support ensures no query remains unanswered. While their comprehensive resources come at a premium, financing options help ease the cost.
---
5. ExamFX Series 65 Review Course

ExamFX offers a comprehensive Series 65 Exam Prep package aimed at both individual learners and organizations. The course features quality video content, flashcards, custom practice exams, and instructor support, all backed by a pass guarantee and a 3-month access period.
Features
Quality Video Content
Flashcards
Custom Practice Exams
Instructor Support
Pass Guarantee
3 Month Access Period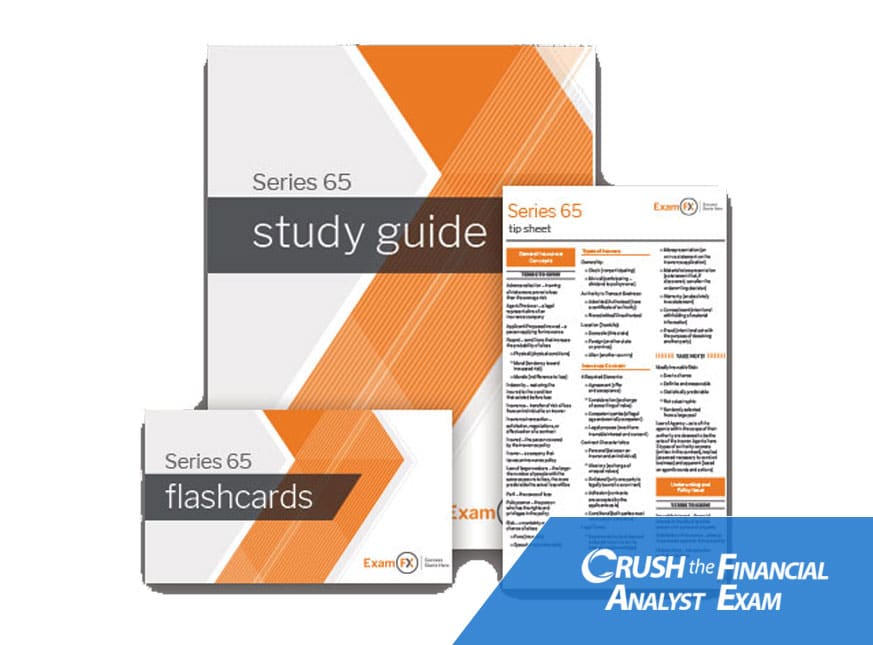 ExamFX Pros and Cons
Group Training: ExamFX provides discounts to organizations that are putting their employees through training and preparing to take the Series 65 Exam. So, if you're part of a team with the aim of exam prep, this might be the choice for you.
Guaranteed Results: ExamFX provides a pass guarantee, so it's hard to go wrong in choosing this path. In the rare event that you're unable to pass after studying this course, you'll be compensated for your time.
Limited Live Instruction: While ExamFX's video lectures are expansive and comprehensive, their live content can be lacking, with only four live online training sessions a month.
Bottom Line: ExamFX stands out with group discounts and a pass guarantee, making it ideal for team-oriented training. Their content-rich approach is backed by concise video lectures; however, their limited live instruction sessions could be a drawback for some.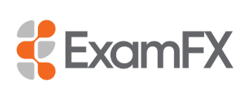 Save up to 20% on ExamFX Securities Review Courses
uses today
Last Used: 18 hours ago
---
6. Knopman Marks Financial Training Series 65 Exam Prep Courses

Knopman Marks is a unique review course, as they have a primary focus on video lecture review. This can be very refreshing for those who are synchronous learners and find a lot of comfort in the availability of video lectures.
Features
Large Video Library
Digital Flashcards
Physical Textbook
Digital Study Hub
Instructor Support
Downloadable Materials
Knopman Marks Pros and Cons
Video Lectures: With over 19 hours of video content, you will never find yourself lacking in that department. Knopman Marks also provides a textbook that seamlessly integrates their video curriculum.
Offline Access: Like Kaplan, Knopman Marks also provides downloads of their materials. This makes it easier for you to find time to study— you can take your books on the go with you.
Premium Packages: While the traditional learning options included with their All Access Pass are enticing, the live training courses add too much to the price. Compared to Securities Institute of America, this is a hard sell.
Bottom Line: Knopman Marks stands out with its 19-hour video library, catering to visual learners. Though its content is comprehensive, the premium pricing for live sessions can be a hurdle. Those on a budget might consider exploring other options before committing.
---
Understanding the Series 65 Exam
Before plunging into any exam, it's pivotal to grasp the core concepts and nuances of the test. The Series 65 exam, mandated by the Financial Industry Regulatory Authority (FINRA) and overseen by the North American Securities Administrators Association (NASAA), is a gateway for those who aspire to offer investment advice to their clients. So, what sets it apart?
The Essence of the Series 65 Exam
While the title "investment advisor representative" sounds intricate, the role revolves around offering clients investment recommendations. To fulfill this duty, one must be well-acquainted with various financial vehicles, the intricacies of the securities industry, and, above all, the ethics governing the sector.
Preparing Right: The Self-Paced Course vs. Live Online Course
The self-paced course offered by many exam prep institutions, such as the Securities Institute of America and Securities Training Corporation, is ideal for those who wish to study at their own pace without a structured timeframe. These courses typically come with on-demand lectures, digital flashcards, and a vast test bank to assess your progress.
On the other hand, the live online course is reminiscent of traditional classroom settings but leverages internet connectivity to deliver real-time instruction. With dedicated hours, participants can interact with instructors, ask questions, and even engage in discussions with peers.
Why Investment Vehicle Characteristics Matter
One of the pillars of the Series 65 exam prep is understanding different investment vehicles. Each vehicle, whether it's stocks, bonds, or mutual funds, has unique characteristics that determine its risk level, potential return, and suitability for various clients. Delving into the comprehensive package of any course will introduce you to these vehicles and how to independently evaluate them based on a client's profile.
Series 65 Review Course Must Haves
The Importance of Adaptive Learning Technology
In today's digital age, adaptive learning technology has revolutionized how we approach studies. Platforms like Achievable harness this technology to focus on a student's weak areas, ensuring that no topic is left untouched. The system adjusts in real-time, ensuring that students spend more time on areas where they struggle and less on topics they've mastered.
Evolving Study Methods: From Physical to Digital
Traditional learners might remember hours spent flipping through flashcards and pouring over textbooks. Today, with the digital transformation of the education sector, many institutions offer downloadable class notes, online video content, and digital study hubs. The advantage? You can now access your study materials from anywhere, be it during a commute or in the comfort of your home.
Bridging the Gap: In-Person Instruction and Instructor Hotline
Despite the plethora of online resources and video lectures, the value of in-person instruction cannot be understated. Some learners need the tactile experience, the opportunity to ask questions in real-time, and the structured environment a classroom offers. Recognizing this, several institutions, including Knopman Marks, provide options for live classes.
However, for those who can't attend in person but still seek direct interaction, the instructor hotline serves as a bridge. Many courses, like Kaplan, provide direct access to experts in the field, ensuring students can clarify doubts as and when they arise.
The Final Push: Readiness Exam and Continuing Education
Before the D-day, a readiness exam serves as a mock drill for the actual securities exams. Simulating the actual exam environment, it gives students a taste of the challenge ahead, helping them identify areas that might need a final review.
After passing the Series 65, the journey doesn't end. The financial world is ever-evolving, necessitating continuing education. Many prep courses also offer advanced modules and updates to keep professionals abreast of the latest in the industry.
FINRA Series 65 FAQs
What is the difference between Series 63 and 65?
Known as the Uniform Securities Agent State Law Examination, the Series 63 consists of 60 questions and has a strict time limit of 75 minutes. The Series 65 Exam was created by NASAA to test the competency of agents who aim to sell investment advice. Since the year 2000, Series 65 has been a 130 question exam focused on proving competency with a strict time limit of 180 minutes. While this exam also includes questions about the USA and ethics, it also includes economics, investment vehicles, strategy, and analysis.
Do I need Series 65 if I have a CFP?
If you are an agent who currently has a valid CFP certification, or a similar CFA, ChFC, or PFS designation, most states will not require you to take the Series 65 exam as you have already proven competency.
Can I sell stocks with a Series 65?
While having a Series 65 license does allow you to give financial investment advice, it does NOT allow you to sell investment products or financial securities. If buying and selling securities is your aim, the Series 6 and Series 7 licenses are still required.
How long should I study for the Series 65?
The amount of time you should dedicate to studying for the Series 65 exam can vary based on your background in finance and your familiarity with the test material. However, a common recommendation is to allocate at least 100-150 hours of study time to sufficiently cover all the exam topics.
How hard is the FINRA Series 65 exam?
The FINRA Series 65 exam, or Uniform Investment Adviser Law Examination, is considered challenging due to its broad range of topics, including laws, investment vehicles, and ethics. It consists of 130 multiple-choice questions with a passing grade of approximately 72%.
Can anyone take Series 65 exam?
Yes, anyone can take the Series 65 exam; you don't need to be sponsored by a broker-dealer. However, each U.S. state may have additional requirements for becoming a registered investment advisor. It's advisable to check your state's guidelines and the exam's content before taking it.
What is the hardest FINRA exam?
The difficulty of FINRA exams is subjective, but the Series 7 and Series 79 exams are often cited as among the most challenging due to the extensive material covered and the rigorous preparation required. This is why it is so important to invest in a solid exam prep program.