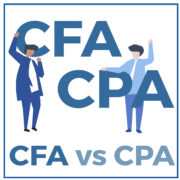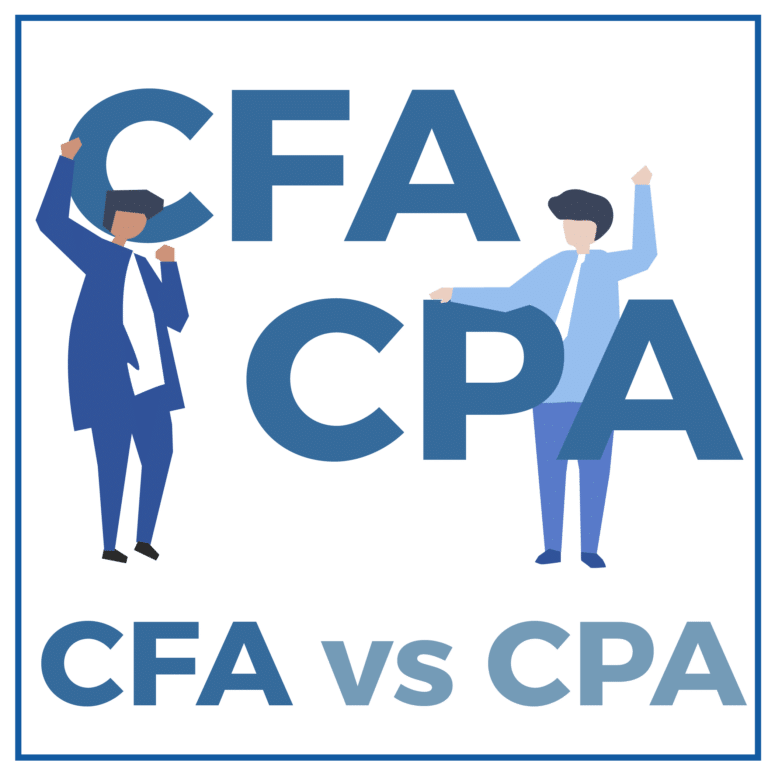 CFA® vs CPA, which one is better? The Certified Public Accountant (CPA) and Chartered Financial Analyst® (CFA) designations are two of the most sought-after credentials in the financial field.
Many investment management and financial professionals choose to pursue these qualifications because they want to improve their career options, get promoted, or make more money.
Each career path has distinct differences in educational requirements, responsibilities, and opportunities. The best way to choose which certification to pursue is to understand how they are different.
CFA and CPA Differences
CFAs focus their skills on recommending individual investments and evaluating financial trends.  Anyone with a CFA has the educational equivalent of a masters degree in financial analysis. Plus, this certification is an accepted credential in and out of the United States. I highly recommend becoming a CFA to anyone who's interested in a career in financial planning as an equity analyst, fund manager, asset management, or hedge fund manager.
CPA certification is only recognized by the United States. Your CPA license also only applies to the states in which you've passed the CPA exams. Certain states allow you to transfer your license from other areas, but most state boards will ask you to complete the exam again.
The CPA is more of a general certification that qualifies you for work in a wide range of financial fields. This includes but is not limited to non-public accountants, tax accountants, and finance professionals. One of the main draws of this certification is that it gives you the right to sign off on tax and audit reports.
Make sure to check with your state's CPA board to see exactly what duties you'll be qualified for after earning your designation.
Candidates must have completed a bachelor's degree to qualify for either designation. However, to become a full-fledged CFA you must also have at least 4000 hours of professional work experience.
CPA versus CFA Exams
The CPA Exam
There are four parts to the CPA Exam. The exam is uniform throughout the US, meaning that the content and structure is the same in every state.
There are specific windows in which candidates can schedule the CPA exam. Each window is two months long, and there are a total of four exam windows throughout the year: Jan/Feb, Apr/May, Jul/Aug, Oct/Nov. As of 2012, the individual parts and content are as follows:
Financial Accounting and Reporting
Audit and Attestation
Pass rates for the exam are typically 50% or slightly lower, and the exam is only offered in English. In 2014, cumulative pass rates for the four parts of the CPA exam were 46.35%, 55.46%, 47.60%, and 49.41%.
The completely computerized exam consists of multiple-choice questions, task-based simulations (case studies), and written communications. Testing centers in Japan, Brazil and four Middle Eastern countries make it possible for candidates outside of the US to sit for the CPA exam as well.
The CFA® Exam
Compared to the CPA exam, the format for the CFA® is much less flexible. Three levels of the exam must be passed sequentially, and the CFA institute recommends that candidates begin to prepare at least six months in advance (at least 300 hours of study) for each of the three levels of the exam.
The CFA® exam is offered only on specific dates. You cannot schedule this test at your convenience, as candidates all over the world take the exam on the same day. The CFA® Level I exam is offered twice each year, in June and December, but Levels II and III are offered only once a year in June. Unlike the CPA exam, the CFA® is a pencil and paper test, rather than computer-based.
CPA vs CFA Salary
Both of these certifications can lead to a great salary. ZipRecuiter states that CPAs make an average of $72k each year. However, those with more experience can end up making over $110k a year down the line. By contrast, CFAs make an average of $95k a year. Their upper limit for salaries is an annual wage of $120k.
Earning your CPA proves that you have a more general financial skill set. This leads to a wider range of work opportunities since you'll qualify for many positions. However, CFAs are much more specialized. That makes it a better certification for anyone looking for a specific career path in investment or corporate finance.
Employment growth for both certifications is stable and consistent. The Bureau of Labor Statistics (BLS) reports that job outlook 7% in the next 10 years for accountants and 6% for financial analysts.
In choosing a career path, you should determine what interests you most about finance and whether you are a risk-taker or more traditional. The CFA has a lower entry barrier, but takes much longer to complete (it takes the average candidate 4 years to pass all three levels of the exam and obtain the credential). Becoming a qualified CPA is a more flexible process that can be accomplished within a much shorter time frame. Both certifications are valuable and worth the time and money invested if you are planning for a successful career in the financial industry.
If you ultimately decide that becoming a CFA® is the right path for you, then you need to prepare yourself as best as possible. One of the first steps in your preparation should be choosing a test prep that will lead you to success!
Key Takeaways
Both CFA and CPA credentials require passing preset exams and meeting education requirements
Generally, a CFA analyzes financial reports – mainly financial statements, whereas a CPA mainly is the person that combines and/or audits the financial reports.
CFAs are primarily known for analyzing investment and wealth planning, whereas CPAs tend to work mainly with taxes, audits, and accounting.