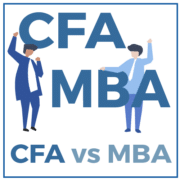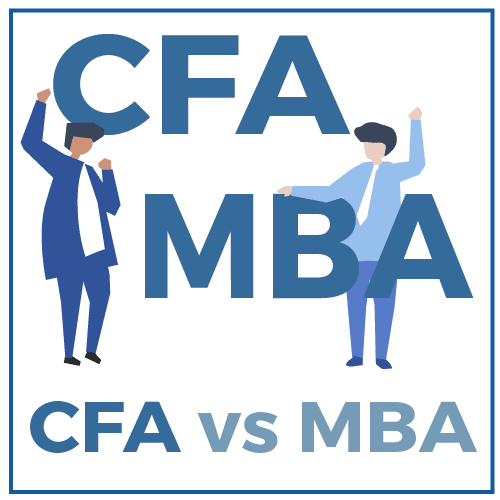 CFA® or MBA, which is better? This is a question many business professionals ask themselves when they are mapping out their career paths.
The answer to this question depends on many factors, including your professional goals, background, and resources.
It's important to know the difference between a Chartered Financial Analyst® (CFA®) designation and a Masters in Business Administration (MBA) because both require a significant investment of your time and money.
Differences between the CFA® and MBA
CFA® is the professional credential offered by the CFA® Institute to investment and finance professionals. The CFA® is recognized worldwide and is the equivalent of a master's degree in finance with minors in economics, accounting, statistical analysis or portfolio management. For those who are interested in a career as an equity analyst, fund manager, asset management, or hedge fund manager, the CFA® is an excellent choice. The CFA® is a more specialized credential than the MBA.
An MBA (or M.B.A.) is a master's degree in business administration (management). Candidates typically attend a business school for an advanced degree rather than passing a series of certification exams. The main courses in an MBA program cover various areas of business, such as finance, accounting, marketing, human resources, and operations management in a way that is more general and less specialized. The purpose of an MBA is to give students a broad understanding of a wide range of business-related topics to help them to become better analysts and managers as a whole.
Required Exams: CFA® versus MBA
CFA® Exam
The CFA® exam is comprised of 3 separate tests or levels. You must pass the exams in order, beginning with Level I and ending with Level III, and cannot move on to the next level until you've passed the previous one. Candidates can take the exams as many times as they need to pass.
The CFA® is a challenging series of exams. The CFA® Institute recommends that candidates spend at least 300 hours preparing for each of the three exams, which comes down to 15-20 hours of studying a week for four to six months.
The CFA® exam is offered only on certain dates each year. All candidates must all take the exam on the same day. Part I is offered twice a year, in June and December, however, the CFA® Level II and Level III exams are only offered once a year in June. This exam is a pencil and paper test (it is not computer-based).
The GMAT Exam for Admission to an MBA Program

The MBA is an advanced graduate degree. In order to apply to business school, students will need to have completed the equivalent of a bachelor's degree, and most universities recommend or require a minimum of two to three years of work experience. One of the most important criteria of admissions to business school is the Graduate Management Admission Test or GMAT. If you plan to attend a top US business school, you must do well on this exam.
The highest score you can get on the GMAT is 800. The average score on the GMAT is approximately 550, so a score of 600+ is considered good. A score of 700+ would put you somewhere in the 90th percentile of test takers.
Full-time MBA programs can be completed in two years, but part-time and remote MBA programs are also very common and may take longer.
CFA® vs MBA Salary
CFAs with one to four years of industry experience can expect to earn a median annual salary of approximately $68,383, whereas those with five to nine years of experience will typically earn an average of $87,732 (source: www.payscale.com).
The median pay for MBA professional with 1-4 years is approximately $60,516, and those with 5-9 years of experience earn a median salary of $75,441 (source: www.payscale.com).
(Note that these are median salaries, meaning that there will be many people who earn either more or less that those figures, depending on their job, particular industry, and geographical location.)
Conclusion
Advantages of the CFA® include the opportunity to earn a well-regarded designation through self-study at a relatively low cost. The total registration fees for all three exams are less than $4,000. Individuals who plan to spend their career in finance should seriously consider this option. However, if you are uncertain about specializing in finance, an MBA may be a better choice, since it is more versatile and opens up career options in a variety of areas in business.
Business schools can also be very expensive. The average tuition for a full-time MBA in 2014 was greater than $60,000, with top schools charging more than $100,000. Scholarships are often available, part-time and online programs can cost less, and some companies offer tuition reimbursement, but those who take two years off of work to pursue the degree will have additional living expenses as well.
It's important to assess your own situation to determine which opportunity is right for you before you make that significant investment of time and money. You can also test how prepared you are for your MBA program and what areas you can work on with this Pre-MBA preparation quiz.
If you ultimately decide that becoming a CFA® is the right path for you, then you need to prepare yourself as best as possible. One of the first steps in your preparation should be choosing a test prep that will lead you to success!
START STUDYING FOR THE CFA® EXAM
---