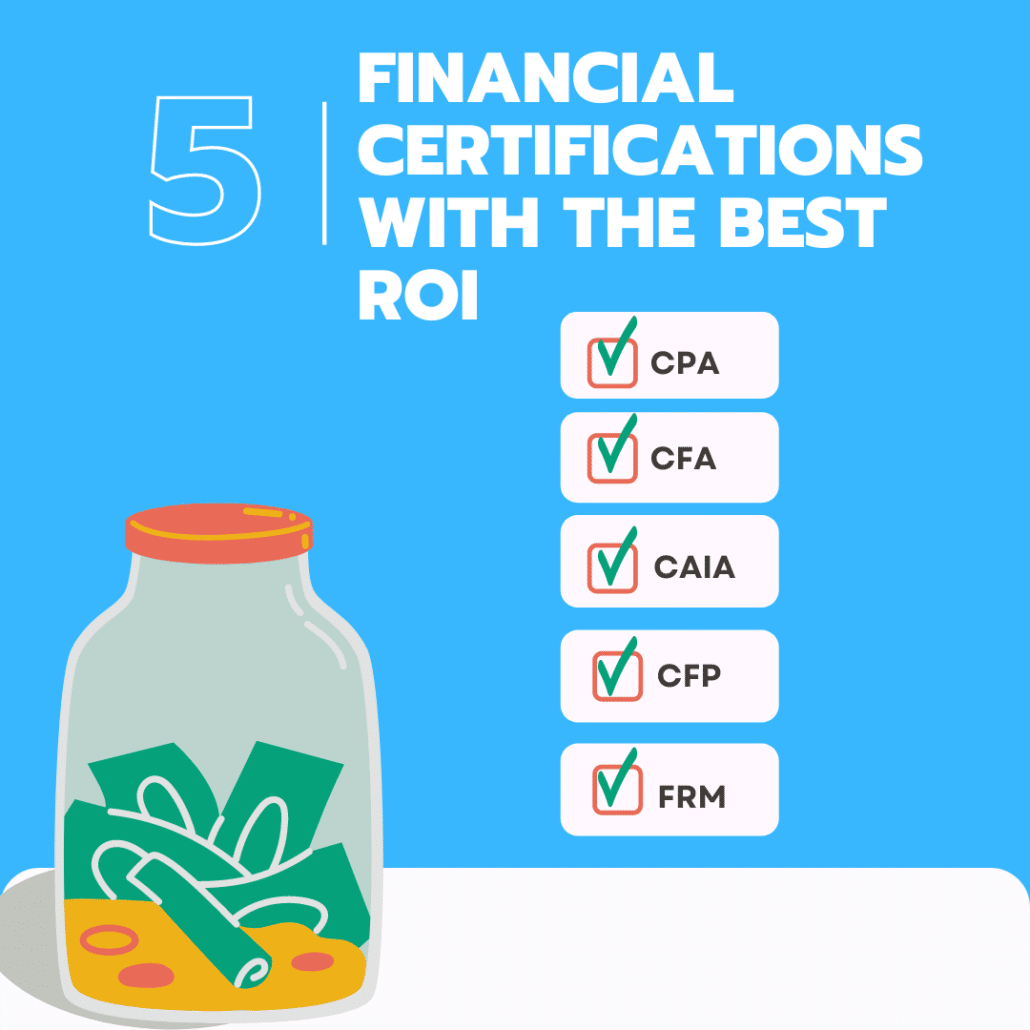 Choosing the right financial certification can be tough if you don't know what you're getting into. Many financial certifications claim to improve your career prospects, but they cost exorbitant amounts of time and money to earn. That's why you need to understand the best certifications for your finance that will give you a good return on your investment.
I've gone ahead and calculated the costs and benefits of the 6 most popular financial certifications. This includes potential salaries, job outlook, and more. That way you can make well informed decisions about your future in employment.
Check out the comparisons of the top financial certifications below!
Best Finance Certifications Worth Your Investment
---

1. Certified Public Accountant (CPA)
The CPA designation is easily the most popular and universally recognized financial certification in the business. Work is always available for CPAs in a wide range of fields. In fact, CPAs with enough experience can work their way up to an executive leadership position such as CFO.
What's the Full Price for the CPA Exam?
Bear in mind that you'll be spending a lot of money to earn your certification; Becoming a Certified Public Accountant is one of the most expensive designations. The amount you'll need to spend varies depending on what state you're in, but there are a few things to keep in mind.
You're going to need to pay an initial application fee. This can range anywhere from $50-$200 depending on which state you want to apply for a license in.
After that, you'll need to pay roughly $200 for each of the 4 exams. These are paid when you schedule the tests, so it doesn't all need to be at once.
All exams have late registration fees so make sure that you sign up early.
Total Price: Roughly $1000
What's the Job Outlook for Certified Public Accountants?
The Bureau of Labor Statistics (BLS) reports that the job outlook for accountants is expected to grow 7% by 2030. There are a lot of jobs out there for new CPAs due to a growing economy and complex tax environment.
Salaries are also promising with CPAs making an average of $70k a year. Plus, higher paying positions can lead to annual salaries of up to $116k for more experienced accountants.
---

2. Chartered Financial Analyst (CFA)
Chartered Financial Analysts are an essential part of modern business. They help companies make spending decisions to maximize profit. This includes recommending investments, managing portfolios, and evaluating financial data.
What's the Full CFA Exam Price?
Prices for this exam rely heavily on how far in advance you register for your test date:
Early costs $700, while standard registration will charge you $1,000.
Once you've paid that you'll then need to pay an additional $450 enrollment fee for the Level 1 exam. Levels 2 and 3 do not come with this charge.
One thing to keep in mind is that prices are going to increase in 2023.
Next year it will cost $900 for early registration and $1200 for standard registration.
On the bright side, the initial enrollment fee will be reduced from $450 to $350.
Total Price: $1150 or $1450
What's the Chartered Financial Analyst Job Outlook?
Job outlook is fairly promising for CFAs. According to the BLS, employment for financial analysts is expected to grow by 6% in the next 10 years. This is largely due to businesses seeking advice on investment opportunities as new companies start up and old ones expand.
Salaries are also very high for CFAs compared to CPAs. Most financial analysts make around $92k each year. However, higher paying positions in areas with a more expensive cost of living can offer almost $120k each year. You'll easily get a return on investment when earning this certification, which CFA study materials can help with.
---

3. Chartered Alternative Investment Analyst (CAIA)
CAIAs have a very similar job to CFAS, but with a much heavier focus on hedge funds and private equity. This carves out a niche due to their specialization in alternative investments. However, that doesn't mean there's no overlap at all.
What's the Full CAIA Exam Cost?
This is definitely one of the more expensive financial certification exams out there. You need to register for both parts of the exam separately and pay extra for retakes. However, you can receive an almost $300 discount by being a member of an AIMA company.
First time registration for each exam costs $1250. This can be brought down by $100 if you enroll before the early registration deadline (May 16 or November 14 for the 2 exams this year).
Additionally, you'll need to pay a one time $400 program enrollment fee when you first register. You'll also need to pay $450 to retake the exam if you fail.
Total Price: $2,900
Chartered Alternative Investment Analyst Job Outlook
Luckily the job outlook here is exactly the same as CFAs. This career is expected to grow by 6% by 2030 due to the growing demand for help with alternative investments. This is again driven by the creation of new businesses and growth of older ones.
Salary is the key difference here. The national average salary for a Chartered Alternative Investment Analyst is only $52k a year. That can go up to around $62k annually but wages above that are extremely rare. You'll get a return on investment with this designation but it will be much smaller.
---

4. Certified Financial Planner (CFP)
What CFPs do is all there in the name— they help people manage their finances. This covers a much wider range of activities compared to a CPA. CFPs are qualified to help with retirement plans, insurance, payment plans for education, accommodations for life changes, and more.
What's the Full CFP Exam Price?
This is definitely one of the cheaper options when it comes to earning a financial certification. You only need to pass one test, and there are no additional fees outside of exam registration to become a Certified Financial Planner. Thanks to that your costs will stay under $1000.
Costs for the exam are entirely based on what time you register:
Early enrollment costs $825
Standard registration is $925
The CFP Board even allows late registration for $1025.
However, you will have to pay full price for retakes, so keep that in mind when preparing for the test.
Total Cost: $925
What's the Certified Financial Planner Job Outlook?
Outlook for CFPs is not as promising compared to the other certifications.
Job growth for the next 10 years is predicted to be slightly slower than the average at 5%. However, that doesn't mean jobs will be scarce for CFPs.
Salaries are fairly good considering how little you need to pay for the certification. Most CFPs make an average of $68k per year. However, more experienced workers can even find positions that pay up to $86k annually.
---

5. Financial Risk Manager (FRM)
FRMs are trained to understand what can impact the success of a business and their assets. FRMs are similar to CFAs in a few ways, but they primarily work to mitigate market risk while helping to expand business operations.
Here's the Total Costs for the FRM Exam
Prices are different for the 2 parts of the FRM exam.
Part 1 costs $1200 for 1st time candidates and $800 for any additional attempts. That price is reduced by $200 when you sign up well ahead of time for early enrollment.
By contrast, part 2 of the exam is much cheaper. Standard enrollment costs $800 while early registration only costs $600. However, there is no discount for retakes. You'll have to pay the full price if you need to try again.
Total Cost: $2000 Standard, $1600 Early Registration
What's the Financial Risk Manager Job Outlook?
Outlook for FRMs is extremely promising.
The BLS reports that Positions for financial managers are expected to grow 17% by 2030. This is largely due to the growing amount of businesses, each of which need help with managing their assets.
Salaries are similarly promising. Payscale reports that the average annual salary for FRMs is $89k. Anyone who builds up work experience as a FRM for a few years can make up to $94k a year. This is an excellent career to get into, and you'll easily make back what you spent on the certification exam.
---

6. Chartered Financial Consultant (ChFC)
There's a great deal of overlap between ChFCs and CFPs. Both work as financial advisors and focus heavily on financial planning. Generally speaking, CFPs are more qualified overall— but the ChFC is much easier to earn.
What's the Total Cost of the ChFC Exam?
How you earn your ChFC is very different from other certifications. Candidates need to complete a series of courses from the American College of Financial Services instead of passing a certification exam. Tuition costs $5670, but there are discounts available based on if you're a returning student.
You will also have to complete continuing education courses from the same provider. Prices vary based on which topics you're interested in pursuing.
Total Price: $5,670
Here's the Chartered Financial Consultant Job Outlook
Job outlook for ChFCs is identical to CFPs due to the nature of their work. Employment is expected to grow 5% in the next 10 years. However, it may be tougher to find jobs as a ChFC compared to positions for CFPs.
On the other hand, salaries are fairly promising. On average, most ChFCs make $78k a year. More experienced professionals can find positions that pay an annual wage of $99k.
Which finance certification pays the most?
CFAs make $92,000 on average, with more experienced CFAs making around $120,000. CPAs average around $70,000 but can get up to $116,000 after years of experience. FRMs average is a little higher at $89,000, but years of experience will still keep you under $100k on average. A CFP salary can range from $68,000 to $86,000. ChFCs make between $78,000 and $99,000 a year.