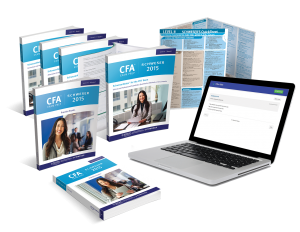 CRUSH RATING: ★★★★★
Kaplan Schweser CFA® offers a comprehensive suite of prep courses for the CFA® exam. You can choose from various online or in-person options, or combine an online review course with a 3-day or 5-day live classroom review session (where available).
Kaplan's longstanding success and reputation in test preparation will not disappoint those attempting to pass this challenging series of exams.
A full complement of study guides, workbooks, online materials, practice questions, explanations, study plans, a condensed version of the CFA® curriculum, actionable tips and pointers, and help from instructors result in a time-saving albeit pricey course.
How to Pass the 2019 Level I CFA Exam – Kaplan Schweser
buhle
1. Final Review
Many of Kaplan Schweser's learning options come with a 3-day or 5-day exam review workshop immediately prior to the exam to give you focused practice and additional confidence. Live, in-class review sessions are the most expensive; however, an online exam review is also available.
2. Six Full Practice Tests
In addition to a question bank with more than 4,000 practice questions, you can take up to six full practice exams. These tests will help you gauge your progress and give you the confidence to succeed on the actual exam.
3. On-Demand Learning
In addition to any live course options, enjoy access to on-demand content, including classes and videos. The convenience of pre-recorded classes and video lessons allows you to study according to your own busy schedule from your home or office. Free CFA® study materials, exam review workshops, and CFA® classes are available on the Kaplan Schweser website along with a free CFA® assessment exam.
4. Availability of Instructors
You can email or chat with your instructors at any time to get help with a course, ask questions, or seek advice. Because Kaplan Schweser instructors are located around the world, mentors are available during most times of day to help with any questions or issues that arise.
5. Focused and Concise
Kaplan's course is popular because it condenses the CFA® curriculum into a manageable body of information. The 5-volume study guide is considerably shorter than the official CFA® curriculum guide, but includes all the information you need to pass the exam.
6. Kubuyekeziwe sokuqukethwe
Kaplan Schweser is one of the few CFA® prep courses to release a new version of products every year as the CFA® test changes, so that you can be confident that everything you study is up-to-date. When you buy one of these review courses, you won't waste your time studying material from older exams or experience any surprises on exam day.
7. Discount
To get a great deal on the course, enter in a Kaplan Schweser CFA® promo code.
CONS
1. Inani
amaphakheji Premium abiza kwatheleka $1,799, which is considerably more expensive than most industry competitors. More affordable packages are available, but they are not as comprehensive and often do not include live or in-person components. If you are on a budget, you will have fewer opportunities to interact with instructors, fewer study materials and practice exams.
Ideal User
These courses will appeal to both online learners who want the convenience of studying whenever they have time from their home or office, and traditional learners who prefer a classroom setting. The popular 3-day exam workshops helps you separate yourself from your job and focus your study efforts while expert instructors teach you what you need to know to pass your CFA® exam.
If you are a traditional learner, you will appreciate the clear and concise 5-volume SchweserNotes and the detailed examples that highlight what you must know. The printed QuickSheet study aid provides a quick reference of key formulas, definitions, and concepts of the CFA® curriculum in a 6-page, laminated brochure. If you prefer pencil and paper, you can use the workbooks to go over material, examples, and questions in conjunction with live courses. Online access to thousands of multiple-choice questions in the question bank help you review critical concepts and Learning Outcome Statements (THE) (also available offline).
Those who prefer to study online can build their own customized exam for specific topics and take advantage of the Online Resource Library, a collection of videos about the core concepts of the CFA® curriculum. The ever-popular "Schweser Secret Sauce" is a portable, compact book that offers a clear, concise review of the core elements of the CFA® curriculum and provides tips on how to apply your knowledge to the exam in the final weeks before the test.
My Suggestion
Kaplan offers numerous options for you, including live and online classes, seminars, mock exams, and self-directed study programs. You can mix and match online and live course options and review sessions, or choose an entirely online course.
The "Secret Sauce" books and SchweserNotes allow you to focus on the most important topics that are tested on the CFA® exam instead of becoming overwhelmed by the information in the CFA® curriculum. By choosing a Kaplan Schweser review course, you can adequately prepare yourself for the exam in less time than it would take to study the traditional CFA® curriculum.
Summary of Course Features
On-Demand Video Courses, Webinars, Recorded Lessons, and Digital Learning Materials
Live or Online Review Options
3-Usuku noma 5-Day ukuhlolwa ukubuyekeza Amashabhu Iyatholakala
4,000 Imibuzo Practice
6 Prakthiza Izivivinyo
5-Ivolumu SchweserNotes
"Secret Sauce" Compact & Ephathekayo ukubuyekeza Incwadi
Isifundo Ikhalenda
Analytics (Online Amaphuzu Nokusebenza Tracking)
Workshop Letincwadzi tekusebentela tikhicitelwe futhi ama-eBooks
Online Resource Library
Quicksheet laminated Usizo lezifundo
Abafundisi Iyatholakala Uphendule Imibuzo nge Ucingo, imeyili, futhi Chat
Intengo
Online ukuhlolwa mbumbulu kuphela
Inani: $100
Kufaka: ukhiye impendulo ephrintekayo, amagoli inthanethi kanye nokusebenza kokulandela by endaweni isihloko kanye eqhathaniswa kwamanye mbumbulu ukuhlolwa ukhetho, and explanations that include LOS and CFA® curriculum page references for every question.
SchweserNotes iphakethe
Inani: $379
Kufaka: SchweserNotes, 3 umkhuba izivivinyo, Quicksheet, access to expert CFA® instructors and Study Calendar.
Essential Self-Study Package
Inani: $649
Kufaka: umbuzo yasebhange, SchweserNotes, 6 umkhuba izivivinyo, Quicksheet, ukufinyelela amahora ofundisa ehhovisi Nokutadisha Ikhalenda.
Ukufundiswa Premium Iphakheji (ekilasini inthanethi masonto onke)
Inani: $1099 – $1,399
Kufaka: ekilasini Online masonto onke, ezengeziwe isiqophi amakilasi, Sauce Schweser sika Imfihlo, umbuzo yasebhange, SchweserNotes, 6 umkhuba izivivinyo, workbooks, Quicksheet, Isifundo Ikhalenda, Buza UMfundisi wakho, Online Resource Library, PassProtection (50% Isaphulelo on course esilandelayo uma ungadluli).
Premium Plus Package (online weekly class plus online 3-day exam review)
Inani: $1,399
Kufaka: Final Review Option (online review included in price, in-person review costs up to $400 more), ekilasini inthanethi masonto onke, ezengeziwe isiqophi amakilasi, Sauce Schweser sika Imfihlo, umbuzo yasebhange, SchweserNotes, 6 umkhuba izivivinyo, workbooks, Quicksheet, Isifundo Ikhalenda, Buza UMfundisi wakho, Online Resource Library, PassProtection.
(The Premium Plus Package is also available with live weekly classes and a live 3-day or 5-day Exam Review workshop, for a total price between $1799-$2099.)
Compare Kaplan Schweser to other CFA® prep courses by clicking the button below:
---
Kaplan Schweser CFA® Breakdown
| | |
| --- | --- |
| Kaplan Schweser CFA® Review | Strengths |
| 1. | Final Exam Review |
| 2. | 6 Full Practice Tests |
| 3. | On-Demand Learning |
| 4. | Availability of Instructors |
| 5. | Focused and Concise |