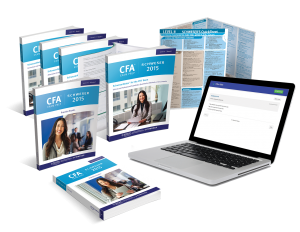 dispremi RATING: ★★★★★
Kaplan Schweser CFA® offers a comprehensive suite of prep courses for the CFA® exam. You can choose from various online or in-person options, aŭ kombini interreta revizio kurson kun 3-taga aŭ 5-taga vivas klasĉambro revizio kunsido (kie havebla).
Kaplan la longtempa sukceso kaj reputacio en testo preparado ne decepcione tiuj provis pasi tiu defia serion de ekzamenoj.
Plena komplemento de studo gvidantoj, ekzercokajeroj, rete materialoj, praktiko demandoj, klarigoj, studo planoj, a condensed version of the CFA® curriculum, actionable tips and pointers, and help from instructors result in a time-saving albeit pricey course.
PROS
1. Final Review
Many of Kaplan Schweser's learning options come with a 3-day or 5-day exam review workshop immediately prior to the exam to give you focused practice and additional confidence. Live, in-class review sessions are the most expensive; however, an online exam review is also available.
2. Six Full Practice Tests
In addition to a question bank with more than 4,000 praktiko demandoj, you can take up to six full practice exams. These tests will help you gauge your progress and give you the confidence to succeed on the actual exam.
3. On-Demand Learning
In addition to any live course options, enjoy access to on-demand content, including classes and videos. The convenience of pre-recorded classes and video lessons allows you to study according to your own busy schedule from your home or office. Free CFA® study materials, exam review workshops, and CFA® classes are available on the Kaplan Schweser website along with a free CFA® assessment exam.
4. Havebleco de Instruistoj
Vi povas retmesaĝi aŭ babili kun viaj instruistoj kiam ajn akiri helpon pri kurso, demandu, aŭ serĉi konsilon. Ĉar Kaplan Schweser instruistoj troviĝas tutmonde, mentores estas havebla dum pli momentoj de la tago por helpi kun demandojn aŭ demandojn kiuj ŝprucas.
5. Koncentrita kaj Concise
Kaplan's course is popular because it condenses the CFA® curriculum into a manageable body of information. The 5-volume study guide is considerably shorter than the official CFA® curriculum guide, sed inkluzivas ĉiujn informojn vi bezonas por pasi la ekzamenon.
6. ĝisdatigita Enhavo
Kaplan Schweser is one of the few CFA® prep courses to release a new version of products every year as the CFA® test changes, por ke vi povas esti certa, ke ĉio vi studo estas supren-ĝis-dato. Kiam vi aĉeti unu el tiuj revizio kursoj, you won't waste your time studying material from older exams or experience any surprises on exam day.
7. Discount
To get a great deal on the course, enter in a Kaplan Schweser CFA® promo code.
CONS
1. Prezo
Premium packages cost upwards of $1,799, which is considerably more expensive than most industry competitors. More affordable packages are available, but they are not as comprehensive and often do not include live or in-person components. If you are on a budget, you will have fewer opportunities to interact with instructors, malpli studo materialoj kaj praktiko ekzamenoj.
ideala Uzanto
Ĉi tiuj kursoj pledos al ambaŭ rete lernantoj kiuj volas la conveniencia de studi kiam ajn ili havis tempon de ilia hejmo aŭ oficejo, kaj tradiciaj lernantoj kiuj preferas klasĉambro opcio. The popular 3-day exam workshops helps you separate yourself from your job and focus your study efforts while expert instructors teach you what you need to know to pass your CFA® exam.
Se vi estas tradicia lernanto, vi ŝatos la klara kaj konciza 5-volumo SchweserNotes kaj la detala ekzemploj kiuj reliefigas kion vi devas scii. La presita QuickSheet studo helpo provizas rapidan referenco de ŝlosilo formuloj, difinoj, and concepts of the CFA® curriculum in a 6-page, laminado broŝuro. If you prefer pencil and paper, Vi povas uzi la ekzercokajeroj iri super materialo, ekzemploj, kaj demandojn kune kun vivaj kursoj. Online access to thousands of multiple-choice questions in the question bank help you review critical concepts and Learning Outcome Statements (LOS) (also available offline).
Those who prefer to study online can build their own customized exam for specific topics and take advantage of the Online Resource Library, a collection of videos about the core concepts of the CFA® curriculum. The ever-popular "Schweser Secret Sauce" is a portable, compact book that offers a clear, concise review of the core elements of the CFA® curriculum and provides tips on how to apply your knowledge to the exam in the final weeks before the test.
Mia Sugesto
Kaplan offers numerous options for you, including live and online classes, seminars, mock exams, and self-directed study programs. You can mix and match online and live course options and review sessions, or choose an entirely online course.
The "Secret Sauce" books and SchweserNotes allow you to focus on the most important topics that are tested on the CFA® exam instead of becoming overwhelmed by the information in the CFA® curriculum. By choosing a Kaplan Schweser review course, you can adequately prepare yourself for the exam in less time than it would take to study the traditional CFA® curriculum.
Resumo de Kurso Trajtoj
On-Demand Video Courses, Webinars, Recorded Lessons, and Digital Learning Materials
Live or Online Review Options
3-Day or 5-Day Exam Review Workshops Available
4,000 Practice Questions
6 Practice Exams
5-Volume SchweserNotes
"Secret Sauce" Compact & Portable Review Book
Study Calendar
Analytics (Online Scoring and Performance Tracking)
Workshop Workbooks and eBooks
Online Resource Library
QuickSheet Laminated Study Aid
Instructors Available to Answer Questions via Phone, Retpoŝto, and Chat
Pricing
Online Mock Exam Only
Prezo: $100
inkluzivas: Printable answer key, online scoring and performance tracking by topic area and comparison to other Mock Exam candidates, and explanations that include LOS and CFA® curriculum page references for every question.
SchweserNotes Package
Prezo: $379
inkluzivas: SchweserNotes, 3 praktiko ekzamenoj, QuickSheet, access to expert CFA® instructors and Study Calendar.
Essential Self-Study Package
Prezo: $649
inkluzivas: Question bank, SchweserNotes, 6 praktiko ekzamenoj, QuickSheet, access to instructor office hours and Study Calendar.
Premium Instruction Package (online weekly class)
Prezo: $1099 – $1,399
inkluzivas: Online weekly class, additional video classes, Schweser's Secret Sauce, question bank, SchweserNotes, 6 praktiko ekzamenoj, ekzercokajeroj, QuickSheet, Study Calendar, Ask Your Instructor, Online Resource Library, PassProtection (50% discount on next course if you do not pass).
Premium Plus Package (online weekly class plus online 3-day exam review)
Prezo: $1,399
inkluzivas: Final Review Option (online review included in price, in-person review costs up to $400 more), online weekly class, additional video classes, Schweser's Secret Sauce, question bank, SchweserNotes, 6 praktiko ekzamenoj, ekzercokajeroj, QuickSheet, Study Calendar, Ask Your Instructor, Online Resource Library, PassProtection.
(The Premium Plus Package is also available with live weekly classes and a live 3-day or 5-day Exam Review workshop, for a total price between $1799-$2099.)
Compare Kaplan Schweser to other CFA® prep courses by clicking the button below:
---
Kaplan Schweser CFA® Breakdown
| | |
| --- | --- |
| Kaplan Schweser CFA® Review | Strengths |
| 1. | Final Exam Review |
| 2. | 6 Full Practice Tests |
| 3. | On-Demand Learning |
| 4. | Havebleco de Instruistoj |
| 5. | Koncentrita kaj Concise |