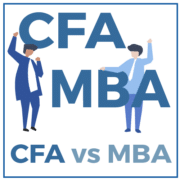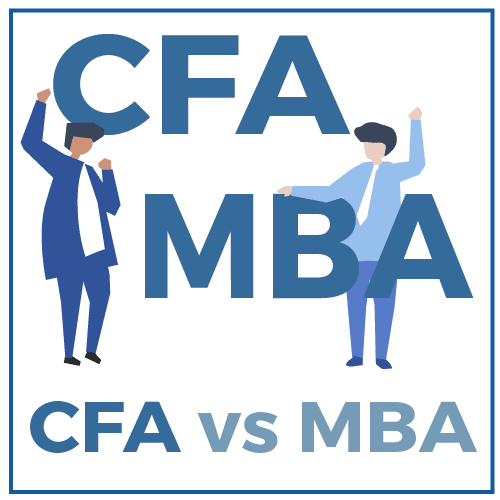 CFA® 또는 MBA, 어떤게 더 좋아? This is a question many business professionals ask themselves when they are mapping out their career paths.
이 질문에 대한 답은 여러 가지 요인에 따라 달라집니다, 당신의 직업 목표를 포함, 배경, 자원.
It's important to know the difference between a Chartered Financial Analyst® (CFA®) 지정 및 경영학 석사 (MBA) 모두 당신의 시간과 비용의 상당한 투자를 필요로하기 때문에.
CFA의 차이® 및 MBA
CFA® 전문 자격 증명은 CFA에 의해 제공됩니다® 투자 및 금융 전문가 협회. CFA® 세계적으로 인정 경제학 미성년자와 금융 석사 학위의 것과 같습니다, 회계, 통계 분석 또는 포트폴리오 관리. 지분 애널리스트로 경력에 관심이있는 사람들을 위해, 펀드 매니저, 자산 관리, 또는 헤지 펀드 매니저, CFA® 탁월한 선택이다. CFA® MBA를보다 더 전문 자격입니다.
MBA를 (또는 M.B.A.) is a 석사 학위 ...에서 경영학 (조치). 지원자는 일반적으로 오히려 인증 시험의 일련의 전달보다 고급 수준의 비즈니스 스쿨에 참석. The main courses in an MBA program cover various areas of business, 이러한 금융 등, 회계, 마케팅, 인적 자원, 보다 일반적인 적은 전문으로하는 방법 및 운영 관리. MBA 학위의 목적은 그들이 전체적으로 더 나은 분석가 및 관리자가 될 수 있도록 학생들에게 비즈니스 관련 다양한 주제의 폭 넓은 이해를 제공하는 것입니다.
Required Exams: CFA® MBA 대
CFA® 시험
CFA® 시험은 구성되어 3 separate tests or levels. You must pass the exams in order, 레벨 I에서 시작하여 레벨 III로 끝나는, 당신이 이전을 통과 할 때까지하고 다음 단계로 이동할 수 없습니다. 그들이 통과 필요로하는 지원자는 시험을 여러 번 걸릴 수 있습니다.
CFA® 시험의 도전 시리즈. CFA® 연구소는 후보가 적어도 보낼 것을 권장합니다 300 세 시험마다 준비 시간, 되는 온다 15-20 4 ~ 6 개월 동안 일주일 공부 시간.
CFA® 시험은 매년 특정 날짜에 제공. 모든 후보들은 모두 같은 날에 시험을해야한다. 부 연 2 회 제공, 6 월과 12 월에, 하나, CFA® 레벨 II 및 레벨 III 시험은 6 월에만 1 년에 한 번 제공됩니다. 이 시험은 연필과 종이 테스트입니다 (그것은 컴퓨터를 기반으로하지 않는).
의 MBA 프로그램 입학을위한 GMAT 시험

MBA는 고급 학위입니다. In order to apply to business school, students will need to have completed the equivalent of a bachelor's degree, and most universities recommend or require a minimum of two to three years of work experience. One of the most important criteria of admissions to business school is the Graduate Management Admission Test or GMAT. If you plan to attend a top US business school, you must do well on this exam.
The highest score you can get on the GMAT is 800. The average score on the GMAT is approximately 550, so a score of 600+ is considered good. A score of 700+ would put you somewhere in the 90th percentile of test takers.
Full-time MBA programs can be completed in two years, but part-time and remote MBA programs are also very common and may take longer.
CFA® vs MBA Salary
CFAs with one to four years of industry experience can expect to earn a median annual salary of approximately $68,383, whereas those with five to nine years of experience will typically earn an average of $87,732 (source: www.payscale.com).
The median pay for MBA professional with 1-4 years is approximately $60,516, and those with 5-9 years of experience earn a median salary of $75,441 (source: www.payscale.com).
(Note that these are median salaries, meaning that there will be many people who earn either more or less that those figures, depending on their job, particular industry, and geographical location.)
결론
Advantages of the CFA® include the opportunity to earn a well-regarded designation through self-study at a relatively low cost. The total registration fees for all three exams are less than $4,000. Individuals who plan to spend their career in finance should seriously consider this option. 하나, if you are uncertain about specializing in finance, an MBA may be a better choice, since it is more versatile and opens up career options in a variety of areas in business.
Business schools can also be very expensive. The average tuition for a full-time MBA in 2014 was greater than $60,000, with top schools charging more than $100,000. Scholarships are often available, part-time and online programs can cost less, 일부 기업은 학비 보조를 제공, 하지만 학위를 추구 할 일이 떨어져 2 년이 걸릴 사람들뿐만 아니라 추가로 생활비를해야합니다.
It's important to assess your own situation to determine which opportunity is right for you before you make that significant investment of time and money. You can also test how prepared you are for your MBA program and what areas you can work on with this 사전 MBA 준비 퀴즈.
당신은 궁극적으로 그는 CFA가되기로 결정한 경우® 당신에게 맞는 경로입니다, then you need to prepare yourself as best as possible. One of the first steps in your preparation should be choosing a test prep that will lead you to success!
---