There are a lot of dates to keep track of when you are preparing to take the CFA® ukuhlolwa. Ngenze i infographic ngezansi ukuthi imininingwane umugqa wesikhathi for kokubhalisa futhi ukukhokha kuhlolo lwakho.
The CFA® Exam includes three levels spread out into three exams. Kukhona kuphela izinsuku ezimbili ukuhlolwa komntwana ononyaka owodwa ngo-December kanye nezinye ngoJuni. I-June ukuhlolwa usuku kuhlanganisa wonke amazinga amathathu ngesikhathi Disemba ukuhlolwa usuku kuhlanganisa Level kuphela mina.
There are three different times you can register for your CFA® exam–early, ejwayelekile, futhi okokugcina (ngasekupheleni). Ukubhalisa Disemba ukuhlolwa kuvula ngoJanuwari ngenkathi yokubhalisa Juni kuvula ngoJulayi. I ngaphambili ubhalisa, eshibhile imali yokubhalisa kuyoba. Ngokwesibonelo, ukubhaliswa ekuqaleni uJuni 2017 ukuhlolwa kwaba $650 ngenkathi yokubhalisa sekudlule isikhathi kuba $1,380. Futhi, uzothola yakho ukuhlolwa isihloko uma ukubhalisa. Ngakho ukubhalisa ngokushesha ngangokunokwenzeka ukuze asizakale isikhathi cwaningo extra ne ukuhlolwa isihloko.
There are CFA® Program Awareness Scholarships available, inqobo nje uma ukusebenzisa ngaphambi umnqamulajuqu (noma Septhemba 2nd noma Februwari 3rd). Lezi imifundaze mathuba indima ezisekelwe atholakale abafanelekayo kwabezindaba, zezemfundo, nemiphakathi zezimali. There are even scholarships for women who are interested in earning their CFA® charter.
Gcina izinsuku ezilandelayo engqondweni ngesikhathi sakho CFA® Exam preparation futhi ngeke iyangena okukumangazayo. Sikufisela inhlanhla!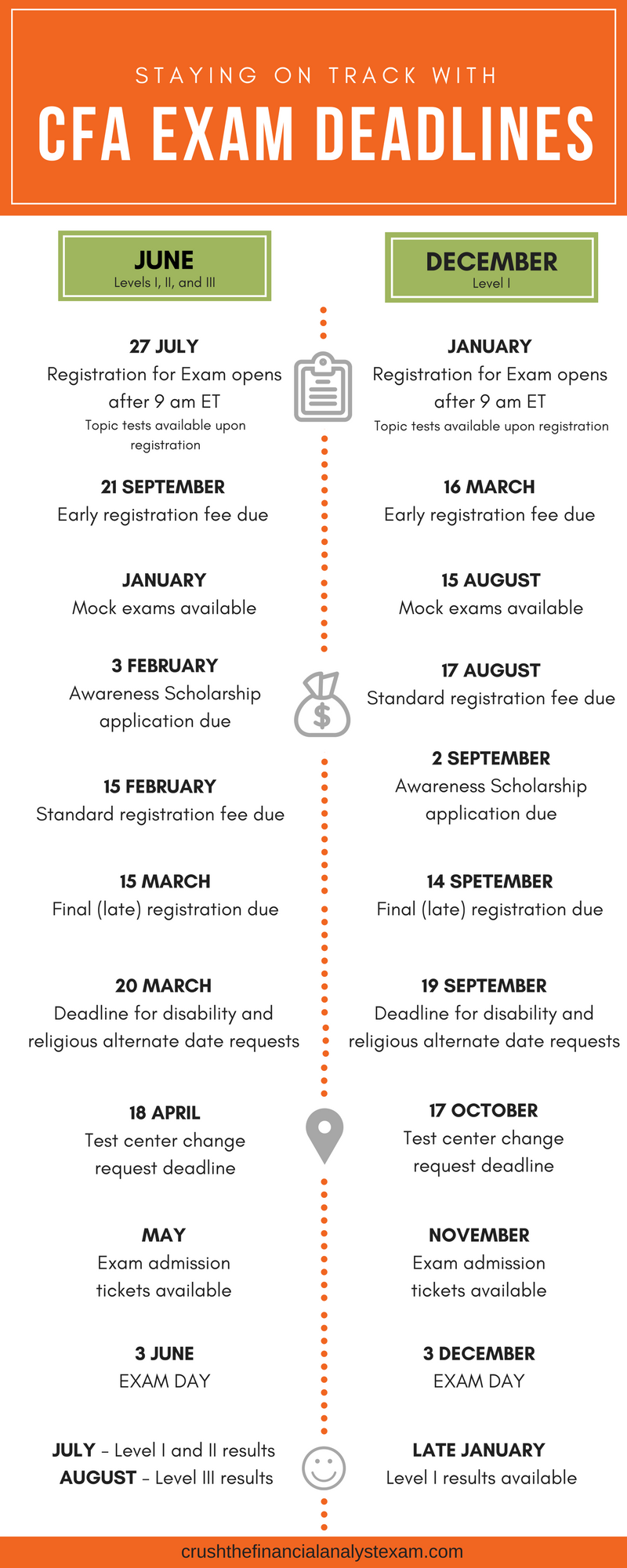 Ngakho, you have read the infographic and now know the important CFA® exam dates. Ngakho, usukulungele? Ingabe usuqalile ukufunda? Take a look at all the CFA® Review course options by clicking the button below – we compare CFA® review courses so you can find the best one for your needs!