There are a lot of dates to keep track of when you are preparing to take the CFA® Exam. Ndiye ndenza i Ulwazi ngezantsi oko iinkcukacha ixesha ngokubhalisela nokuhlawula kuhlolo lwakho.
The CFA® Exam includes three levels spread out into three exams. Kukho nje iintsuku ezimbini iimviwo ngonyaka-nye ngoDisemba kunye nezinye ngoJuni. I-Juni Umhla leemviwo ibandakanya zonke imiphakamo emithathu ngoxa umhla uviwo Disemba kuquka kuphela Level I.
There are three different times you can register for your CFA® exam–early, standard, kanye lokugcina (emva kwexesha). Ubhaliso Disemba uviwo ivula ngoJanuwari ngelixa ubhaliso ngoJuni ivula ngoJulayi. I ngaphambili ubhalisa, yomrhumo ukubhaliswa enganeno iya kuba. Umzekelo, kobhaliso kwangethuba ukuba ngoJuni 2017 ukuhlolwa kwaba $650 ngelixa yokubhalisa kade kuba $1,380. kwakhona, uza kufumana lakho iimvavanyo isihloko kanye ubhalisa. Ngoko ke babhalise ngokukhawuleza kangangoko unako ukuze basebenzise ixesha lokufunda elingakumbi nayo iimvavanyo mxholo.
There are CFA® Program Awareness Scholarships available, nje isicelo phambi kwexesha elimisiweyo (nokuba Septemba 2 okanye Februwari 3). Ezi zokufunda ngamathuba indima-based ziyafumaneka kubantu abafanelekayo kumajelo eendaba, ezifundweni, kunye noluntu zemali. There are even scholarships for women who are interested in earning their CFA® charter.
Gcina le mihla ilandelayo engqondweni ngexesha yakho CFA® Exam preparation kwaye akusayi abalekele naziphi na izinto ezothusayo. Intlahla egqibelele!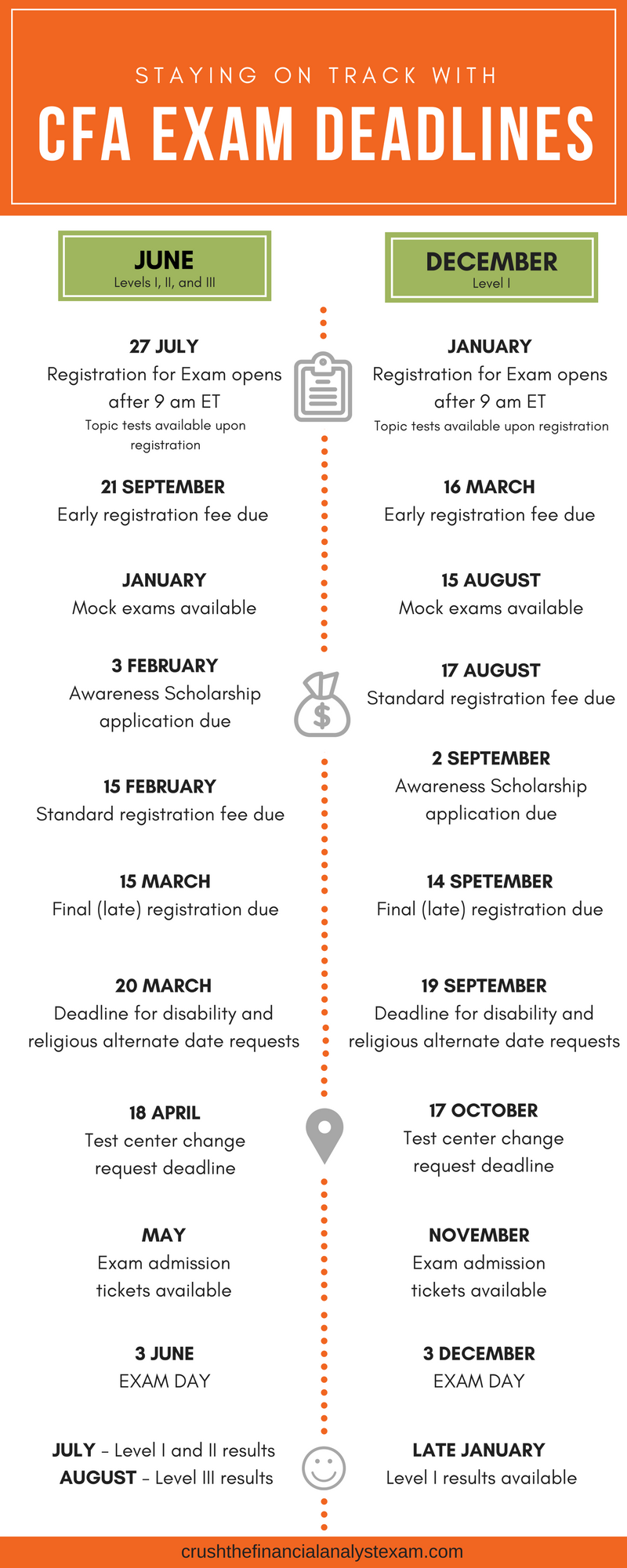 ke, you have read the infographic and now know the important CFA® exam dates. ke, sele ulungele? Ngaba sele uqalile ukufunda? Take a look at all the CFA® Review course options by clicking the button below – we compare CFA® review courses so you can find the best one for your needs!