There are a lot of dates to keep track of when you are preparing to take the CFA® Examen. Am făcut un infografic de mai jos, care detaliază calendarul de înregistrare și de plată pentru examenul.
The CFA® Exam includes three levels spread out into three exams. Există doar două zile de examen pe un an, în decembrie, iar celălalt în luna iunie. Iunie la data examenului include toate cele trei niveluri, în timp ce data examenului decembrie include numai Nivelul I.
There are three different times you can register for your CFA® exam–early, standard, și finală (târziu). Inregistrarea examen decembrie se deschide în luna ianuarie în timp ce de înregistrare pentru luna iunie se deschide în iulie. Mai devreme vă înregistrați, mai ieftin taxa de înregistrare va fi. De exemplu, Anul devreme pentru iunie 2017 examenul a fost $650 în timp ce înregistrare tardivă este $1,380. De asemenea, vei primi teste subiect Odată ce vă înregistrați. Deci, înregistrați cât mai curând posibil, în scopul de a profita de timp de studiu suplimentar cu testele subiect.
There are CFA® Program Awareness Scholarships available, atâta timp cât se aplică înainte de termenul limită (fie 02 septembrie sau 03 februarie). Aceste burse sunt oportunități bazate pe roluri disponibile pentru persoane calificate în mass-media, academic, și comunități financiare. There are even scholarships for women who are interested in earning their CFA® charter.
Păstrați următoarele date în minte în timpul dvs. CFA® Exam preparation și nu va rula în orice surprize. Mult noroc!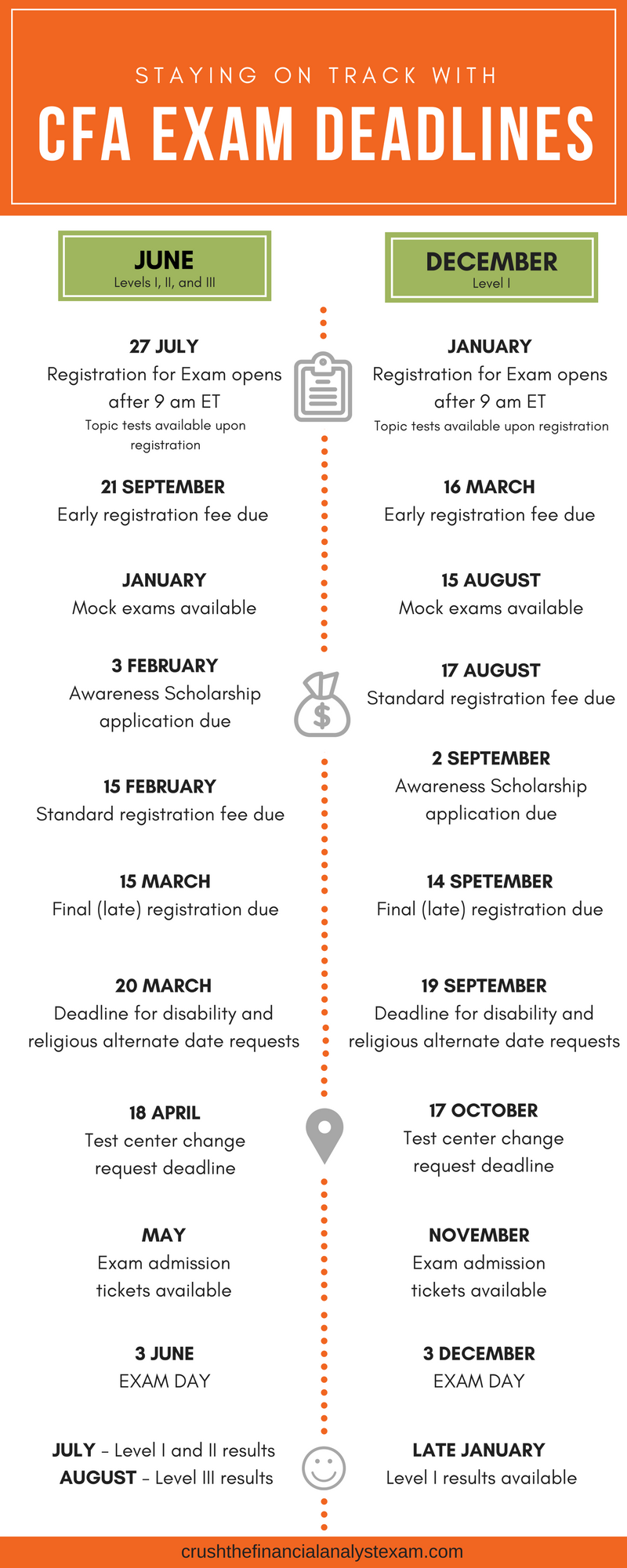 Asa de, you have read the infographic and now know the important CFA® exam dates. Asa de, sunteţi gata? V-ați început să studieze? Take a look at all the CFA® Review course options by clicking the button below – we compare CFA® review courses so you can find the best one for your needs!