There are a lot of dates to keep track of when you are preparing to take the CFA® Exam. Saya telah membuat satu infographic di bawah yang memperincikan garis masa untuk mendaftar dan membayar untuk peperiksaan anda.
The CFA® Exam includes three levels spread out into three exams. Terdapat hanya dua hari peperiksaan a-satu tahun pada bulan Disember dan yang satu lagi pada bulan Jun. Jun tarikh peperiksaan termasuk ketiga-tiga peringkat manakala tarikh peperiksaan Disember termasuk hanya Tahap I.
There are three different times you can register for your CFA® exam–early, standard, dan akhir (lewat). Pendaftaran peperiksaan Disember dibuka pada bulan Januari manakala pendaftaran bagi Jun dibuka pada bulan Julai. Lebih awal anda mendaftar, lebih murah yuran pendaftaran tersebut akan menjadi. Sebagai contoh, pendaftaran awal Jun 2017 peperiksaan adalah $650 semasa pendaftaran lewat adalah $1,380. juga, anda akan menerima anda ujian topik sebaik sahaja anda mendaftar. Supaya mendaftar secepat yang anda boleh dalam usaha untuk mengambil kesempatan daripada masa belajar tambahan dengan ujian topik.
There are CFA® Program Awareness Scholarships available, selagi anda memohon sebelum tarikh akhir (memuat September 2 atau 3 Feb). Biasiswa ini adalah peluang berasaskan peranan disediakan untuk individu yang berkelayakan dalam media, akademik, dan komuniti kewangan. There are even scholarships for women who are interested in earning their CFA® charter.
Memelihara tarikh-tarikh berikut dalam fikiran semasa anda CFA® Exam preparation dan anda tidak akan menghadapi sebarang kejutan. Selamat mencuba!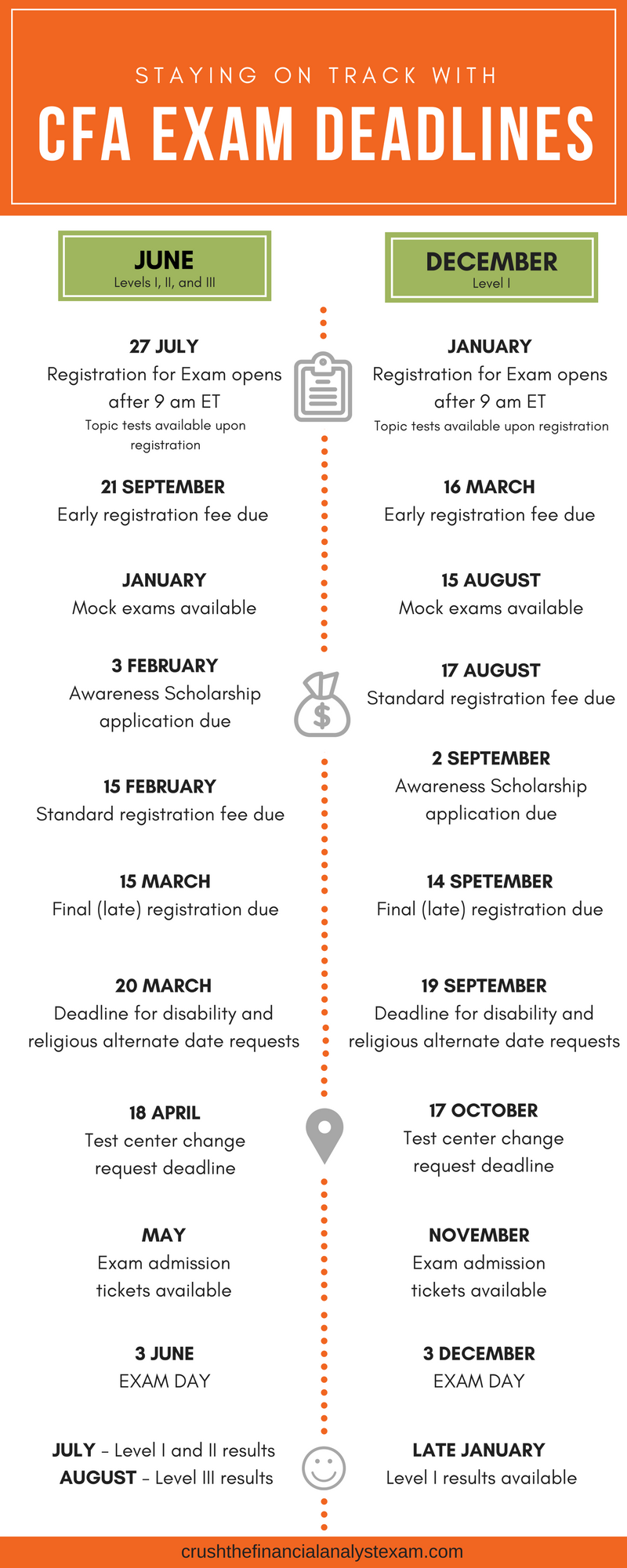 jadi, you have read the infographic and now know the important CFA® exam dates. jadi, adakah anda bersedia? Adakah anda mula mempelajari? Take a look at all the CFA® Review course options by clicking the button below – we compare CFA® review courses so you can find the best one for your needs!