There are a lot of dates to keep track of when you are preparing to take the CFA® Exam. 그 아래 인포 그래픽이 등록하고 시험을 지불에 대한 타임 라인을 자세히 설명했습니다.
The CFA® Exam includes three levels spread out into three exams. 이 시험 일 12 월에서 올해 한 6 월의 다른에만있다. 12 월 시험 날짜는 레벨 I를 포함하는 동안 유월 시험 날짜는 3 단계의 모든 포함.
There are three different times you can register for your CFA® exam–early, 표준, 최종 (늦은). 유월을 위해 등록 7 월에 열립니다 반면, 12 월 시험 등록 월에 열립니다. 등록 이전, 싼 등록비가 될 것입니다. 예를 들면, 유월 조기 등록 2017 시험이었다 $650 늦게 등록하는 동안 $1,380. 또한, 당신은받을 것이다 주제 테스트 등록 번. 그래서 주제 테스트를 별도의 공부 시간을 활용하기 위해 가능한 빨리 등록.
There are CFA® Program Awareness Scholarships available, 한 마감일 전에 적용되는 (9 월 2 일 또는 2 월 3 중). 이 장학금은 미디어에 자격을 갖춘 개인에게 제공 역할 기반의 기회입니다, 학생, 금융 커뮤니티. There are even scholarships for women who are interested in earning their CFA® charter.
마음에 다음 날짜를하는 동안 계속하여 CFA® Exam preparation 당신은 어떤 놀라움으로 실행되지 않습니다. 행운을 빌어 요!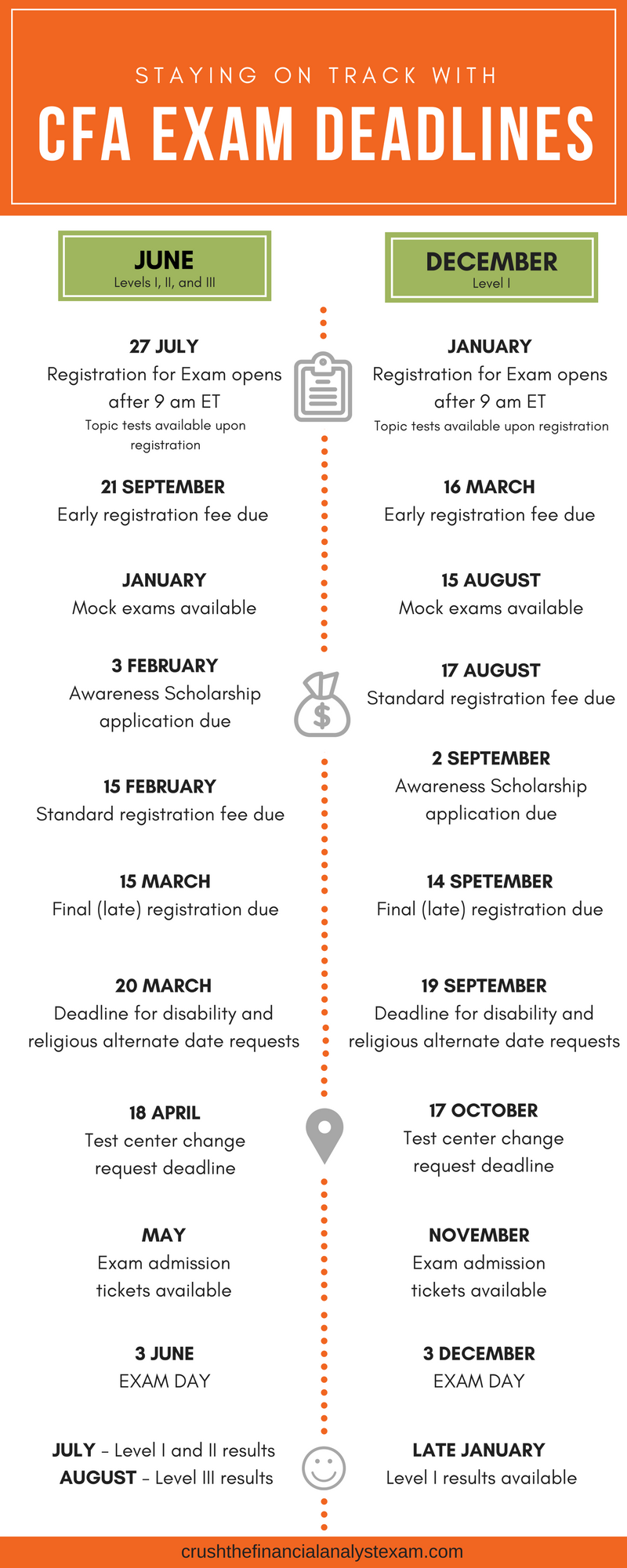 그래서, you have read the infographic and now know the important CFA® exam dates. 그래서, 준비 되었나요? 당신은 공부를 시작했습니다? Take a look at all the CFA® Review course options by clicking the button below – we compare CFA® review courses so you can find the best one for your needs!