There are a lot of dates to keep track of when you are preparing to take the CFA® arholiad. Rydw i wedi gwneud inffograffeg is na hynny yn manylu ar y llinell amser ar gyfer cofrestru a thalu am eich arholiad.
The CFA® Exam includes three levels spread out into three exams. Mae dau ddiwrnod arholiad yn dim ond blwyddyn-un ym mis Rhagfyr a'r llall ym mis Mehefin. Y dyddiad arholiad Mehefin yn cynnwys tair lefel tra bod y dyddiad arholiad Rhagfyr ond yn cynnwys Lefel I.
There are three different times you can register for your CFA® exam–early, safonol, a therfynol (hwyr). Mae'r cofrestriad yn Rhagfyr arholiad yn agor ym mis Ionawr tra bod cofrestru ar gyfer Mehefin yn agor ym mis Gorffennaf. Po gynharaf y byddwch yn cofrestru, Bydd y ffi gofrestru yn rhatach yn. Er enghraifft, cofrestru cynnar ar gyfer Mehefin 2017 arholiad yn $650 tra bod cofrestru hwyr yn $1,380. hefyd, byddwch yn derbyn eich profion pwnc ar ôl i chi gofrestru. Felly cofrestrwch cyn gynted ag y gallwch, er mwyn manteisio ar amser astudio ychwanegol gyda profion pwnc.
There are CFA® Program Awareness Scholarships available, cyn belled ag y byddwch yn gwneud cais cyn y dyddiad cau (naill ai 2 Medi neu 3 Chwefror). Mae'r ysgoloriaethau gyfleoedd seiliedig ar rôl ar gael i unigolion cymwys yn y cyfryngau, academaidd, a chymunedau ariannol. There are even scholarships for women who are interested in earning their CFA® charter.
Cadwch y dyddiadau canlynol mewn cof yn ystod eich CFA® Exam preparation ac ni fyddwch yn rhedeg i mewn i unrhyw beth annisgwyl. Pob lwc!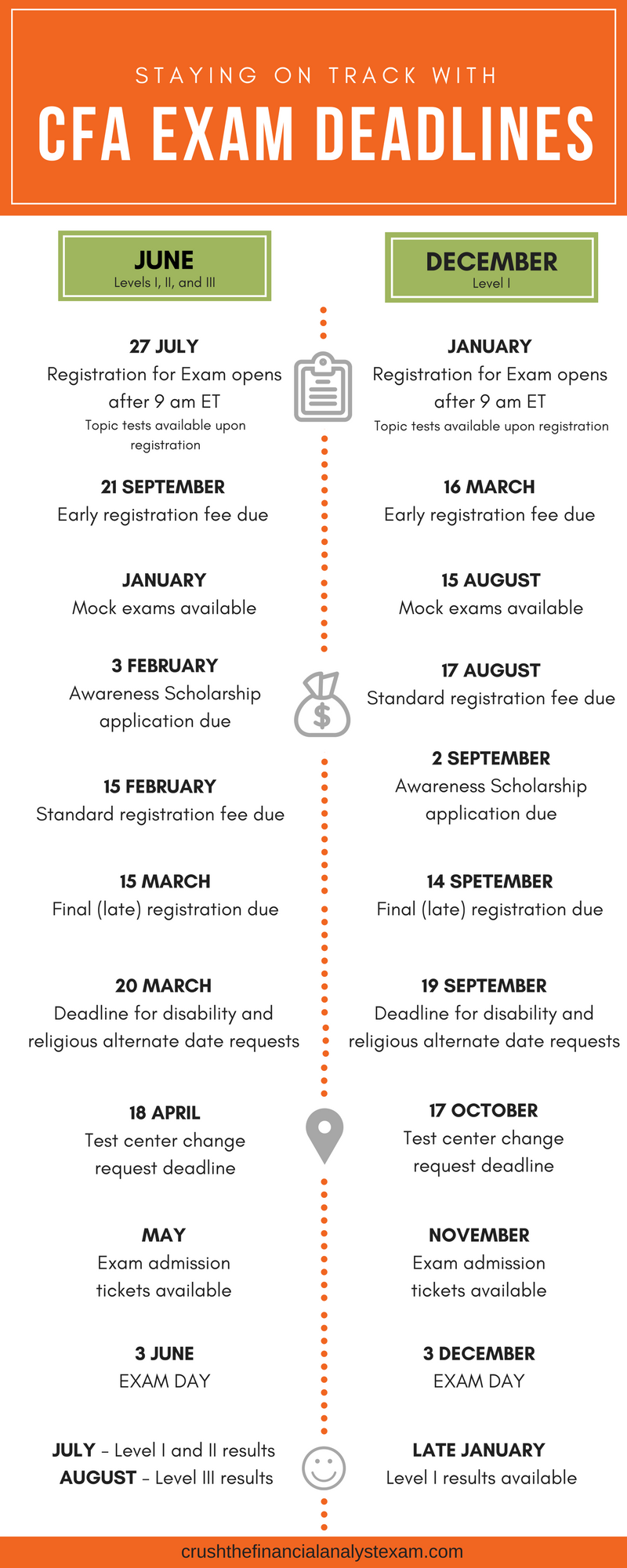 Felly, you have read the infographic and now know the important CFA® exam dates. Felly, wyt ti'n Barod? Ydych chi wedi dechrau astudio? Take a look at all the CFA® Review course options by clicking the button below – we compare CFA® review courses so you can find the best one for your needs!