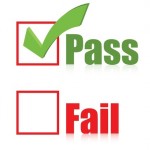 Die Chartered Financial Analyst® Exam is notoriously challenging. Kandidate regoor die wêreld neem die eksamen op dieselfde dag, in óf Junie of Desember, afhangende van die vlak. (Slegs Vlak I word aangebied in beide maande, Vlak II en vlak III word slegs aangebied een keer per jaar in Junie).
As gevolg van die groot hoeveelheid materiaal bedek op die eksamen, die CFA® Institute suggests that candidates begin to prepare for each level of the exam at least 6 maande vooruit, en beveel aan ongeveer 300 studie-ure per vlak.
In onlangse jare, slaagsyfers vir die eerste twee vlakke is heelwat laer as 50%. The 10-year weighted average CFA® exam pass rate for Level I is 38%, vir Vlak II is dit 43%, en vir Vlak III is dit 54%. Dit neem die gemiddelde kandidaat 4 jaar na al drie vlakke van die eksamen te slaag en kry die diploma. Dit is duidelik nie 'n eksamen wat ligtelik geneem moet word. 'N Soliede program van voorbereiding is absoluut noodsaaklik.
CFA® Level I Pass Rate
According to the CFA® institute, onlangse slaagsyfers van die Vlak I eksamen het ietwat hoër was, met 43% kandidate wat in Junie 2016, en 43% of candidates passing in December (up from 42% respectively in 2015). Candidates who pass can begin to prepare for the Level II exam.
CFA® Level II Pass Rate
The percentage of candidates who pass the Level II exam is only marginally higher. in 2016, only 46% of exam-takers passed Level II.
Those who do not pass are required to retake the exam the following June. Candidates may take the exam as many times as they need to pass.
CFA® Level III Pass Rate
By the time candidates take the Level III exam, their odds of passing are greater, en die persentasie van diegene wat slaag blyk te wees, stygende. in 2016, 54% kandidate geslaag het in die vlak III eksamen, in vergelyking met 53% wat geslaag in 2015. That's why it's imperative to find the right CFA® kursus vir jou behoeftes, sodat jy konsekwent kan ontwikkel, doeltreffende studie gewoontes die kans te klop. Die Vlak III eksamen verskyn strenger met verloop van tyd te geword het, gegee dat slaagsyfers van die 1960's deur die middel van die 1990's tipies gewissel tussen 70-96 persent, met slegs 'n paar uitsonderings (see the CFA® Institute statistics hier).
CFA® Exam Locations
die CFA® exam is held in more than 180 stede in Junie, en meer as 60 stede in Desember. Die streek Asië-Stille Oseaan verantwoordelik is vir sowat 42% van die totale inskrywings, gevolg deur 36% in die Amerikas. Die oorblywende 22% kom uit Europa, die Midde-Ooste, en Afrika.
die CFA® continues to be the preferred certification exam of financial professionals worldwide. Selfs al is slaagsyfers laag, die gewildheid van hierdie kursus is op die opkoms, presumably because investment banks and financial institutions increasingly recognize the value CFA® charter holders bring to their organizations.
Overcome the odds and ensure your success on the exam through a solid CFA® review course!
Begin studeer VIR DIE CFA® EKSAMEN
---