dispremi RATING: ★★★★★
Bloomberg CFA® Exam Prep has delved deep into its bank of financial and technical resources to produce one of the top CFA® review courses on the market. Estas facile vidi kial studentoj amas ĉi prep ilo, as it comes replete with unparalleled AI software, one-on-one tutoring, targeted micro-lessons and much more.
This course is so optimized for potential CFA® exam passage that Bloomberg offers an unmatched pass insurance. This is a great course for you if you want to save time, guarantee success, and use the best available test-prep technology and tools that the industry has to offer.
PROS
1. Dashboard
vide parolante, you're not going to find a more well designed layout than the Bloomberg Dashboard. La ĉefa paĝo estas ne nur estetike agrablaj, sed ankaŭ ĝi estas ekstreme bone desegnita por teni vin centris en la gravaj komponantoj de la ekzameno prep planon. Vi tuj vidos vian progreson spuristo (rompita malsupren de sekcio kaj procento de kompletigo), rompo de la kursoj en kiuj vi elstarante aŭ malsukcesanta, a topical layout, and an overall analysis of your performance.
2. Non-Traditional Layout Options
If you're not someone who is looking for the standard test prep course layout, this tool has another option for you: the Knowledge Map. Using this tool, you can see a breakdown of each section within a non-traditional mapping system. If this unique look scares you, revert back to the standard layout, but it's definitely a great option for you if you want to look at the overall test content in a different manner.
3. Adaptive Learning
Bloomberg la AI programaro analizas vian rendimenton kaj vere servas la kurso temigi la areojn en kiuj vi ne excel. Ju pli horoj kiuj vi metis en, ju pli personigita la programo iĝas. Do, Ne maltrankviliĝu, se vi ne estas disbatanta certa sekcio frue en studanta – tiu ilo certigos ke vi rondiras reen al ĉi tiu temo en la gxusta tempo. Aliaj iloj povas havi similajn opciojn, sed la nivelo al la kiu ĉi AI funkcias ne verŝajne estos atingita.
4. Time-Saving Studying
The ability to save time also means that you're going to save money, as any future CFA® will tell you. Therefore, by using the Bloomberg CFA Exam Prep tool, you're going to be able to put plenty of study hours back into the bank – students who complete the course spend only 185 hours on average studying, which is well below the 287 hours that is the industry average.
5. juĝo periodo
Some test prep tools give you a couple of days or up to a week to see if you like the style and layout of the course. Bloomberg duobligas la alta fino de tiu intervalo, kiel ĝi donas kompletan 14 tagoj por determini ĉu aŭ ne ĝi estas la ekzameno preparado platformo kiu persvadas viaj bezonoj.
6. Tutoring
Dum aliaj kursoj povas proponi iun tipon de instruado servoj, la kvalifikoj de la Bloomberg CFA® saĝuloj estas nekomparebla. Vi povas eĉ kontrolu iliajn akreditaĵojn antaŭ subskribi por la juĝo, kiu estas testamento al ilia nivelo de kompetenteco.
CONS
komplekseco
Dum multaj uzantoj estimas la vasta aranĝo kaj multe da trajtoj disponebla en ĉi tiu ilo, aliaj povas trovi la granda numero de alklakeblaj areoj esti fortimiga. Estas tiom multaj malsamaj iloj kiu vi povas uzi, kaj vojoj en kiu vi povas spuri / vidi vian progreson, ke homoj kiu estas serĉanta simpla testo preparas ilon ne preferas tiun platformon. It's not going to be the best option for you if you like to simply go to the home page, klaku en sian lecionon, trempi eksteren iam fini.
ideala Uzanto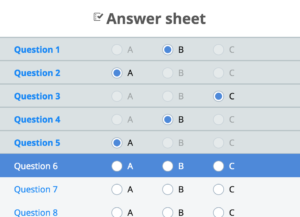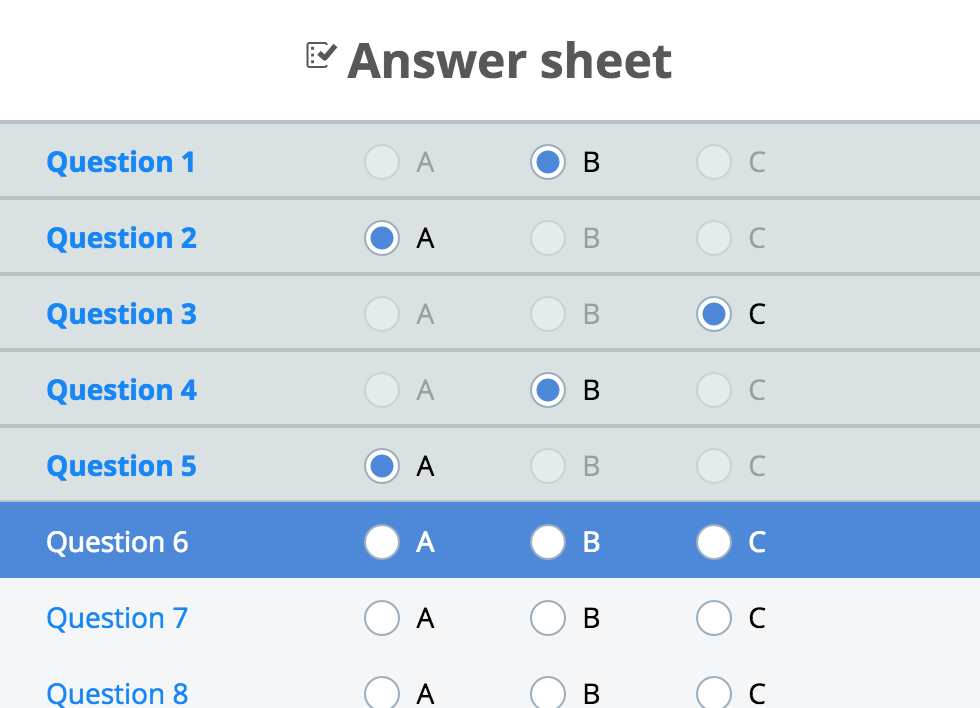 Kiel mallonge menciis supre, the ideal user for this course isn't going to be someone who considers themselves tech-averse or simple with regard to online tools. This course is designed to give you the best of what the web has to offer, and it's not going to shy away from potential clicks.
Bloomberg's CFA® exam prep materials are aimed at busy working professionals who like to see their progress tracked in an efficient way. There are the basic metrics and layouts that provide an encompassing look at your CFA® journey, but there's also in-depth tools to really delve into a high-level analysis of how you've done.
Another time-saving tool is the ample amount of tutor help that's included in the tool. If you have a question that's really delaying your progress, don't think too hard on it. Ask one of the highly respected tutors that Bloomberg has on staff and quickly find out where you're going wrong. Ne estas punkto en trafante snag en via studado simple ĉar vi ne konas unu metodaron.
Se vi provas pasi la CFA® ekzameno sen elspezi tro da mono aŭ malŝparas tro da tempo – aŭ ambaŭ – tiam ĉi tio vere estas la ilo por vi. Ĝi helpos vin vidi la finan linion, kaj poste montros al vi, kiun vi bezonas por majstri atingi tiun punkton.
Mia Sugesto
Bloomberg's CFA® Exam Prep tool is a one-of-a-kind course that really offers you a chance to take the test with the full knowledge that you will likely pass it – this tool operates at a much higher success rate than the industry average. You're going to get to the finish line, but with this tool it's just a matter of doing so without wasting time or money.
Save 100+ hours of your life (compared to the industry average) without skimping on the necessary materials. Tio estas unu el la plej efika studo iloj sur la merkato kaj ĝi tuj preparos vin tute por la CFA® danke al unika AI platformo kaj sperta gvidinstruistoj. Nepre eniri en ĉi tiu kupono kodo por akiri la plej bonan interkonsenton por tiu mirinda ilo.
Resumo de Kurso Trajtoj
La Lernado Trinkejo
Top Taksita CFA® Tutors
10 Plenlonga Praktiko Ekzamenoj
Bone-Desegnita Dashboard
Adapta Ekzameno planilo & Personecigita Studo Horaro
Garantio kaj Enirpermesilo Asekuro
Senlima Tutor Demandoj
scio Mapo
Dashboard & Performance Metrics
Komenca Baseline Takso
Long-Term Strategio Konsiletoj
2-Semajno Trial Periodo
Miloj da Praktiko Demandoj
Sukceso Imposto Mapping
Pricing
Essentials Pako
Prezo:
$599
inkluzivas:
Unika Adapta Lernado Platformo
Mikro-Lecionoj por Ĉiu Sekcio
6 Plenlonga Praktiko Ekzamenoj
20 Petu-A-Tutor Demandoj
100% Mono Reen Garantio
Miloj da Praktiko Demandoj
Personaj Subteno de Fakuloj
Personigita Leciono Planoj
2-Semajno Trial Programo
Strategio Konsiletoj de Bloomberg Fakuloj
Premium Package
Prezo:
$999
inkluzivas:
Unika Adapta Lernado Platformo
Mikro-Lecionoj por Ĉiu Sekcio
8 Plenlonga Praktiko Ekzamenoj
80 Petu-A-Tutor Demandoj
100% Mono Reen Garantio
Miloj da Praktiko Demandoj
Personaj Subteno de Fakuloj
Personigita Leciono Planoj
2-Semajno Trial Programo
Strategio Konsiletoj de Bloomberg Fakuloj
Ultimate Package
Prezo: $1,599
inkluzivas:
Unika Adapta Lernado Platformo
Mikro-Lecionoj por Ĉiu Sekcio
10 Plenlonga Praktiko Ekzamenoj
Unlimited Ask-A-Tutor Questions
100% Mono Reen Garantio
Miloj da Praktiko Demandoj
Personaj Subteno de Fakuloj
Personigita Leciono Planoj
2-Semajno Trial Programo
Strategio Konsiletoj de Bloomberg Fakuloj
Bloomberg CFA®
Breakdown
| | |
| --- | --- |
| Bloomberg CFA® Review | Strengths |
| 1. | Unlimited Help Questions |
| 2. | Bonege Dashboard |
| 3. | scio Mapo |
| 4. | progreso Spurado |
| 5. | fakulo Tutors |
| 6. | 2-Week Trial |
Review
Reviewer
Review Date
Product Type
Author Rating