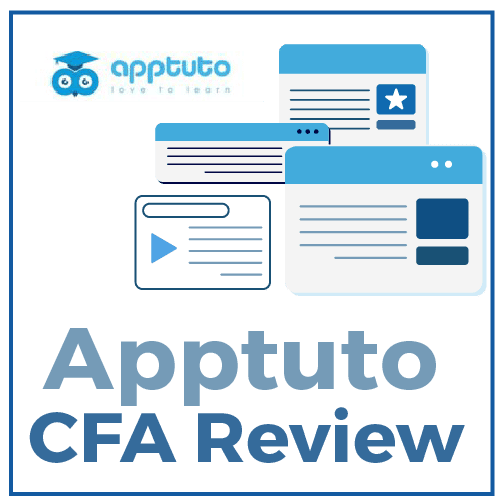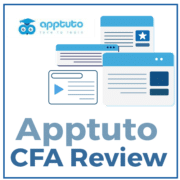 CRUSH RATING: ★★★★★
Apptuto CFA 검토 uses innovative technology and a seamless learning platform to offer a fresh new look and feel to preparing for the CFA® exam.
They offer CFA® prep courses for both Level 1 and Level 2 exams with plans to rollout their level 3 course soon. Their slick design and customizable features make this streamlined course user-friendly and easy to navigate.
Their large question bank and performance analytics help you reach the top of your game so you are fully prepared when it comes time for your exam. Their course was designed with mobile learners in mind and is accessible from computers, tablets, smartphones, and also from an iOS app which gives you the option to study even when you are offline.
Apptuto now offers Live-Online courses that come with one-on-one coaching with the instructors and also a 100% Pass Guarantee.
PROS
1. Large Question Bank
Apptuto provides you with more than 3,000 questions and detailed explanations written by tutors who hold the CFA® qualification themselves. You can zero in on the type of questions you need the most practice on by using their Similar Question Generator.
2. Customized Tests & User-Friendly Dashboard
With Apptuto, a large number of practice tests can be created and tailored according to your precise needs. Students can select questions based on specific readings, question-type, difficulty level, and then determine how they will be weighted in each practice exam (choices include: all questions weighted equally, or use CFA® guidelines for weighting).
A tutorial explaining how to use this custom tests feature appears when you first log in to the course, 하나, the dashboard is so intuitive that you really don't need it. The course dashboard keeps track of all of your tests, study progress, weekly number of questions attempted, leaderboard stats, and a host of other useful information to keep you motivated and moving forward.
3. Performance Analytics
Although remarkably streamlined, the course dashboard gives you a snapshot with a lot of detailed feedback on your performance. With one quick glance, you can see your overall proficiency, progress points, leaderboard ranking, your change in rank, any medals, badges or achievement "gems" you've won, the number of questions you've attempted, and the percentage of questions you've answered correctly.
The course Performance Graphs display your weekly test performance and the Weakest Readings List helps you identify your weaker topics so you can improve on the areas that will have the biggest impact on your CFA® exam score.
4. Seamless Integration
Apptuto was designed for online and mobile learners. You can access the course from your computer, tablet or smartphone, and progress is automatically synced across all devices.
They also have a fully integrated iOS app which features an offline option so you can study even when you are off the grid. They are currently developing an app for Android users as well.
5. Sense of Community
Although there are no classes to attend with other students in the traditional sense, users can benefit from interaction with peers by creating study groups with other local students studying for the CFA® Level 1 시험. The Leaderboard rankings are a fun way to compete with your peers around the world and create camaraderie during the somewhat isolating process of studying for the CFA® exam by yourself.
6. Live-Online Courses
Apptuto now offers Live-Online courses for the CFA® Level 1 and Level 2 exams and plan to release Level 3 towards the end of 2016.
Their Premium Course offers 54 hours of live-online classroom instruction over an 18 week period and includes 1 on 1 coaching with the instructor as well as a 100% Pass Guarantee. You also have the option to take the Intense Course which includes over 100 hours of live instruction.
Apptuto employs world class tutors who are experts in their fields. You will get one-on-one coaching with these tutors at a time that works best for your schedule. Their online classes are recorded for your convenience so you can access them if cannot join live.
CONS
Course Still Being Developed
Apptuto shows a lot of promise, but it is fairly new to the CFA® exam prep arena and its creators are still in the process of rolling out new features. That being said, I haven't heard any negative reviews from CFA® candidates who have used their course so they seem to be doing a good job at keeping customers happy. If you have personally used Apptuto, please take 2 minutes and drop a quick comment at the bottom of the page to let us know about your experience!
Ideal User
With no live options, either in person or online, and no video lectures, this course consists of an extensive question bank and customizable practice exams. Self-directed students who prefer to work at their own pace in an online environment and like to compete with others over the internet will prefer this course to more traditional classroom options. Without direct access to instructors, you will have to rely on email to get your questions about the course answered.
My Suggestion
Apptuto's streamlined and well-designed course is a promising addition to the CFA® exam test prep industry. Although not all features are fully up and running yet, we like everything we've seen so far.
The ability to customize your practice tests in very specific ways and the advanced analytics which provide valuable feedback on your study progress are among the best features of the course.
Summary of Course Features
3,000 practice questions with detailed explanations
Intuitive course dashboard
Similar Question Generator
Customizable Exams
Leaderboards to keep track of how you rank against your peers
Achievement badges and rewards to keep you motivated
Precise, continuously updated course analytics
Weakest Readings List
Access to peers through Study Groups feature
Pricing
CFA® Level 1 Exam Course
Price: $199.99
Includes: Access to course dashboard, question bank with 3,000 questions and explanations, custom practice exams, course analytics, Similar Question Generator, access to study groups with peers in the course, and pass protection.
GO TO THE BEST CFA Exam COURSES
---
Apptuto CFA® Review Breakdown
| | |
| --- | --- |
| Apptuto CFA 검토 | Strengths |
| 1. | Large Question Bank |
| 2. | Customized Tests & User-Friendly Dashboard |
| 3. | 20% OFF Discount Code |
| 4. | Seamless Integration |
| 5. | Sense of Community |