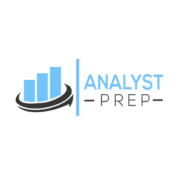 CRUSH評級: ★★★★★
Analyst Prep CFA Review has designed its practice questions and mock exams to replicate the difficulty of the actual CFA® Level 1 考試, so you will be more than prepared for the real deal.
You also get to customize your quiz sessions an unlimited amount of times and track your performance with the software that compares your score to thousands of other CFA candidates.
PROS
1. CFA Question Bank and Mock Exams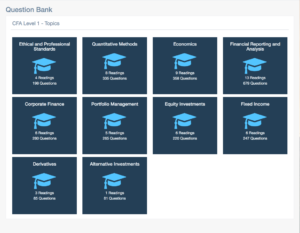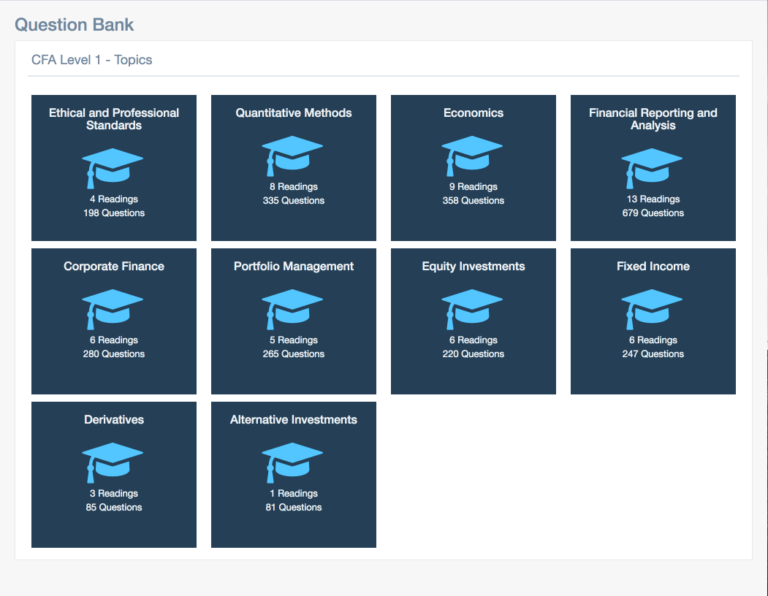 The best way to prepare for the CFA® exam is to practice. You can sign up for the free package and test out 150 of the practice questions before purchasing the full course. Once you decide that Analyst Prep is the right fit for you, you can upgrade and have access to 3,000+ 練習題及 4 模擬考試 (480 每個問題).
2. 學習筆記
分析師準備的全面學習筆記是完美的,誰被淹沒 5,000 page CFA® institute curriculum book. The study notes are designed to teach you the CFA® Level 1 課程在更短的時間,但沒有任何效果較差.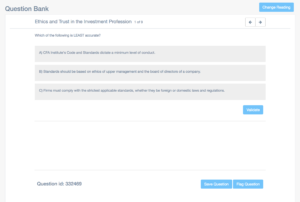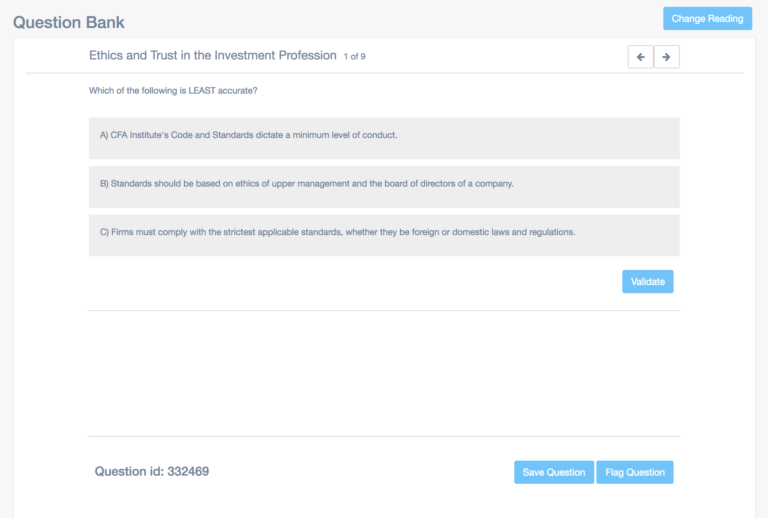 The notes have been created by CFA® Charterholders to summarize the most relevant information from every Learning Outcome Statement (THE). 您還可以得到一個公式表,你可以記住. The notes also include example questions to help your comprehension skills. You can review your study notes from anywhere on your mobile device.
3. Variety of Support Options
Analyst Prep has two different course packages, Premium ($129) and Coaching ($599). With the Coaching Package, you will have 5 hours with a personal tutor who will guide you throughout the course and other aspects of CFA ®preparation. Even if you don't want the 1 on 1 coaching (which is done via Skype with a CFA® Charterholder), there are other support options available.
These same coaches also offer email support and can help assist you in creating a personalized study plan. Analyst Prep makes sure you have a professional that can help review your progress and answer any questions you may have. And if you want a sense of community, there is an online forum where you can connect with other Analyst Prep studiers.
4. Track and Analyze Your Performance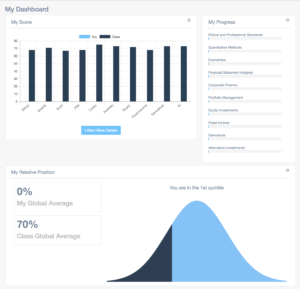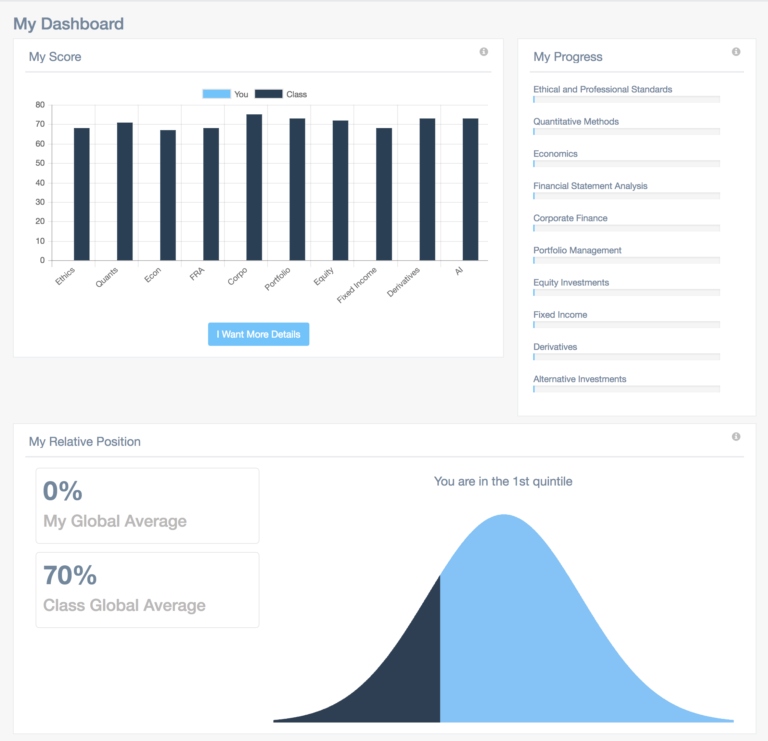 With the built-in analytics software, 你可以很容易地看到你的跟踪進度和測試題監控性能. 有組織的圖表說清楚你找出自己的長處和短處. 你可以看到你的分數按章, 你最強/最弱的一章, 您的日常進展, a comparison with other CFA® candidates, 和時間管理圖.
隨著一應俱全這些分析, 它很容易適應你的學習方法和提高你在需要更多關注的領域戰略. Analyst Prep also lets you keep tabs on the competition by comparing your results with thousands of other candidates who are also studying for the CFA® Exam.
CONS
Only Level 1
Analyst Prep has undeveloped material and only provides a prep course for Level 1 of the CFA® Exam. 水平 2 is under development now and will be released soon, as well as a mobile app!
理想的用戶
This course is great for those that want support options as well as an adaptable self-study course. The $129 course option is also great for anyone who is on a budget. 儘管分析師準備仍在開發水平課程 2 和 3, 水平 1 複習課程是一個良好的開端,提供了大量的分析和研究工具, 喜歡研究,筆記, 給你一個精簡的研究策略,將讓你有效和高效地學習.
我的建議
對於低價本課程, 你肯定得到了很多爆炸的為您的降壓. 全面學習筆記, 視頻課程, 和廣泛的問題,銀行都可以買到 $129. 這是偉大的自我激勵學習者, but for those that want more support and other perks, like a Final Review, you can purchase the coaching package for $599.
Try out the course by signing up for the free package to see 150+ practice questions, performance tracking, and the video lessons.
Pricing
Free Package
Price: $0
Includes:
150+ Questions

Performance Tracking

Video Lessons
Level I Premium Package
Price: $129
Includes:
3,000+ Practice Questions

4 PDF Mock Exams (480 Questions)

Performance Tracking

Video Lessons

學習筆記 (1,500+ pages)

Formula Sheet

Unlimited Customizable Quizzes

Pass Guarantee
Level I Coaching Package
Price: $599
Includes:
3,000+ Practice Questions

4 PDF Mock Exams (480 Questions)

Performance Tracking

Video Lessons

學習筆記 (1,500+ pages)

Formula Sheet

Unlimited Customizable Quizzes

Pass Guarantee

5 Hours of 1-on-1 Coaching
COMPARE THE BEST CFA PREP COURSES
AnalystPrep CFA® Breakdown
| | |
| --- | --- |
| AnalystPrep CFA® Review | Strengths |
| 1. | Question Bank and Mock Exams |
| 2. | 學習筆記 |
| 3. | Variety of Support Options |
| 4. | Track and Analyze Your Performance |
評論
Reviewer
Review Date
Product Type
Author Rating