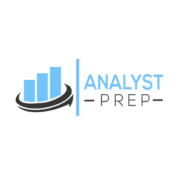 VLERËSUAR: ★★★★★
Pro
1. Pyetje Bank dhe Provimet tallen
analist Prep ka hartuar pyetjet e saj praktikë dhe provime tallen për të replikuar vështirësinë e nivelit aktual CFA 1 Provimi, kështu që ju do të jetë më shumë se i gatshëm për marrëveshje e vërtetë. You also get to customize your quiz sessions an unlimited amount of times and track your performance with the software that compares your score to thousands of other CFA candidates.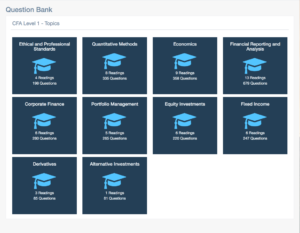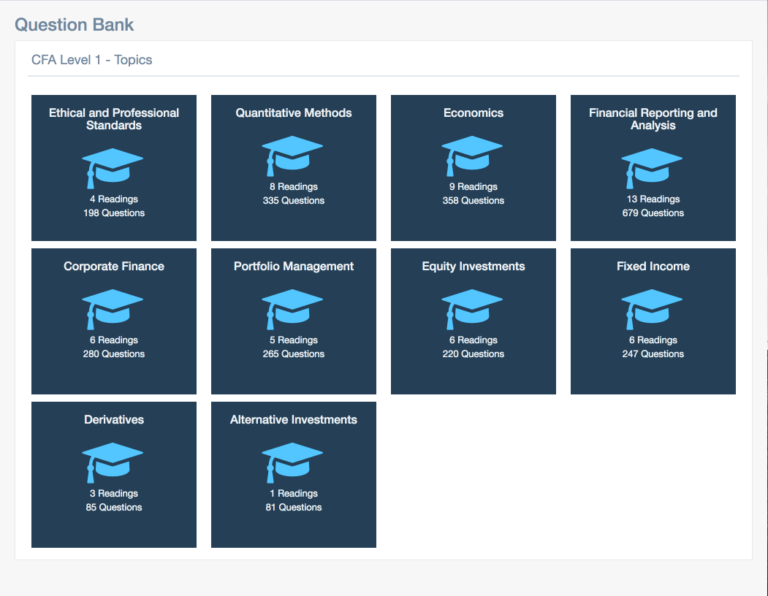 The best way to prepare for the CFA exam is to practice. You can sign up for the free package and test out 150 of the practice questions before purchasing the full course. Once you decide that Analyst Prep is the right fit for you, you can upgrade and have access to 3,000+ practice questions and 4 mock exams (480 questions each).
2.

Study Notes
The comprehensive study notes of Analyst Prep are perfect for those who are overwhelmed by the 5,000 page CFA institute curriculum book. The study notes are designed to teach you the CFA Level 1 curriculum in less time but not any less effective.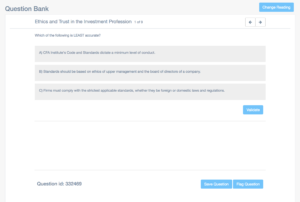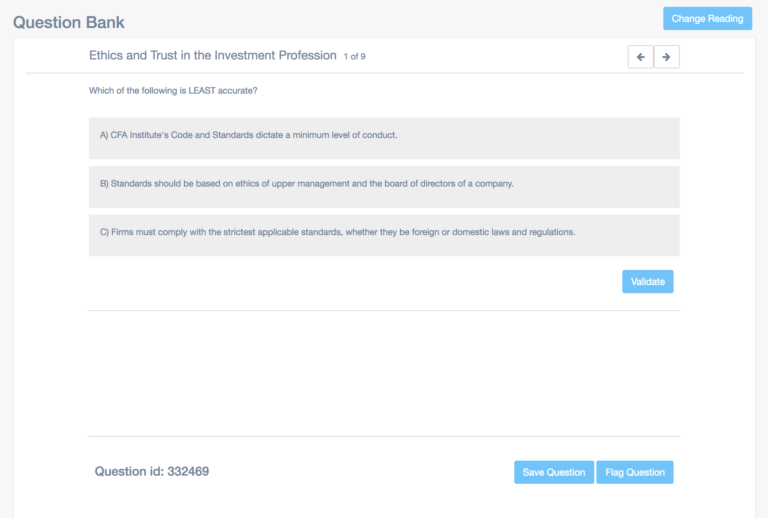 The notes have been created by CFA Charterholders to summarize the most relevant information from every Learning Outcome Statement (LOS). You also get a formula sheet that you can memorize. The notes also include example questions to help your comprehension skills. You can review your study notes from anywhere on your mobile device.
3.

Variety of Support Options
Analyst Prep has two different course packages, Premium ($129) and Coaching ($599). With the Coaching Package, you will have 5 hours with a personal tutor who will guide you throughout the course and other aspects of CFA preparation. Even if you don't want the 1 on 1 coaching (which is done via Skype with a CFA Charterholder), there are other support options available.
These same coaches also offer email support and can help assist you in creating a personalized study plan. Analyst Prep makes sure you have a professional that can help review your progress and answer any questions you may have. And if you want a sense of community, there is an online forum where you can connect with other Analyst Prep studiers.
4.

Track and Analyze Your Performance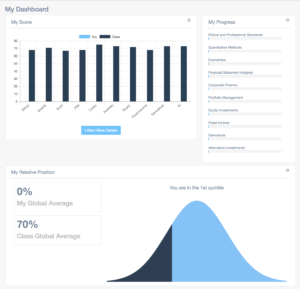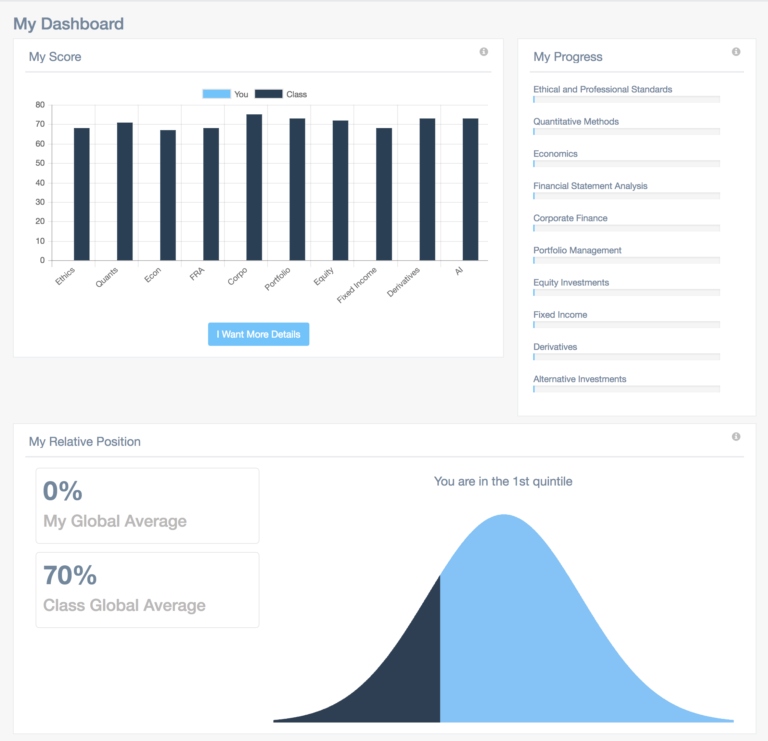 With the built-in analytics software, you can easily see your tracked progress and monitored performance of test questions. The organized charts make it clear for you to identify your strengths and weaknesses. You can see your score by chapter, your strongest/weakest chapter, your day to day progress, a comparison with other CFA candidates, and a time management chart.
With all these analytics readily available, it's easy to adapt your study method and improve your strategy in the areas that need more attention. Analyst Prep also lets you keep tabs on the competition by comparing your results with thousands of other candidates who are also studying for the CFA Exam.
CONS
Only Level

1
Analyst Prep has undeveloped material and only provides a prep course for Level 1 of the CFA Exam. nivel 2 is under development now and will be released soon, as well as a mobile app!
ideal User
This course is great for those that want support options as well as an adaptable self-study course. The $129 course option is also great for anyone who is on a budget. Edhe pse Analisti Prep është ende në zhvillim kurse për nivelet 2 dhe 3, niveli 1 Sigurisht shqyrtim është një fillim premtues që ofron shumë analytics dhe mjetet e studimit, si studimore shënimet, për të ju jap një strategji të strukturuar studim që do të keni studiuar në mënyrë efikase dhe efektive.
Sugjerimi im
Për çmim të ulët të këtij kursi, ju me siguri merrni një shumë zhurmë për dollar tuaj. Shënimet e plota të studimit, mësimet video, dhe pyetjet e shtrirë bankare të gjithë mund të blihen për $129. Kjo është e madhe për nxënësit vetë-motivuar, but for those that want more support and other perks, like a Final Review, you can purchase the coaching package for $599.
Try out the course by signing up for the free package to see 150+ pyetjet praktikë, performance tracking, and the video lessons.
Çmimeve
Free Package
çmim: $0
përfshin:
150+

Questions

Performance Tracking

Video Lessons
Level I Premium Package
çmim: $129
përfshin:
3,000+

Practice Questions

4

PDF Mock Exams

(480

Questions

)

Performance Tracking

Video Lessons

Study Notes

(1,500+

pages

)

Formula Sheet

Unlimited Customizable Quizzes

Pass Guarantee
Level I Coaching Package
çmim: $599
përfshin:
3,000+

Practice Questions

4

PDF Mock Exams

(480

Questions

)

Performance Tracking

Video Lessons

Study Notes

(1,500+

pages

)

Formula Sheet

Unlimited Customizable Quizzes

Pass Guarantee

5

Hours of 1-on-1 Coaching

Personal Study Plan

Rishikimi final
AnalystPrep CFA Breakdown
| | |
| --- | --- |
| AnalystPrep CFA Rishikimi | Strengths |
| 1. | Pyetje Bank dhe Provimet tallen |
| 2. | Study Notes |
| 3. | Variety of Support Options |
| 4. | Track and Analyze Your Performance |
AnalystPrep CFA Review Course