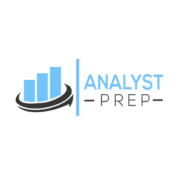 dispremi RATING: ★★★★★
Analyst Prep CFA Review has designed its practice questions and mock exams to replicate the difficulty of the actual CFA® Level 1 ekzameno, so you will be more than prepared for the real deal.
You also get to customize your quiz sessions an unlimited amount of times and track your performance with the software that compares your score to thousands of other CFA candidates.
PROS
1. CFA Question Bank and Mock Exams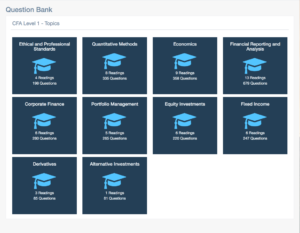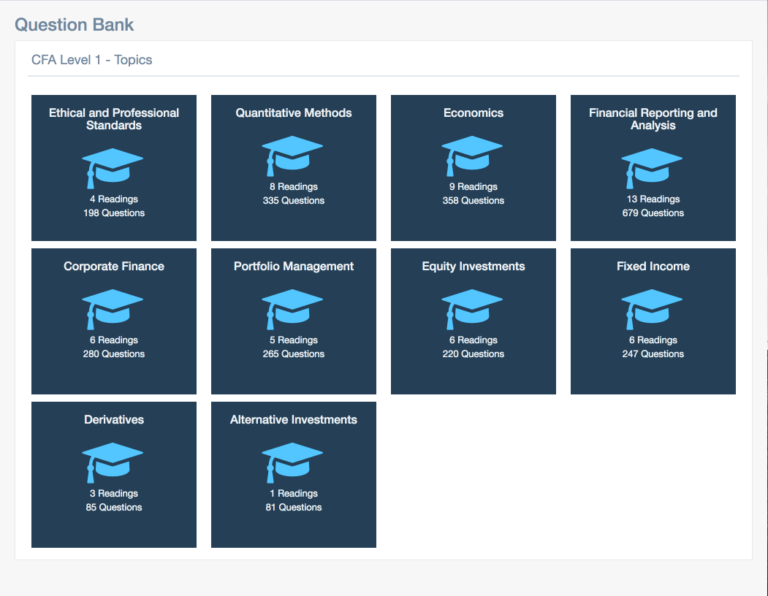 The best way to prepare for the CFA® exam is to practice. You can sign up for the free package and test out 150 of the practice questions before purchasing the full course. Once you decide that Analyst Prep is the right fit for you, you can upgrade and have access to 3,000+ practice questions and 4 mock exams (480 questions each).
2. Study Notes
The comprehensive study notes of Analyst Prep are perfect for those who are overwhelmed by the 5,000 page CFA® institute curriculum book. The study notes are designed to teach you the CFA® Level 1 curriculum in less time but not any less effective.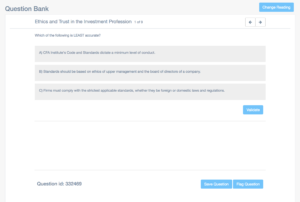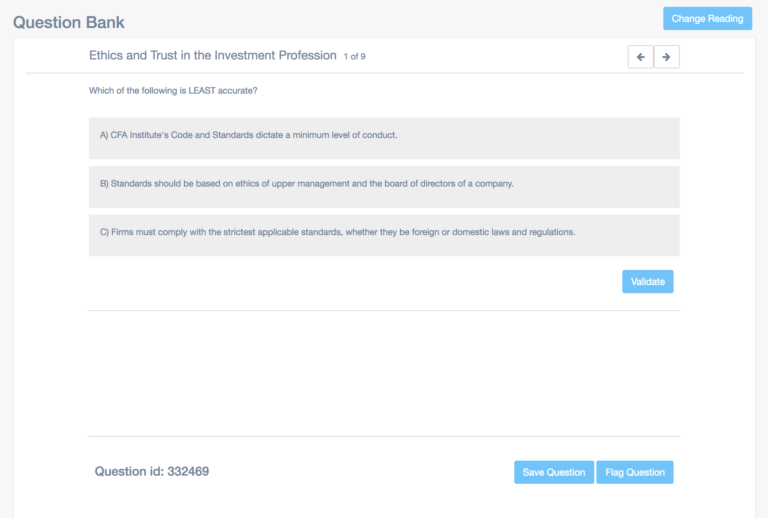 The notes have been created by CFA® Charterholders to summarize the most relevant information from every Learning Outcome Statement (LOS). You also get a formula sheet that you can memorize. The notes also include example questions to help your comprehension skills. You can review your study notes from anywhere on your mobile device.
3. Variety of Support Options
Analyst Prep has two different course packages, Premium ($129) and Coaching ($599). With the Coaching Package, you will have 5 hours with a personal tutor who will guide you throughout the course and other aspects of CFA ®preparation. Even if you don't want the 1 on 1 coaching (which is done via Skype with a CFA® Charterholder), there are other support options available.
These same coaches also offer email support and can help assist you in creating a personalized study plan. Analyst Prep makes sure you have a professional that can help review your progress and answer any questions you may have. And if you want a sense of community, ekzistas interreta forumo kie vi povas konekti kun aliaj Analizisto Prep studiers.
4. Spuri kaj Analizi Via Performance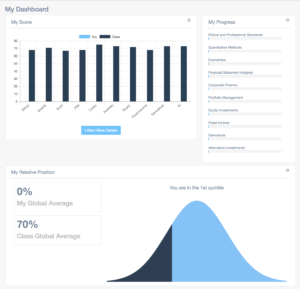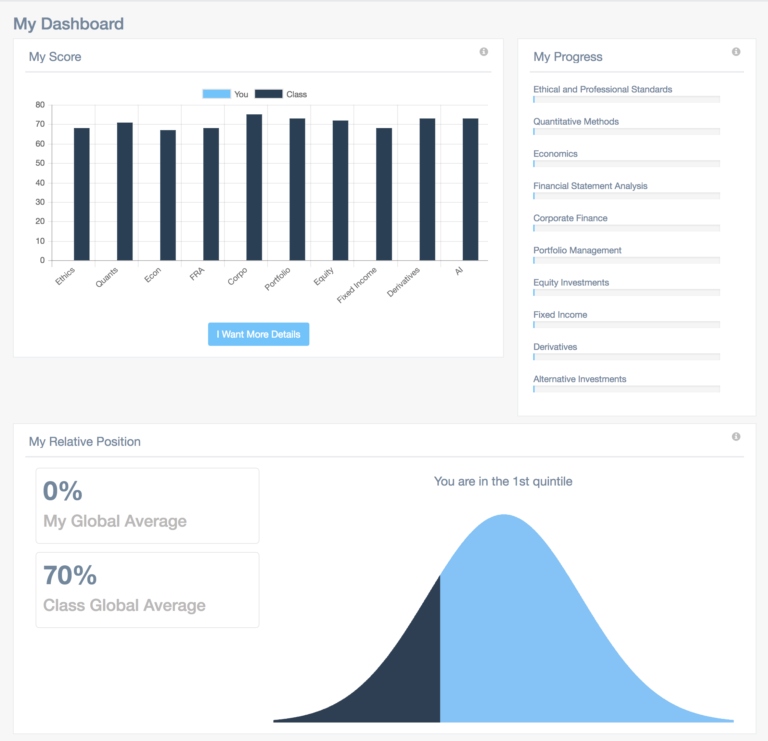 Kun la enkonstruita analytics softvaro, vi povas facile vidi vian spuritaj progreso kaj monitoritaj agado de testo demandoj. La organizita lertaj klarigi por vi identigi vian fortojn kaj malfortojn. Vi povas vidi vian interpunkcion per ĉapitro, via plej forta / malforta ĉapitro, via tago al tago progreso, a comparison with other CFA® candidates, kaj tempo mastrumado diagramo.
Kun ĉiuj ĉi tiuj Analytics facile disponeblaj, estas facile adapti vian studo metodo kaj plibonigi vian strategion en la areoj kiuj bezonas pli da atento. Analyst Prep also lets you keep tabs on the competition by comparing your results with thousands of other candidates who are also studying for the CFA® Exam.
CONS
nur nivelo 1
Analizisto Prep havas senkonstruaĵa materialo kaj nur provizas prep kurson por nivelo 1 of the CFA® Exam. nivelo 2 Estas evoluanta nun kaj estos ĵetita baldaŭ, tiel kiel mobile app!
ideala Uzanto
This course is great for those that want support options as well as an adaptable self-study course. The $129 course option is also great for anyone who is on a budget. Although Analyst Prep is still developing courses for Levels 2 kaj 3, the Level 1 review course is a promising start that offers plenty of analytics and study tools, like the study-notes, to give you a streamlined study strategy that will have you studying efficiently and effectively.
Mia Sugesto
For the low price of this course, vi certe ricevos multajn pafbruo por via dolaro. La ampleksa studo notoj, video lecionoj, kaj vasta demandoj banko povas ĉiuj esti aĉetita por $129. Tio estas granda por la mem-motivita lernantoj, sed por tiuj, kiuj volas pli apogon kaj aliaj bonifikoj, kiel Fino Review, Vi povas aĉeti la trejnado pako por $599.
Elprovi la kurson de subskribanta supre por liberaj pako vidi 150+ praktiko demandoj, agado sekvado, kaj la video lecionoj.
Pricing
liberaj Pako
Prezo: $0
inkluzivas:
150+ demandoj

Rendimento Spurado

video Lecionoj
Nivelo I Premium Package
Prezo: $129
inkluzivas:
3,000+ Practice Questions

4 PDF Mock Exams (480 demandoj)

Rendimento Spurado

video Lecionoj

Study Notes (1,500+ pages)

Formula Sheet

Unlimited Customizable Quizzes

Pass Guarantee
Level I Coaching Package
Prezo: $599
inkluzivas:
3,000+ Practice Questions

4 PDF Mock Exams (480 demandoj)

Rendimento Spurado

video Lecionoj

Study Notes (1,500+ pages)

Formula Sheet

Unlimited Customizable Quizzes

Pass Guarantee

5 Hours of 1-on-1 Coaching
Personal Study Plan

FInal Review
COMPARE THE BEST CFA PREP COURSES
AnalystPrep CFA® Breakdown
| | |
| --- | --- |
| AnalystPrep CFA® Review | Strengths |
| 1. | Question Bank and Mock Exams |
| 2. | Study Notes |
| 3. | Variety of Support Options |
| 4. | Spuri kaj Analizi Via Performance |
Review
Reviewer
Review Date
Product Type
Author Rating