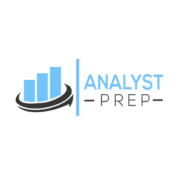 CLASSIFICACIÓ CRUSH: ★★★★★
Analyst Prep CFA Review has designed its practice questions and mock exams to replicate the difficulty of the actual CFA® Level 1 examen, pel que serà més que preparat per al veritable negoci.
També pots personalitzar les sessions de concurs una quantitat il limitada de vegades i el seguiment del seu rendiment amb el programari que compara la teva puntuació a milers d'altres candidats CFA.
PROS
1. CFA Question Bank and Mock Exams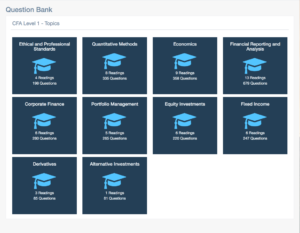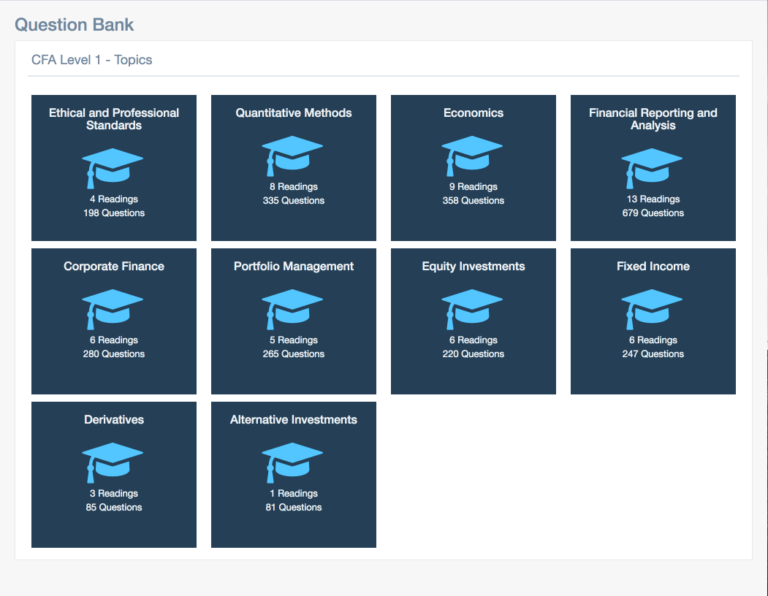 The best way to prepare for the CFA® exam is to practice. Vostè pot inscriure per al paquet lliure i provar 150 de les preguntes de pràctica abans de comprar el curs complet. Una vegada que decideixi que l'analista Prep és el sistema més adequat per a vostè, es pot actualitzar i tenir accés a 3,000+ preguntes de pràctica i 4 mock exams (480 preguntes cadascun).
2. Notes d'estudi
Les notes d'estudi integrals d'Analista de preparació són perfectes per a aquells que estan aclaparats per la 5,000 page CFA® institute curriculum book. The study notes are designed to teach you the CFA® Level 1 pla d'estudis en menys temps però no menys efectiva.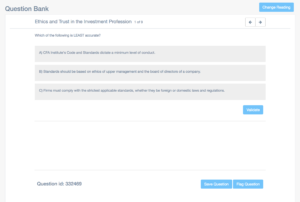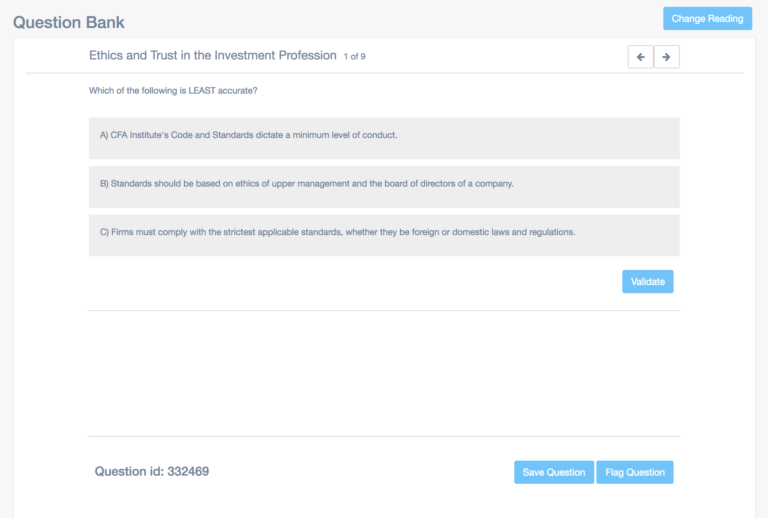 The notes have been created by CFA® Charterholders to summarize the most relevant information from every Learning Outcome Statement (ELS). You also get a formula sheet that you can memorize. The notes also include example questions to help your comprehension skills. You can review your study notes from anywhere on your mobile device.
3. Varietat d'opcions de suport
Analyst Prep has two different course packages, Premium ($129) and Coaching ($599). With the Coaching Package, vostè tindrà 5 hours with a personal tutor who will guide you throughout the course and other aspects of CFA ®preparation. Even if you don't want the 1 on 1 entrenament (which is done via Skype with a CFA® Charterholder), there are other support options available.
These same coaches also offer email support and can help assist you in creating a personalized study plan. Analyst Prep makes sure you have a professional that can help review your progress and answer any questions you may have. And if you want a sense of community, there is an online forum where you can connect with other Analyst Prep studiers.
4. Track and Analyze Your Performance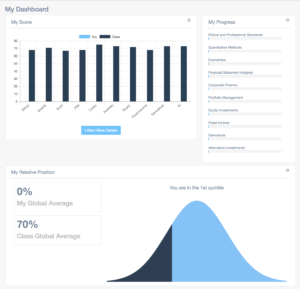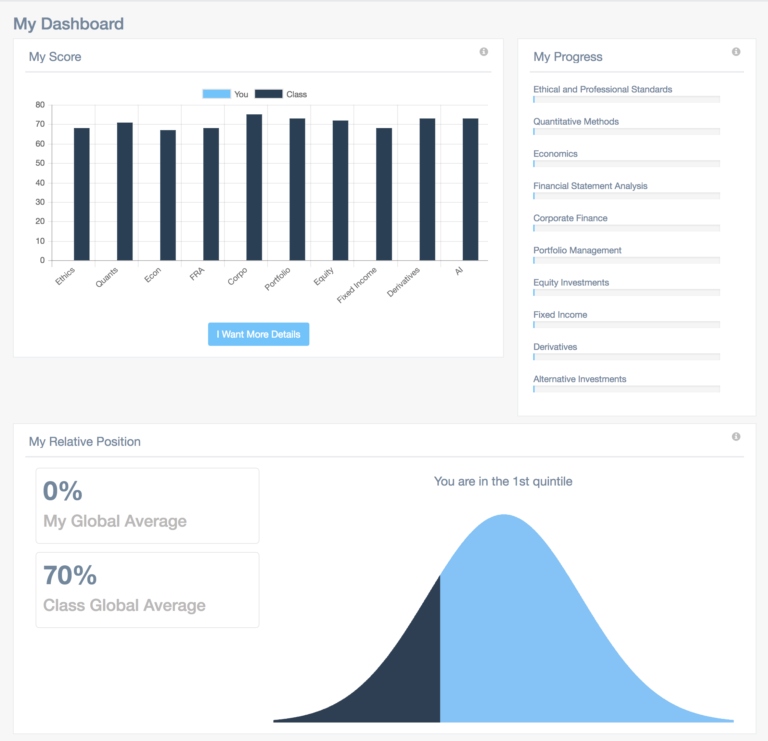 With the built-in analytics software, you can easily see your tracked progress and monitored performance of test questions. The organized charts make it clear for you to identify your strengths and weaknesses. You can see your score by chapter, your strongest/weakest chapter, your day to day progress, a comparison with other CFA® candidates, and a time management chart.
With all these analytics readily available, it's easy to adapt your study method and improve your strategy in the areas that need more attention. Analyst Prep also lets you keep tabs on the competition by comparing your results with thousands of other candidates who are also studying for the CFA® Exam.
CONTRES
Only Level 1
Analyst Prep has undeveloped material and only provides a prep course for Level 1 of the CFA® Exam. nivell 2 is under development now and will be released soon, as well as a mobile app!
usuari Ideal
This course is great for those that want support options as well as an adaptable self-study course. la $129 opció per descomptat també és ideal per a qualsevol persona que està en un pressupost. Encara Analista Prep encara s'està desenvolupant cursos per als nivells 2 i 3, nivell 1 revisió del curs és un començament prometedor que ofereix un munt d'anàlisi i eines d'estudi, Com en l'estudi-notes, per donar-li una estratègia d'estudi aerodinàmic que haurà d'estudiar amb eficiència i eficàcia.
My Suggestion
Pel baix preu d'aquest curs, S'obté un munt de partit de la seva inversió. The comprehensive study notes, video lessons, and expansive questions bank can all be purchased for $129. This is great for the self-motivated learners, but for those that want more support and other perks, like a Final Review, you can purchase the coaching package for $599.
Try out the course by signing up for the free package to see 150+ practice questions, performance tracking, and the video lessons.
Pricing
Free Package
Price: $0
Includes:
150+ Questions

Performance Tracking

Video Lessons
Level I Premium Package
Price: $129
Includes:
3,000+ Practice Questions

4 PDF exàmens de prova (480 Questions)

Performance Tracking

Video Lessons

Notes d'estudi (1,500+ pàgines)

full de fórmules

Qüestionaris il·limitades personalitzables

garantia passi
El paquet de Nivell I Entrenament
Price: $599
Includes:
3,000+ Practice Questions

4 PDF exàmens de prova (480 Questions)

Performance Tracking

Video Lessons

Notes d'estudi (1,500+ pàgines)

full de fórmules

Qüestionaris il·limitades personalitzables

garantia passi

5 Hores d'1-a-1 Coaching
Pla d'Estudi personal

revisió final
COMPARE THE BEST CFA PREP COURSES
AnalystPrep CFA® Breakdown
| | |
| --- | --- |
| AnalystPrep CFA® revisió | Strengths |
| 1. | Banc de preguntes i exàmens de prova |
| 2. | Notes d'estudi |
| 3. | Varietat d'opcions de suport |
| 4. | Track and Analyze Your Performance |
Revisió
crític
Data de revisió
Tipus de Producte
autor Avaluació