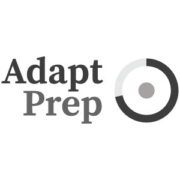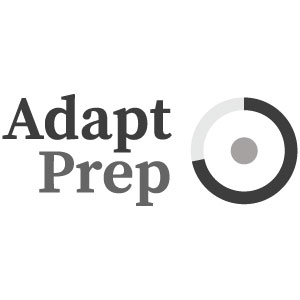 CRUSH RATING: ★★★★★
AdaptPrep CFA Review is quickly gaining popularity as a time efficient and tech-savvy way to study for the CFA® exam. Le nkampani iye kabusha ngokuphelele PrEP yayo zokwakha kanye platform ukugxila ijubane nokusebenza.
You can choose from "Complete," "Practice," or "Learn" for Level 1, level 2 and Level 3.
Their adaptive learning technology and Progress Tracker keeps you focused on the essentials, and the new platform was designed to load quickly, especially during the busy weeks before the CFA® exam when many students are trying to study at the same time.
AdaptPrep's affordable prices are well below the industry average and make it even more attractive if you are on a tight budget.
CFA Level I Study Tips – AdaptPrep
AdaptPrep Strengths
1. Streamlined and User-Friendly Platform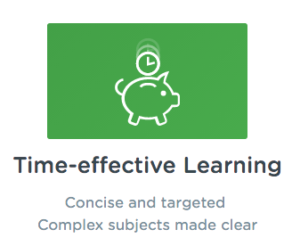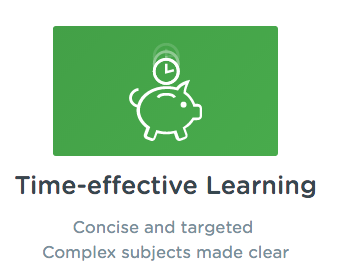 This course cuts right to the chase because there are no distractions on the course dashboard. You can choose from three options: "Learn," "Review," noma "Practice" for Level I, level 2 and Level 3 of the CFA® exam.
Readings that accompany the video lectures are located in the same module as the videos and can be downloaded and printed as a PDF. You can click on the reading from the electronic manual and then watch the related videos from one central location.
Readings and lectures are grouped by topic area so that you can easily target those areas that need the most review. The mobile version is even easier to navigate, which brings us to our next pro:
2. Fully Compatible With Mobile Devices

AdaptPrep CFA® is designed to accommodate mobile users. There is no need for an app because you can upload the course right from your browser. The mobile version is perfect for busy professionals as the interface works very well on smartphones, the audio is crystal clear, and the graphics are relevant and memorable.
Customizable quizzes are easy to access from your mobile device or smartphone as well. Just select the sections you want to test yourself on and the quiz will contain practice questions that apply to those topics. Score your exam and find out which answer was the correct choice and why.
3. Course is Designed to Load Quickly

AdaptPrep has worked hard to make the site faster in terms of response time. By adding additional databases and servers to create redundancy, Adapt Prep ensures that you won't be slowed down by the sudden spike in users in the last few weeks before your exam.
The videos we watched loaded and played without slowdowns or buffering and exams were scored quickly. You can take advantage of the offline mode if you have already started watching the videos or taking an exam, however, you'll have to reconnect to the internet in order to have it graded.
4. Very Short Video Tutorials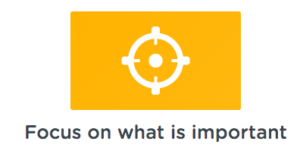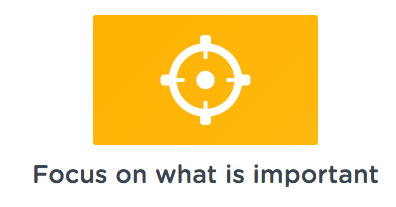 Mike Carmody's short and to-the-point instructional videos only last about 10 imizuzu ngamunye! Uzoba nokufinyelela 40+ imfundo yamahora angu-ezingeni ngalinye eziye ihlukaniswe nezixhobo ukulawuleka ngaphezulu isikhathi ungafunda nokugcina ulwazi ngokuphumelela kakhudlwana.
Carmody is an experienced and engaging instructor who focuses on the most essential material. With his instruction you'll be able to gain a solid understanding while still having enough time to tackle a large number of practice questions in the test bank.
A split screen with his lecture on the left allows for graphics and animations on the right that emphasize the most important information to remember. Questions are worked out by the instructor in the videos on an easy-to-read, typed screen. Many practice questions are accompanied by video explanations of the correct answer.
5. Sihloko buciko Impendulo

AdaptPrep's Topic Mastery report provides feedback assessing your preparation for your next CFA® Level I exam. Predicted Scores range between 0%-100% for each topic, consistent with the CFA® Institute grading. Scores above 70% are presented in green, scores between 50%-70% in yellow, and scores below 50% in red.
Topic Mastery estimates your score Prediction Range on a topic once you've answered 10 practice questions on that topic, and then after each quiz you take on that topic. Once you've completed at least one quiz in all 10 topics, we calculate a Prediction Range for your score on the entire exam.
Sihloko buciko ukhonza njengesiqondiso ku okulungiselele. The CFA® exams are broad in scope, and understanding the concepts in the syllabus thoroughly is essential. We encourage you to dedicate more time to topics that need more improvement. Nge Sihloko buciko, you can study more efficiently and master the CFA® exam.
6. Ongoing Development and Features
AdaptPrep has many more innovations in the pipeline too. The company is constantly adding new features like study tips and video explanations.
We hope to see more features like the "Level I in 60 minutes" for their Level II and III courses as well. This is a great video series which gives you a quick overview on the major Level 1 topics likely to be tested on.
7. Free Trial and Free Formula Sheet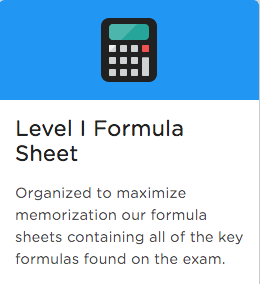 Pull out your smartphone right now and try the course for FREE! The free trial gives you access to their CFA® Formula Sheets (downloadable PDF) which contain all of the key formulas found on the exam. You literally have nothing to lose so even if you don't intend on purchasing their course, I highly recommend that you take advantage of this.
No credit card is required to access to the trial version, simply enter your email address and you'll be setup within a matter of seconds. Also included in the free trial are sample video lessons, practice problems and quizzes, and a study schedule planner.
8. Discounts
AdaptPrep is now offering Crush readers an exclusive CFA® discount. Just type in the Adapt Prep coupon code and get a great deal!
AdaptPrep CONS
1. Recently Released Material
Some of the AdaptPrep products are recently updated and released, which means there isn't as much user feedback. From all reviews so far, however, the updated materials are great and in line with the rest of the company's great course components.
Ideal User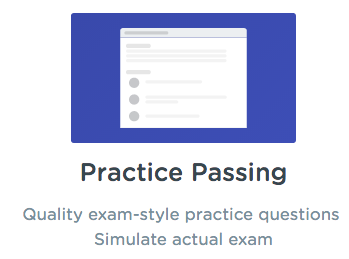 This course is a great find if you prefer to study from your smartphone or tablet. The user-friendly mobile site and the high definition videos and direct links to pertinent readings make this a very organized and efficient way to study for the three levels of the CFA® exams.
AdaptPrep will appeal to self-motivated learners because its topic mastery feedback system promotes efficient studying for the CFA® exam. If you are on a tight budget and are a good self-studier, AdaptPrep would definitely be an excellent choice.
My Suggestion
AdaptPrep offers a great product for a relatively low price. Best of all, you won't have to worry about an app crashing while you study because the platform was developed especially for mobile devices and smartphones. You will definitely appreciate that the videos are short (10 minutes) and that you can always turn to the 490+ page electronic manual for additional information as necessary.
AdaptPrep offers the best bang for your buck study materials on the market and costs less than half as much as the average CFA® review course. Regardless of which CFA® exam course you decide on, I highly suggest that you at least check out their free trial.
Intengo
Choose from products for either the December 2017 or June 2018 exam
Complete CFA® Level I Course

Inani: $299
Kufaka:
Learn, Review, and Practice products
41+ Hours of Video Lessons and Related Study Notes
Formula Sheet
Video Lessons
Electronic Manual/Readings
Calculator Guide Video
2,500+ Practice Questions in Exam Engine
Kwakha okungenamkhawulo Izivivinyo (esekelwe ukuhlolwa Engine)
Ubuchwepheshe eguquguqukayo Ilungisa Imibuzo ukuhlolwa ukuze Ikhono lakho Level
Eningiliziwe Ibhalwe noma Isiqophi Izixazululi Prakthiza Imibuzo
Inqubekela Tracker
Level Engingayifunda kuphela

Inani: $199
Kufaka:
180 Izinsuku Ukufinyelela Isiqophi Izifundo Nokutadisha Amanothi.
Level I Practice Only

Price starts at: $149
Kufaka:
2,500+ Prakthiza Imibuzo e Nezimo ukuhlolwa Engine
Unlimited, Kwakha ngezifiso futhi Izivivinyo
Ibhalwe kanye / noma Isiqophi Solutions
Formula Sheet
Calculator Umhlahlandlela
Complete Level II CFA® Course
Inani: $449
Kufaka: Funda kanye nemikhiqizo Practice
40+ Ukuhlolwa ukubuyekeza Isiqophi Izifundo
Unlimited Renewals (Study Until You Pass)
Inqubekela Tracker
Practice Question Bank
Unlimited, Kwakha ngezifiso futhi Izivivinyo
Electronic Manual
Level II Learn Only

Inani: $299
Kufaka:
180 Izinsuku Ukufinyelela Isiqophi Izifundo Nokutadisha Amanothi
Electronic Manual
Level II Practice Only
Price starts at: $249
Kufaka:
Earned Level (EL) Skill Level Assessment
Section Review
Question Bank with 750+ Imibuzo Practice
Adaptive Learning – Exams Increase in Difficulty
Customizable Quizzes
Discussion of Questions with Students and Coaches
Complete Level III Course
Inani: $599
Kufaka:
Progress Tracking
Dynamic Difficulty Exams
Exam-Quality Question Banks
Concise Segments
Adaptive Feedback
Video Lesson Bank
Level III Learn Only
Inani: $399
Kufaka:
Progress Tracking
Concise Segments
Adaptive Feedback
Video Lesson Bank
Electronic Manual
Discussion With Coaches and Students
Level III Practice Only

Price starts at: $249
Kufaka:
Customizable Quizzes
Dynamic Difficulty
Progress Tracking
Access Anywhere
Adaptive Question Bank
Time Tracker
---
AdaptPrep CFA® Review Course Overview
| | |
| --- | --- |
| AdaptPrep CFA® Review | Strengths |
| 1. | Streamlined and User-Friendly Platform |
| 2. | Fully Compatible With Mobile Devices |
| 3. | 10% OFF Ikhodi yesaphulelo |
| 4. | Very Short Video Tutorials |
| 5. | Eguquguqukayo Learning Technology |
Best AdaptPrep CFA® Coupon Codes & Discounts
Take 10% OFF AdaptPrep CFA® Level 1, 2, futhi 3 Complete courses!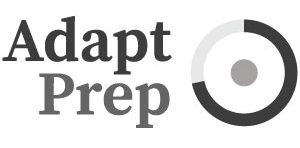 AdaptPrep, Percentage Discount, Rare Sales 36 uses today
AdaptPrep 41 uses today
Take 10% OFF AdaptPrep CFA® Level 1, 2, futhi 3 Complete courses with this Adapt Prep coupon code!
Last Used 14 minutes ago
Expiration Date:
May 24, 2019